Red Hawks are ball hawks, pick off Temecula Prep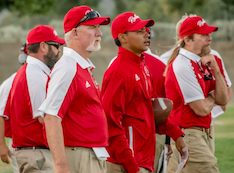 2016 EAST COUNTY PREP FOOTBALL
MOUNTAIN EMPIRE 21, TEMECULA PREP 14
By Ramon Scott
EastCountySports.com
TEMECULA – Mountain Empire quarterback VICTOR PARRA shook off an injury in the first half to his throwing arm to throw for two touchdowns in the second half, and the Red Hawks' defense rose to the occasion with a pair of late stops for a 21-14 win over host Temecula Prep Friday night (9-30-16) at Rancho Christian High.
The Red Hawks' defense had three second-half interceptions to pitch a shutout after halftime, as the Patriots led 14-7 at halftime.
Mountain Empire (2-3) took a 7-0 lead when DALLAS PRINCE blocked a punt in the end zone and recovered it for a touchdown as Temecula Prep was punting from nearly the back of the end zone. Prince had a second blocked punt later in the game.
Temecula Prep scored on an 80-yard drive that took 13 plays to get on the board in the first, as Justin Anderson scored on a dive play.
The Patriots extended the ldad in the second quarter after a 53-yard drive that took seven plays. Bryan Langmead threw a pass to Oliver Collision for the touchdown.
In the third quarter, BLAKE JARRELL recorded an interception and returned it 30 yards to set up the tying score.
Parra hit ANDREW POWELL with a 35-yard touchdown pass with three minutes left in the third quarter.
Powell then made the Red Hawks' second pick of the half on the first series of the fourth quarter.
After gaining a short field fowling a turnover on downs forced by the Red Hawks, Parra ended up finding junior SAWYER ERNSBARGER for the go-ahead score on a 5-yard TD pass on third-and-goal.
The Red Hawks would force a third turnover by air when a deflected pass ended up in the arms of CAMERON WILL, ending another Pats' charge.
Mountain Empire ended a potential threat late in the game when the Patriots took over the ball with 4:30 left.
The Pats drove inside the 5, but the Red Hawks made the decisive stop with 1:29 left in the game.
Parra, who may have taken a shot that hurt his shoulder and limited his arm movement, threw in apparent pain in the second half, but still flung it 34 times, completing 18 passes for 146 yards.
Ernsbarger had five receptions for 50 yards, while Powell finished with four catches for 68 yards.
Will led the Red Hawks with 10 tackles, while Ernsbarger added eight. WYATT AGUILAR had six stops for Mountain Empire, as did Prince.
The Red Hawks limited the Patriots to just three completions in the second half.
Next week, Mountain Empire hosts homecoming against Anza Hamilton in the school's anniversary of 100 years of existence.