ROUNDUP: Knights win again; Madison routs Matadors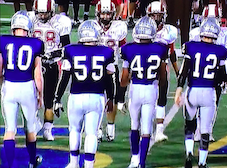 Foothills captains meet Borrego Springs at midfield Friday night at Seau Field.
2016 EAST COUNTY PREP FOOTBALL
EastCountySports.com staff report
LA MESA – Foothills Christian kept up its hot season by blistering visiting Borrego Springs, 48-13, at Seau Field Friday night.
After a series of punts to open the game, Foothills Christian (5-1) got a score from senior quarterback DANIEL HOFFMAN, who stepped up in the pocket to hit ELI HALE for a 20-yard score.
Knights' defensive end ILYJAH BARTOLOME had an interception on a deflected pass up in the air on the next drive, setting up a score.
Hoffman completed a touchdown to GARRETT BANKHEAD for a 14-0 lead after he initially dropped the snap, but picked it up and rolled to his right to find his wide-open receiver.
Later in the first, Borrego Springs had a 76-yard, 4-play scoring drive with a 41-yard touchdown pass to Alex Morris to make it 14-7
Hale, however, returned the ensuing kickoff to the Borrego Springs 30.
On the next play, Hoffman scrambled for a touchdown from 25 yards out to make it 20-7 late in the first quarter.
Hale added a 5-yard touchdown run in the second.
Hoffman once again suffered a leg injury, which removed him from the game in the second quarter. The injury is likely unrelated to the one Hoffman suffered in the season opener.
The Knights led 26-7 at halftime.
On the opening kickoff of the second half, Foothills' CALEB TARVER ran a reverse, handing off to Hale, who took the ball all the way down in side the Borrego 5.
Hale, taking over at QB for Hoffman, completed a 15-yard score Bankhead off play action to make it 34-7 after a two-point conversion.
After forcing another turnover, Foothills Christian would score when Hale connected with Bankhead again on a deep post for a 20-yard play. The Knights' defense was led by senior JOSH GATE.
The Knights scored on the last play of the quarter as Hale ran for a 71-yard score.
Foothills Christian offensive linemen CHRIS SMITH, STEVEN LEONCINI and CHASE EURICH looked impressive in this one.
The Knights will host Calvary Christian (1-4) next Friday night.
MADISON 48, MOUNT MIGUEL 0 – The Madison Warhawks turned Mount Miguel's house into their own Madhouse with a dominating shutout of the host Matadors Friday  night.
The Warhawks scored on their first play from scrimmage as speedy star Erick Buchanan scored the first of his three touchdowns with an 81-yard run.
Later in the first, QB Terrell Carter scored from three yards out to make it 13-0.
Carter completed a pass to Elijah Thomas from 48 yards to close out the scoring in the first quarter.
Buchanan had a 24-yard touchdown run to make it 27-0. He added another touchdown in the third quarter.
Kenan Christon had two touchdown receptions for Madison, including a 9-yard score in the second quarter.
The Matadors will host Monte Vista next week.