Sultans need Wallace's record-breaking big night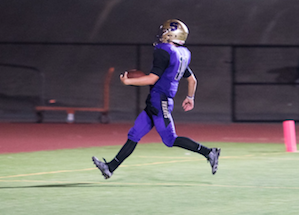 Bobby Wallace carries for touchdown for Santana Friday night. / TRYAN PHOTOGRAPHY PHOTO
2016 EAST COUNTY PREP FOOTBALL
SANTANA 49, MAR VISTA 35
By Ramon Scott
EastCountySports.com
SANTEE – BOBBY WALLACE rushed for 210 yards and four touchdowns to set all-time Santana High School records for career rushing yards and total points scored in the Sultans' 49-35 win over visiting Mar Vista Friday night.
Wallace, a senior, carried 25 times, and on a 25-yard TD scamper with 10:55 left in the second quarter, broke the career rushing record set by JARRAD SCHNAUTZ, who had 2,236 rushing yards from 2001-02.
Wallace came into the game needing only needed 84 yards to break it.
He would later break the school's scoring record in the fourth quarter with 10:04 to go on a 31-yard touchdown run.
He broke the previous record of 176 points held by JONATHAN TIPPIN from 2004-06.
Coming into the contest he only needed 15 points to break that mark.
Wallace now has 2,364 yards and 186 total points for the Santana High football team in his career.
"It is an amazing feeling to break both records in front of the home crowd and my high school and to also get the win in such an important contest," Wallace said. "The O-Line did an amazing job opening up the holes and I couldn't do it without their help. Its such an amazing accomplishment to break any record let alone two on one night."
Those big men included stalwart seniors ADAM VARGO, MATTHEW WHITCOMB, TRENT FORSTER and DYLAN BROWN
Wallace's 41-yard run gave Santana (4-2) a 14-7 lead as the teams put up three touchdowns between them very quickly into the game, spanning just about three minutes. He opened the scoring with a 29-yard TD run.
Santana led 35-21 at halftime, then the Sultans defense held strong in a sloppy third quarter.
Wallace added a 51-yard score in the fourth quarter right down the middle of the field, extending Santana's lead to 49-28.
Santana junior quarterback JOSH OEDEWALDT was 15-for-26 for 209 yards, with seniors ANDERS TOLHURST and AIDEN RASMUSSEN both wrapping up five receptions in the game.
Rasmussen had 81 yards receiving, including a 24-yard touchdown in the second quarter.
Junior CAMERON KANE scored on a 35-yard touchdown reception in the fourth quarter for Santana, making the score 42-28.
"This ranks as one of the biggest victories we've had sinceI have been the head coach," Santana coach Tim Estes said. "The victory definitely helps us for Division 4, as were ranked lower than they were."
Senior STEPHEN ROE had forced two fumbles, recovering them both for Santana, while SPENCER GULIHUR added a sack.
The Mariners got a big night from star Khalil Spruill, who was just tough to stop for the Sultans defenders.
He scored on runs of 75, 62 and 34 yards, and on a 60-yard reception in the first half. He had 220 rushing yards in the game, and 330 all-purpose yards, but wasn't as much of factor in the second half as he was in the first.
Spruill's 34-yards score cut the lead to 35-28, making things interesting. The Mariners missed three field goal attempts in the second half.
The Santana defense forced a fumble when Mar Vista drove down to the 1-yard line in the fourth quarter.
Mar Vista's Afredo Ramirez scored on a 61-yard touchdown reception, cutting the Santana lead to 49-35.
Santana will travel to Granite Hills next week.