McClendon scores five TDs to crush Komets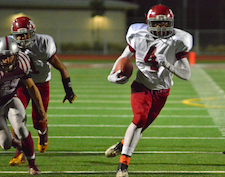 JAHMON MCCLENDON RUSHES FOR A TOUCHDOWN IN THE FIRST HALF. / EastCountySports photo
2016 EAST COUNTY PREP FOOTBALL
MONTE VISTA 50, KEARNY 0
By Ramon Scott
© East County Sports.com
SAN DIEGO (10-1-16) — Behind five touchdowns from sophomore back JAHMON McCLENDON, Monte Vista steamrolled host Kearny, 50-0, Friday night (Sept. 30) for their third shutout of the season.
Monte Vista improved to 4-1 overall by stymieing any semblance of a Kearny attack and taking full advantage of a short field to build up a four touchdown lead just over 15 minutes into the game.
McClendon returned the opening kickoff 89 yards and he would be a major offensive force throughout the contest.
KAIN SMITH and JUNIOR PITAOU led the way for McClendon's game-opening saunter, as McClendon pushed the last man to beat effortlessly with one arm to the ground.
Senior CAMERON JONES scored on a 1-yard run with 3:31 left in the first quarter to extend Monte Vista's lead to 13-0. Senior back RASHAUN WILLIS-BROWN had taken the ball down to the 1 with a 21-yard run to set up the score behind the terrific blocking of his counterpart, Jones, and tight end BLAKE SCHMIDT.
While pleased by his offensive thrust, coach RON HAMAMOTO noted his team has allowed only 6 points on defense in the last four games.
"Our defensive line is getting off the ball with regularity," he said. "It's kind of a no-name defense – pretty solid. The main man up front is CURTIS STEVENS, a 6-foot-2, 300 pound lineman who goes both ways. He leads the way for aggressive linebacker JONATHAN GULLEY. We're pretty solid on defense. Almost all of our guys go both ways. That includes the McClendon brothers, Jahmon and JAMEZ."
Jahmon McCLENDON scored on a 5-yard touchdown on the first play of the second quarter and Monte Vista scored a two-point conversion to make the score 21-0.
Blocking up front was led by Monte Vista seniors Stevens, VICTOR ICU, DAVID YBARRA and EDUARDO GONZALEZ. Stevens, in particular, had his way pummeling his 300-pound form on the powerless Komets.
"The line was excellent," Jahmon McClendon said. "We went out and just played hard every play. We did our assignments and got this 'dub' (win)."
Junior AMIR CONLEY recorded an interception for the Monarchs just less than a minute-and-a-half later.
Jahmon McClendon added a 30-yard TD run with 8:34 left in the first half, then he scored the conversion on a run, as well, giving Monte Vista a 29-0 edge. He had two conversion runs in the first half.
Jahmon McClendon added another touchdown with just two minutes to go before halftime for a 36-0 edge, following a kicked PAT.
The Monarchs would quickly force a turnover on downs to open the second half and turned another short field into a score on a 5-yard run from Jahmon McClendon. HALEY BARTON's PAT made it 43-0 with seven minutes left in the third quarter.
Monte Vista would add its final score from Smith just one minute into the fourth quarter from 5 yards out, as the Monarchs scored on six of seven drives in the contest.
The Monte Vista defense got more shutout contributions from TORREY MACK, Gulley and JESUS ZUNIGA, as the Comets were held to minus-7 yards in the first half and just 37 for the game.
Jahmon McClendon rushed for 120 yards on 20 carries on the night, 107 of those coming in the first half.