Vaqueros outlast Eagles in duel to finish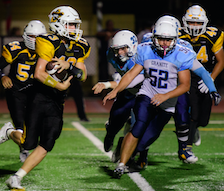 El Cap's Connor Roosa carries against Granite Hills Friday night. / photo by CSPRO PHOTO
2016 EAST COUNTY PREP FOOTBALL
EL CAPITAN 17, GRANITE HILLS 16
By Bill Dickens
© East County Sports.com
LAKESIDE (10-1-16) — The duel between Granite Hills and the El Capitan Vaqueros came down to the final play in Friday night's El Capitan homecoming game. Granite Hills was lined up for the knockout punch with seconds left.
The Eagles' surefooted kicker BRYCE STRICKLAND zeroed in on the boot from 21 yards out. The snap was marginal and Strickland put his best foot forward, but the potential game-winning boot was knocked down by DYLAN HELMHOLTZ and JON JON CASE.
Helmholtz came barging though the middle to get a hand up and Case came in from the outside. Strickland's kick had no chance to deny the Vaqueros' 17-16 homecoming victory.
After that the El Capitan sidelines erupted.
But it wasn't all good news for the Vaqueros, who posted their third straight victory. Starting quarterback PHOENIX CATES went down with a possible broken leg in the second half according to Vaqueros coach RON BURNER.
ANTONIO OLIVIERI stepped in to take over for the injured Cates and passed for 128 yards on 3 attempts for a touchdown, connecting with RYAN DUMAS for an 87-yard score with 6:29 remaining in the third quarter. El Capitan led 17-13 at that point.
One of Granite Hills' scores was a 90-yard pass from quarterback JAKE SIEGFRIED to GUSTAVO GUTTIEREZ, which put the Eagles ahead 6-3 with 11:47 left in the second quarter. Guttierrez led the Eagles receiving corps with 5 receptions for 156 yards.
Siegfried connected for 23 of 33 passes for 339 yards and 2 touchdowns. He also rushed on 8 carries for 42 yards.
One of the key plays for El Capitan was a punt by BRYCE STRICKLAND that buried the Eagles at their own 1-yard line on the final play of the second quarter.
CONNOR ROOSA was a versatile threat for El Capitan, carrying the rock 17 times for 103 yards and a touchdown.
Granite Hills was handicapped by 14 penalties for 108 yards, yet the Eagles still had a chance to pull out a last second victory. However, the field goal was blocked.
El Capitan's Dylan Helmholtz blocks a field goal attempt on the final play of the game Friday in Vaqueros' 17-16 win over Granite Hills. pic.twitter.com/fiU18wwiMN

— Ramon Scott (@RamonScottPoker) October 1, 2016