Red Hawks staring up Manzanita tree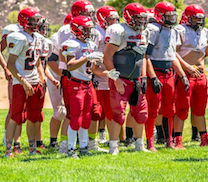 2016 EAST COUNTY PREP FOOTBALL
MANZANITA LEAGUE PREVIEW
By Bill Dickens 
© EastCountySports.com
EL CAJON (10-5-16) — The Manzanita League should be a free-for-all.
MANZANITA LEAGUE
CALIPATRIA – Calipatria gets the early nod behind quarterback Robert Cervantes, who has thrown for 230 yards and 3 touchdowns. Marco Perez leads the gang-tackling Calipatria defense with 26 tackles.
HOLTVILLE – Anthony Castro has passed for 474 yards and 3 touchdowns.
VINCENT MEMORIAL – Eduardo Valenzuela has thrown for 810 yards and 5 scores.
MOUNTAIN EMPIRE – VICTOR PARRA has passed for 642 yards and 6 touchdowns. BLAKE JARRELL has recorded 25 tackles and CAMERON WILL has made 43.
LUTHERAN – Quarterback Christian Dufresne has passes for 674 yards and 3 touchdowns. Adam White has logged 36 tackles.