Perennial champ Patriots face toughest task yet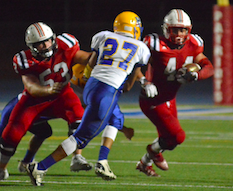 Christian's Joey Morones (44) and Austin Manion (53) / EastCountySports photo
2016 EAST COUNTY PREP FOOTBALL
EASTERN LEAGUE PREVIEW
By Bill Dickens 
© EastCountySports.com
EL CAJON (10-5-16) — This should be quite a tight sqeeze, considering all five teams have winning records going into Eastern League play.
EASTERN LEAGUE
CHRISTIAN – Christian is the head of the class at 5-0 and rates as the favorite to come away with the gold. Mission Bay is a tight second at 4-2, while Morse, Lincoln and Scripps Ranch are all 3-2.
Almost every time Christian tees up the ball they'll be tested. Hard-nosed JOEY MORONES will lead the charge for the Patriots' offense with 512 yards and 11 touchdowns on 63 carries.
Junior quarterback BRAD JEREMIAH carries the passing game, having completed 57 passes for 781 yards and 8 touchdowns on 89 attempts.
The Patriots have strong defensive stalwarts in senior veterans JONATHAN STINE and AUSTIN MANION.
LINCOLN – Probably the primary challenger for Christian will be the Lincoln Hornets. Quarterback Asante Hartzog has thrown for 873 yards on 74 of 143 attempts and 10 touchdowns. Versatile Micah Edwards has scored 6 rushing touchdowns and 3 receiving.
MORSE – Morse will challenge the Patriots with a solid running game led by Markus Turner who has rushed for 645 yards and 8 touchdowns.
SCRIPPS RANCH – Quarterback Kyle Mullin has thrown for 1,484 yards and 12 touchdowns for the Falcons. His favorite target is Keith Davis who has logged 4 touchdowns, while running back Jordan Batts has rushed for 213 yards and 6 touchdowns.
MISSION BAY – Mission Bay (4-2) figures to chase the rest of the pack. They have played a tough schedule and not fared too well. The Buccaneers hope to spring some upsets to climb up the standings.