Knights' Gate, Hale storm past Calvary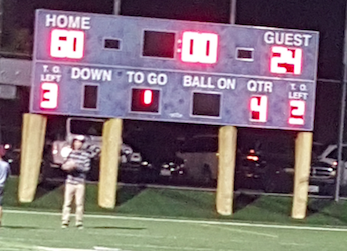 2016 EAST COUNTY PREP FOOTBALL
FOOTHILLS CHRISTIAN 60, CALVARY CHRISTIAN ACADEMY 24
EastCountySports.com staff report
LA MESA – Senior JOSH GATE put the "D" in defense Friday night for Foothills Christian. Oh, and he also put in some work on offense, too.
Foothills Christian scored 32 points in the second quarter to overcome an early 8-0 deficit after one en route to a 60-24 Ocean League win over Calvary Christian Academy Friday night at Seau Field.
Gate rushed for 130 yards in the first half on eight carries, while CALEB TARVER had 66 yards before halftime as the Knights recovered from a slow start to rout the Royal Knights.
Gate had four touchdowns in the game, including a 60-yard TD reception. But it was his work at defensive end that set the tone in this one.
Gate recorded four sacks, giving him 11 for the season.
Foothills Christian evened its league record at 1-1 to move into second place early in the season, but they have had a terrific campaign, going 6-1 now to date.
The Royal Knights took an 8-0 lead midway through the first quarter, but the FCHS answered with a TD to make it 8-6.
After the second quarter bombardment, Foothills' ELI HALE returned the opening kickoff of the second half 75 yards for a touchdown.
Hale was 6-for-7 passing for 171 yards and two touchdowns. He also rushed for 35 yards and a touchdown on six carries. He also recorded an interception in the game.
GARRETT BANKHEAD had three catches for 82 yards and two scores. He also had an interception on defense.
Tarver finished with 80 yards rushing on nine carries for Foothills Christian.
Tarver also led the Knights defense against the Royal Knights with nine tackles, including five solo and five for loss. Bankhead finished with seven stops, including four solo.
Senior NICK PUPA and sophomore JADON BANKHEAD also each had one of the Knights' six INTs, while junior NOAH HAMILTON forced a fumble.