Beezer battled for life after boat accident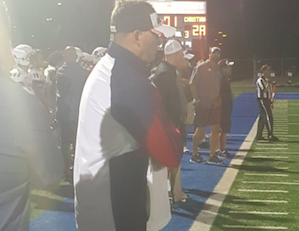 Beezer on the sideline at the SDFNL Kickoff Classic on Aug. 20
2017 EAST COUNTY PREP FOOTBALL
By Bill Dickens
© East County Sports.com
EL CAJON (9-22-16) — We're glad to report that Christian High's DAVID BEEZER is well and walking the sidelines of the Patriots football team these days. Such was no slam dunk for the one of a kind warrior, especially in light of a near-tragic boating accident on the Colorado River this summer that nearly cost him his life.
Nobody can tell the tale better of his harrowing experience than Beezer.
Here is the story, in his own words:
"Every doctor I've met with that has seen my file says there is no way I should have made it.  I remember several times just fighting to get one more breath. I now know what it feels like to fight for your last breath.
"It was late afternoon and there was a glare on the water and we were going about 35 mph.  I saw the sandbar right at the last second, but couldn't stop fast enough. It was in an area I'd been through before with no problem.
Miraculously, none of our family or friends were ejected from the boat. As we hit the sandbar my throat hit and bent the steering wheel.   I had enough strength to check on our family and friends, and then told (my wife) Shannon I have to go. We flagged a boat down that had come out to find us after seeing and hearing the ambulances coming to the dock.
"Without this Good Samaritan coming to look for us I would not have made it.  I literally rolled into the back of the boat, and the guy hauled to the dock where the ambulance was waiting, I rolled out of the boat onto the stretcher and was rushed to the hospital. Ten minutes from the hospital my lung collapsed, I stopped breathing and that was the last thing I remember until 5 days later when I woke up in Phoenix.
"On arrival to Yuma Hospital not knowing all the damage in my airway (displaced fractures, collapsed lung, paralyzed vocal chords, hole in trachea) they miraculously were able to get a breathing tube in, which every doctor after seeing my CT scan said there is no way that tube should have made it in.
"Once the tube was placed they Life Flighted me to Phoenix to a trauma center.  After surgery they left me intubated for 5 days.  When I woke up the trauma doctor looked at me and said, "There is only one reason you're alive, G-O-D.
"After returning to San Diego, I couldn't sleep the first night due to the pain, everything started swelling up and I couldn't breathe so I was rushed to the hospital and an emergency tracheotomy was put in.
"A week later by a miracle, the mass in my airway that kept me from breathing and needed surgery to remove it, just went away, which allowed me to breathe on my own, so they pulled the trach out.
"My specialist last week told me that there are zero odds for surviving this and I should have died twice in the process.  Needless to say, I am so grateful to be alive.  It was quite a thrill watching God work from a seat in the front row."
The 46-year old Beezer, a graduate of Liberty University, is back in the Christian coaching box.
"Every time I'm out there I realize it's a miracle that I'm alive," he said. "I have blood clots in my leg and my voice box is still affected, so I'm not all the way back. Every game we go I feel more healthy, like I have my energy back."
From July 28:
Update from Ali Beezer on Coach Beezer and her family… pic.twitter.com/DLgFDpIimk

— CHS RedZone (@CHSPatriots) July 30, 2016