Eagles defense quells Sultans on homecoming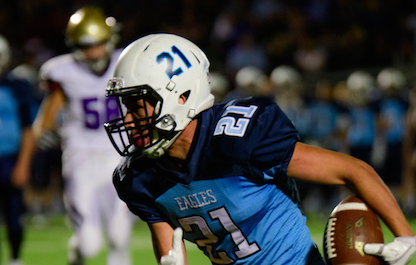 Granite Hills' Gustavo Gutierrez on the way to a touchdown Friday night. / CSPRO PHOTO
2016 EAST COUNTY PREP FOOTBALL
GRANITE HILLS 37, SANTANA 13
By Bill Dickens
© East County Sports.com
EL CAJON (10-8-16) — The Granite Hills Eagles have established themselves as the front-runner in the Grossmont Valley League on Friday (Oct. 7) by smacking Santana 37-27 in front of a homecoming crowd.
This hardly cast the Eagles as a runaway favorite, but it certainly puts a statement on their intentions.
Junior quarterback JAKE SIEGFRIED pierced the Santana defense for 144 yards and 2 touchdowns in 13 attempts. There was more to Siegfried's act than that as he also rushed for 102 yards and a score on nine carries.
The hard-nose Granite Hills defense held Santana record-breaking running back BOBBY WALLACE to just 21 yards on 14 carries.
Sultans quarterback JOSH OEDEWALDT didn't do a whole lot better as he completed 12 of 24 passes for 142 yards and 2 touchdowns.
Bottom line though, by the time Santana reached the scoreboard, Granite Hills led 37-0 by halftime.
The game was a thing of beauty for Granite Hills highlighted by a 30-yard interception and touchdown run by BRENDEN QUILL.
TYLER GONZALEZ chipped in for the Eagles on scoring run just before intermission.
"We controlled the line of scrimmage," said Eagles coach KELLAN COBBS. "And that was the difference. Siegfried is making good decisions and reads on his passing game. He's always been a hard-nosed runner."
Santana avoided the shutout as Oedewaldt threw to DAVON CHESTNUT for a 15-yard touchdown in the third quarter. It was the first of two TD hook-ups for the duo.