Highlanders dance to homecoming victory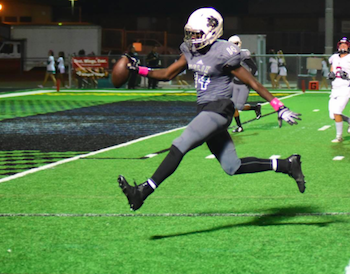 Helix's JAYLEN ARNOLD waltzes to the end zone Friday night against Steele Canyon. / photo by Chris Parks
2016 EAST COUNTY PREP FOOTBALL
HELIX 42, STEELE CANYON 0
By Bill Dickens
© East County Sports.com
LA MESA (10-8-16) — Sure-handed senior receiver JAYLEN ARNOLD reeled in 3 touchdown passes from quarterback CARSON BAKER to highlight Friday night's (Oct. 7) Helix homecoming game against Steele Canyon.
The rout was on after that as the Scotties continued on to clobber the Cougars 42-0.
"We had plenty of chances in practice to make our routes natural," Arnold noted. "We had a lot of good looks. I wouldn't say that beating them as badly as we did is what we expected, but the ability we showed made it that much easier."
SCOTT YOUNG scored first for the Highlanders in the opening quarter on a 19-yard pass from Baker.
RASHAD SCOTT also pulled in a 65-yard pass for a touchdown in the first quarter.
"We've been practicing all week and we came out knowing we could jump in front," Scott said.
Another score for the Highlanders was JORDAN JACKSON on a double pass from Baker to Young to him for the TD.
"We came out and played at a high level," said junior defensive back ISHA PARISH. "We're a team that always plays to our expectations. We were playing a little bit of both zone and man. It was a good mix."
Helix coach ROBBIE OWENS acknowledged that the Highlanders have improved every week.
"We only have four guys that played last year," he said. "Our schedule coming in was really tough. The kids are starting to come together.
"We want to improve each week, especially going into the playoffs. We want to be playing our best football for the playoffs."