Spartans' late score gives Braves first loss of season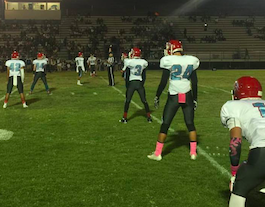 El Cajon Valley lines up for a kickoff Friday night.
2016 EAST COUNTY PREP FOOTBALL
CHULA VISTA 28, EL CAJON VALLEY 22
By Ramon Scott
© East County Sports.com
CHULA VISTA (10-8-16) — The Braves made a few key mistakes in their nonleague tilt at Chula Vista Friday night (Oct. 7), but their timing proved costly as they lost their first game of the season, 28-22, to the Spartans.
Chula Vista's Darrion Hamilton caught a 16-yard scoring strike from Paul Escobar against a confused Braves defense for the decisive score in the fourth quarter. Moments earlier, Hamilton made an interception and 35-yard return in a momentum-changing play that gave the host Spartans the boost they would need to pull off the upset at home.
Sergio Figueroa had a 1-yard touchdown run midway through the second quarter for the Spartans to give his team a 13-8 lead.
El Cajon Valley, however, led 16-14 at halftime as JEREMIAH DAVIS, a senior tight end, caught a 24-yard touchdown from quarterback TYSON SMITH in a well-designed play that had Davis cutting across the middle and wheeling in from the 15-yard line to complete the scoring play.
Smith who was 5 for 12 passing, also completed a pair of 2-point conversions, which have become his specialty.
Then, right out of the gate on the first offensive play from scrimmage in the second half, Smith had an 80-yard touchdown run to put the Braves up 22-13.
Smith won the sprint for the goal on a quarterback sweep to the left side, which was cleared out by MOSE KALEUATI and sophomore MASON TILEIA, which left the senior sprinting through the secondary and then to the right sideline for the long score.
Smith also had a 2-yard touchdown in the second quarter to give the Braves an 8-7 lead following a two-point conversion. On the score, Smith ran a play-action keeper with MAQUEL GARNER and blasted up a big hole cleared out by ANDRE ROBLES and MICHAEL MALONE.
Chula Vista linebacker Eddie Barajas was taken by ambulance with a neck injury in the first half. It was reported after the game that he would be fine.
Chula Vista scored the first touchdown of the game on a pass from Paul Escobar to Cameron O'Neal. The pair hooked up on a 58-yarder that O'Neal outmaneuvered a pair of Braves to haul in the reception, while teammates Smith and JONAS CARILLO took each other out like bowling pins.

"We didn't do well with the throwing game so we stayed with our "bread and butter" of running the ball," said Braves coach PARRIS PISIONA. "We had our chances to pull it out. Just a mistake here and a mistake there."