6-0 Norsemen eat at big boy table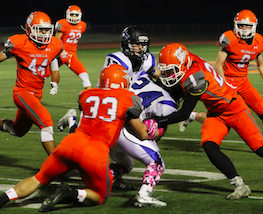 The Norsemen gang up on West Hills Friday night. / Don De Mars Photography
2016 EAST COUNTY PREP FOOTBALL
VALHALLA 34, WEST HILLS 0
By Jim Lindgren
© East County Sports.com
EL CAJON (10-8-16) — In leaving Valhalla out of the San Diego Section Top 10 poll, certain skeptics had pointed out that Valhalla's 5-0 start with three shutouts came against a soft nonleague schedule.
Those skeptics should have seen the Norsemen's 34-0 domination of West Hills on Friday night (Oct. 7) at Valhalla in the Grossmont Hills League opener.
This was a "complete" game in all facets for Valhalla, which is 6-0 for the first time since 2005. West Hills (4-2) had won four in a row.
The Valhalla offense racked up 434 total yards, 19 first downs and six scores. The defense allowed only 99 yards, seven first downs and zero points.
The Norsemen never punted and scored on their first three possessions of each half. West Hills had seven punts, an interception and a blocked field goal.
"We got what we came for, no question," Valhalla coach CHARLES BUSSEY said. "It was a great team effort. A complete game."
Senior tailback JEROME JOHNSON rushed 15 times for 147 yards, including touchdowns of 17 and 7 yards. He also blocked the 50-yard field-goal attempt by PAUL ANDERSON that helped preserve Valhalla's fourth shutout.
In three quarters, junior lefty BRYAN MADRIZ threw for 178 yards and two scores, completing 16 of 23 passes with one interception.
Senior wideout JACOB PAAPE caught five balls for 50 yards, including a 2-yard touchdown. The 6-foot-4, 230-pounder also booted a school-record 51-yard field goal that cleared the crossbar by at least 15 yards. Paape added a 33-yard field goal and now has seven on the season.
Tight end BRENT BURNETT – with his cheeks painted rosy pink – also got in the end zone, hauling in a short lob pass from Madriz and then bulling his way to paydirt for an 8-yard TD.
Seven different backs carried the ball for 241 yards and seven different receivers caught passes for 193 yards.
"I think that's the thing about the offense this year," Bussey said, "the ball is not just going to one or two guys. We're spreading it around to a lot guys."
In his first five seasons, Bussey had always made the defensive calls. This year, he is calling plays on both sides of the ball.
"I don't know if it's a defensive coach calling offensive plays," he said, "but I take what the defense gives us. And if we spread it around, I figure that keeps everybody happy."
Valhalla has now outscored its opponents 237-14 with one of the scores against coming on an 80-yard play late in a 34-7 blowout of Mount Miguel.
237-14!
Those are staggering numbers on both sides of the scoreboard, no matter who the opponents were. The four shutouts are just three shy of the Grossmont Conference record.
"They're real tough defensively," West Hills coach CASEY ASH said. "Obviously they're light years ahead of us, and we were probably the best team they've played so far."
Johnson was asked what delighted him more – the 34 points, his two touchdowns, his 147 yards or another shutout. Without hesitation, he proclaimed: "Another shutout."
That certainly did not surprise Bussey. "Defense really prides itself on that," he said. "Those shutouts are big.
"It takes a total team effort. We pride ourselves on that. We play a zone defense and not many teams do that. We work together. It's not easy for a defender to step up, fill a hole and take a block so the other guy can make a tackle, but our kids bought into it."
Paape bombed the opening kickoff into the end zone, and three plays later West Hills was forced to punt. After two short gains, Madriz found KHYREE POOLE downfield for a 23-yard gain. Madriz then faked an inside handoff to Johnson and raced around right end for a 36-yard pickup before being forced out of bounds at the 17-yard line.
Next play, Johnson followed some terrific blocks by JAKE SINES, JON WASHAM, center CASEY CASPER and TYLER EASTLICK, bounced outside to the right and rumbled for the 17-yard touchdown to cap the 81-yard drive.
Valhalla forced another punt on the ensuing series and immediately got a 43-yard gain on a beautiful pass from Madriz to BRANDON FULLER, who was pulled down from behind and somersaulted to the 27-yard line.
On third down, Paape had an apparent first-down diving catch around the 15, but the official ruled that the ball hit the ground first. Paape then lined up for a 46-yard field goal but a delay of game set up the kick from 51 yards. Paape's longest field goal had been 44 yards, and this 51-yarder probably would have been good from 65.
West Hills gained only one yard on its ensuing possession, forcing another punt, and Valhalla reeled off a 6-play, 52-yard scoring drive for a 17-0 lead on the first play of the second quarter.
Madriz hit BOSTYN THOMAS on an 8-yard gain and then Paape on a 32-yard pickup before Johnson scored his 12th touchdown on a 7-yard run through a gaping hole created by Casper, Eastlick, JACOB SMITH and Burnett.
"Shout out to my O-line," Johnson said. "Honestly, that's the bottom line. Shout out to those guys down in the trenches."
Madriz was 9-of-14 for 144 yards in the first half. He completed his first six passes of the second half, including touchdowns to Paape and Burnett.
Paape finished the scoring with a 33-yard field goal in the fourth quarter after Madriz connected with PATRICK CROSBY on a 15-yard completion.
"We work as a unit," Madriz said. "If I'm doing good, everybody's doing good."
Fuller caught six passes for 67 yards, Poole had three for 29 and Thomas 3 for 22. Madriz also rushed for 45 yards on four keepers, and ANTHONY PORTILLO added 33 yards on three touches.
West Hills leads the all-time series over Valhalla at 13-10-1, but the Norsemen have won six of the last eight.
West Hills had little to show on the stat sheet.
HAYDEN ROACH was 8-for-16 passing for 59 yards with an interception by TY SCHIMKE, his second of the year and Valhalla's seventh. Valhalla's BRANDON LEFFEW had the only sack of the game.
Roach, JOVAN BEA and GRIFFIN GUINN entered the contest each with 300-plus rushing yards. They finished with 18, 16 and 28 rushing yards, respectively. RICKY WILSON had three receptions for 29 yards.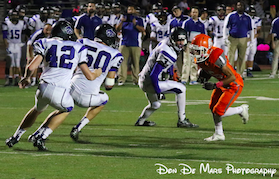 On defense, West Hills' DALLEN BROWNING recovered a fumble at the 5-yard line and intercepted a pass that set up Anderson's field-goal attempt.
"I was proud of the way our kids competed," Ash said. "Our execution was completely lacking, but I was proud of our effort."
West Hills was penalized more yards (125 on 14 flags) than it gained on offense (99). Its best scoring chance came late in the game when Roach hit Wilson for a 9-yard gain and a first down at the 11-yard line. Three straight holding calls pushed the Wolf Pack beyond midfield.
"You can't do that against a good team," Ash said. "We really hurt ourselves there. But when their guys are bigger and faster, you maybe start adjusting your feet and holding because you're getting beat. We hadn't seen a team like that, so hopefully we'll learn from that."
West Hills was 5-6 last year and 3-1 in the Grossmont Valley League before being reassigned to the tougher Hills League this season. The Wolf Pack play at Steele Canyon next Friday.
To start the season, the Norsemen beat up on Scripps Ranch (30-0), Granite Hills (37-7), Mount Miguel (34-7), Mar Vista (45-0) and Patrick Henry (57-0) before a bye last week.
Valhalla's 2005 team began 7-0 before two consecutive ties. The Norsemen were 9-0-2 that year before losing to St. Augustine in the semifinals.
Next Friday, Valhalla plays at Grossmont in a rare matchup of 6-0 teams.
"That game has been circled on the calendar for a long time," Bussey said. "The kids are really looking forward to that one. I guess the coaches are, too."