2016 EAST COUNTY FEARLESS FORECASTER – Week 8
Updated: October 13, 2016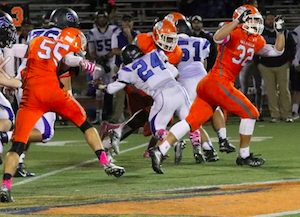 Valhalla's DYLAN MARSH pressures the quarterback last Friday night. / Don De Mars Photography
2016 EAST COUNTY FEARLESS FORECASTER
Week 7
By Bill Dickens
© East County Sports.com
LA MESA – The Valhalla Norsemen drew the short straw when it comes to the road for the Grossmont Hills League championship.
And the key word is "road."
The 11th-ranked Norsemen play both league contenders Grossmont and Helix on the road this season. In a league circuit shaping up much tighter than anticpated, it would appear that home-field advantage could be the determining factor in wrapping up the title.
The main road to that title gets underway Friday night when the Norsemen travel to La Mesa to face fellow unbeaten Grossmont at Thomas Mullen Adams Stadium at 7.
It's not necessarily a surprise that the confident Norsemen are 6-0 coming into the clash. It's the way they've went about their business so far.
Valhalla has suffocated its opponents by an average score of nearly 40-3.
The ninth-ranked Foothillers (6-0), meanwhile, have arguably had the tougher test so far with their unblemished record. Their San Diego CIF Division 1 power rankings would indicate that to be the case, as well.
Grossmont opened the season with a win at Morse, then came up with an impressive performance in a win at Lincoln three weeks ago after trailing by two scores early.
Both teams are 1-0 in league after recording lopsided shutouts last week.
Senior linebacker BRENT BURNETT leads a stout group, which includes junior LB DYLAN MARSH, junior DL JACE MANNING (the East County's sack leader with 8) and senior DB ANTHONY PORTILLO. Valhalla has shutout its last three opponents.
Their mission is to stop the high-flying, yet well-balanced attack of quarterback HUNTER GAINES and the Foothillers.  Gaines ranks second in the East County in passing yards (1,386), touchdowns (15) and yards per game (231).
Grossmont senior DOMONIQUE GUEVARA is second in the East County in receiving with 35 receptions and ranks first in TD receptions with nine, while junior JAILEN BAILEY has the highest per-reception average of all qualified receivers at over 21 ypc.
The Hillers' running game feeds off SHEVELL STERLING, JR., who ranks fifth in the East County with 566 rushing yards.
Valhalla's offense is a great compliment to its stellar "D."
The Norsemen have been able to keep its dominating unit well-rested with a more ball-control oriented attack, led by senior running back JEROME JOHNSON. Johnson is third in the East County with 624 rushing yards and has scored 12 touchdowns.
Valhalla's passing game produces about 40 percent less yardage through the air than the Foothillers, but junior QB BRYAN MADRIZ has been efficient, completing over 61 percent of his passes, which ranks third among East County starters. He has nine touchdowns and just three interceptions.
Senior receivers JACOB PAAPE and BRANDON FULLER have combined for 38 receptions and seven touchdowns.
Meanwhile, the Foothillers' defense was dominant last week, causing a season-high six turnovers and recording a safety.
Grossmont's defensive stalwart is senior linebacker CHRISTOPHER LAETHEM, while senior defensive lineman BRANDON ARMS, junior defensive lineman JULIAN SANDERLIN, andsenior defensive backs RILEY HAVIRD and GABE SCHAUER are coming off a strong game in the win over El Capitan.
The Norsemen may own an edge in special teams with durable return man KYREE POOLE, along with Paape, who booted a school-record 51-yarder last week against West Hills.
On paper, it would seem too close to call, but the rankings combined with the home field would suggest… GROSSMONT, 21-20.  
MONTE VISTA (5-1, 1-0 GVL) at SANTANA (4-3, 0-1 GVL), 7 — One of the surprising teams out of the Grossmont Valley League chute are the Monte Vista Monarchs .
Only 10 points separate the Monarchs from being undefeated.
The cornerstone of Monte Vista's alignment is defense. The Monarchs have given up 47 points, which include three shutouts. Offensively the Monarchs have picked up the pace of late, having scored 198 points in six games.
But this is a three-angle attack in that the game is dominated by the Monarchs' running back JAHMON McCLENDON, RASHUAN WILLIS-BROWN and TORREY MACK.
Passing has basically not been in the Monarchs' playbook.
"We completed our first pass against Mount Miguel (last week, a 36-21 victory)," said Monte Vista coach RON HAMAMOTO.
Following the injury of JUNIOR PITOAU, reserve quarterback ADERO JOHNSON will be calling signals and made the delivery.
Sophomore lineman BLAKE SCHMIDT (6-2, 235) is a stalwart on the offensive, as well as, defensive fronts.
"Our defense has done a good job of defending the spread offense," Hamamoto said.
Defensive lineman 6-foot-3, 300-pound CURTIS STEVENS anchors the line, while sophomore linebacker JONATHAN GULLEY (5-7, 180) is the key to the middle of the Monarchs' defense.
"We have only 27 players on our roster so we have a lot of players going both ways," Hamamoto noted.
Santana counts on record-breaking running back BOBBY WALLACE (732 yards on 108 carries for 13 TDs) and sharp-shooting quarterback JOSH OEDEWALDT (87 of 150 for 1244 yards and 18 TDs).
And that may be a bit more than the Monte Vista defense has seen to date, but the Sultans have to prove that last week's troublesome league-opening loss at Granite Hills was an outlier . . .  MONTE VISTA, 21-16.
EL CAJON VALLEY (5-1, 0-0 GVL) at MOUNT MIGUEL (0-1, 1-6 GVL), 7 – While it may seem to e a one-sided game based on the win-loss records of the Braves and Matadors, there are still some milestones to be resolved for resurgent El Cajon Valley.
When these schools faced off as league opponents between 2010-13, Mount Miguel crushed the Braves every time en route to four-consecutive Valley League titles.
But these aren't your older brother's Braves.
Sure, El Cajon Valley was brought back down to earth last week with a nonleague loss at Chula Vista, but it wasn't without fight, as the Braves failed to stay undefeated in a 28-22 loss that was decided late in the fourth quarter.
Still yet to be corralled is Braves' quarterback TYSON SMITH, the county's leading rusher. Smith's first inclination is to run, but 5 of his 12 completions this season have gone for scores.
"I like running a the ball," Smith said. "I like running people over and scoring touchdowns for our team."
When Tyson doesn't take off running, the Braves' top option in the backfield has been junior back MAQUEL GARNER, although slot back LUIS MORALES has the highest per-carry average in the East County at 13.6.
Keying on the backfield will be Mount Miguel defensive star CAMERON HANSON. The Matadors took a loss to cross-town rival Monte Vista, 36-21, but it would be hard to fault the 6-1, 215 pound senior, as he had 15 tackles.
Senior defensive end ANTHONY YARBOROUGH has 3 1/2 sacks this season for the Matadors.
Mount Miguel was forced to do a little soul searching in the loss to the Monarchs, a game which was competitive in the first half, but got away from them after the homecoming festivities.
Matadors' senior QB BENNY VALADEZ is the East County's most-accurate passer, completing over 67 percent of his aerials.  Senior receivers RICHARD MOORE and MARIO COKER have combined for 39 receptions this season.
Mount Miguel's short-handed running game never really got on track against Monte Vista, which would benefit them greatly in this one.
But El Cajon Valley possesses some of the best defenders the school as seen in a number of years, including the East County's leading tackler senior MLB FAAMAMA LAUIFI, senior OLB OMAR GARCIA, and Smith, a top-notch defensive back.
"We've just been working hard in practice Monday through Thursday, then showing what we've got on Friday nights," Smith said.
This one is sure to be closer than the records indicate… EL CAJON VALLEY, 24-21.
CHRISTIAN (6-0, 1-0 Eastern) at LINCOLN (4-2, 1-0 Eastern), 6:30 – The Patriots are the guests for homecoming at The Hive on Friday night in what amounts to be an Eastern League title-impacting game.
It should be the Patriots most formidable opponent and most daunting road atmosphere this season.
Christian will look to contain Hornets star running back Micah Edwards, who is coming off a 140-yard, four touchdown game against Mission Bay last week
"(Lincoln) likes to throw the ball to Micah on screens," Christian coach MATT OLIVER said. "We have a lot of speed on our defense, so the goal is to load the box and make them throw downfield."
Doing that throwing is Lincoln QB Asante Hartzog, a junior, who has over 1,000 yards passing with 11 touchdowns and five interceptions.
Senior George McCorley has a team-high 30 receptions this season for the Hornets.
"They have talent at every position," Oliver said. "Trying to stop them becomes a pick your poison."
Christian's defense is led by senior OLB DAVID MORENO and sophomore defensive end GARRETT ROSENTHAL. Senior defensive tackle JON STINE, junior linebacker CJ KIRWAN and senior free safety ETHAN CONTRERAS also head up the defensive unit.
Christian running back JOEY MORONES has scored 14 total touchdowns this season, rushing for over 92 yards per game.
But the fast varsity development for junior BRAD JEREMIAH has the Pats passing game looking polished. It could find some success against a Hornets' unit that has recorded just one interception this season.
Receiver and return man extraordinaire THEO GOODWIN has a knack for turning in a big play every week. It's not a matter of if, but when for the speedster.
Goodwin has four kick returns for touchdowns so far this season, and is third in the East County in receiving yards per game with 82.8.
This one has every reason to be a nail-biter… CHRISTIAN 33-32.
WEST HILLS (4-2, 0-1 GHL) at STEELE CANYON (2-4, 0-1 GHL), 7 — "Our seniors were 0-10 as freshmen, so they've come a long ways," said West Hills coach CASEY ASH of his 2016 Wolf Pack.
West Hills has made a nice rebound since, having won 4 of its last 5 games. The Wolf Pack has built their offense around junior quarterback HAYDEN ROACH, senior fullback GRIFFIN GUINN, and slotback JOVAN BEA.
On the defensive end, West Hills counts on noseguard OSCAR MORALES, defensive end KEVIN AH KEY and his brother, defensive tackle LUCAS AH KEY. Not to be overlooked is lineman CADEN KULAS.
"The key to our game is to control the ball," Ash said. "And we do that with our defense."
Steele Canyon looks to running back DEONTAE McKINNEY, quarterback THOMAS FISHBURNE (822 yards on 60 of 116 attempts for 9 TDs), receiver BRENDEN WILLIS (17 catches, 282 yards and 4 TDs).
Defensively, Steele Canyon has been hit pretty severely by injuries this season.
"We played a tough schedule and we know it," said Ash. "We need a win to stay in the race."
And that means beating Steele Canyon . . . WEST HILLS, 17-14.
No. 5 HELIX (4-2, 1-0 GHL) at EL CAPITAN (3-3, 0-1 GHL) – El Capitan's early season surge is a well-earned reward as the Vaqueros get their program back on track.
Unfortunately, some tough luck has the Vaqueros trying to reshape their offense during the most brutal part of their league schedule.
The Helix Highlanders come to Lakeside still steaming over what transpired during the nonleague season. They already mowed down league foe Steele Canyon, 42-0, on the road last week to vent some frustration.
The Scotties' defense should prove to be a tough bunch to navigate past for El Capitan, as Helix stars EZEKIEL NOA, SCOTTIE YOUNG, MICHAEL SHAWCROFT and ISHA PARISH will be on display.
El Capitan now has to rely more heavily on running back CONNOR ROOSA to establish a presence on offense until they can get their passing game re-groomed.
The Vaqueros have a reputable defending group in senior OLBs DYLAN HELMHOLTZ and OSCAR VAENZUELA and junior MLB CHRIS MCDONOUGH.
JAVIER VILADEZ has two interceptions this season and is also the Vaqs' top wideout with 422 yards receiving.
Helix's CARSON BAKER is the top East County passer at this point, averaging 235 yards per game and completing nearly 67 percent of his passes.
Young leads the East County with 41 receptions.
The Highlanders' RASHAD SCOTT may have been overlooked for his effort last week, as he had two interceptions, as well as, a 65-yard touchdown reception from Baker.
Meanwhile, Helix tight end JAYLEN ARNOLD, had three touchdown receptions last week to get his season on track.
It may be a long night for the Vaqueros, but they are diligent in learning from these type of experiences… HELIX 42-7.
HILLTOP (4-2) at GRANITE HILLS (2-4), 7 – The Eagles showed they were not to be counted out of the Grossmont Valley League race after clobbering Santana in the opener at home.
Now, they get an awkwardly-timed nonleague game against the visiting Lancers at Granite Hills Stadium.
The Eagles jumped all over the Sultans early last week and seemed to gain a lot of confidence with the win.
Quarterback JAKE SIEGFRIED had a stellar game for the Eagles with 144 yards and two TDs in just 13 attempts, while also rushing for 102 yards and a score. The junior is also seventh in the East County in rushing with over 82 yards per game.
The Eagles' GUSTAVO GUTIERREZ is fifth in receiving yards in the East County with 409.
After starting 3-0, the Lancers have lost two of their last three.
Dominic Esparza has five touchdowns and averages over 5 yards per carry for Hilltop, while Lancers QB Alex Tejada has 1,162 yards passing and a 64 percent completion percentage, with 12 TDs and 3 INTs.
Granite Hills boasts a pretty tight secondary, however, led by BRENDEN QUILL, who had two interceptions last week.
TYLER GONZALEZ is a top-notch front-line defender, who also doubles as a running threat on offense. He has five sacks this season.
It's only a matter if the Eagles can stay focused for this game with the league season looming… GRANITE HILLS, 28-14.
HOLTVILLE (3-3, 1-0 Manzanita) at MOUNTAIN EMPIRE (3-3, 0-0 Manzanita), 7 – The Red Hawks open their league season at home against Holtville, which won its league opener last week, 49-2, over Lutheran.
The Red Hawks have struggled in the run game, but their passing game has been out of sight.
Quarterback VICTOR PARRA, a senior, threw for 377 yards in last week's 31-15 win over Anza Hamilton.
Sophomore GABRIEL HYDORN continues to do big things for Mountain Empire. He caught 8 passes for 183 yards and three touchdowns last week. While he also had a sack defensively, and for the fourth time this season he forced, then recovered, a fumble on the same play.
Red Hawks' defensive starts BLAKE JARRELL and CAMERON WILL are going to have to lead a slowdown of a Holtville offense that is averaging over 31 points per game.
Senior quarterback Anthony Castro is Holtville's duel threat with a team-leading 614 yards rushing, while also throwing for 521 yards.
This has been a series primarily won by the home team, but the Vikings may have just a bit more offense here this time… HOLTVILLE 32, MOUNTAIN EMPIRE 28.
Fearless Forcaster's Record
Last week:  6-2 (.750)
Season:      55-14 (.797)