Griffins, Hornets meeting has big stakes
Grossmont's CAMERON MYERS (52), RYDEN KERR (55) and JOSEPH WATKINS.
2016 GROSSMONT COLLEGE FOOTBALL 
By Bill Dickens
© EastCountySports.com
FULLERTON (10-7-16) — This is an historical battle which will be renewed on Saturday (Oct. 15) at Yorba Linda High School at 1 p.m.
The Grossmont Griffins travel to face the Fullerton Hornets at 1 p.m. in a big clash between ranked teams in Southern California.
In 1962, Fullerton blanked Grossmont 22-0 in its first season in a game that was televised live in Los Angeles by KCOP Channel 13.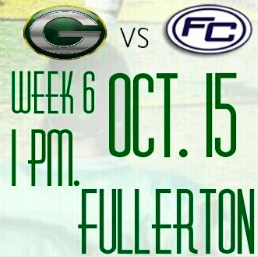 Griffins fans this weekend can watch this game on the internet on SportsNetUSA.net, under the Hornets Football link.
Grossmont comes into this one 4-1 overall and ranked No. 6 in the National Southern Division, while Fullerton is ranked No. 3 with a 5-0 record.
Grossmont is led by quarterback BRAD CAGLE, who has completed 81 of 164 for 1134 yards. His totals include 9 touchdowns.
Receiver ADRIAN TOLBERT is averaging 20.4 yards per catch with 21 receptions for 428 yards and 5 touchdowns. Cagle's favorite target is this guy.
The ground game is guided by NEHEMIAH BROWN with 309 yards and 5 touchdowns on 72 carries.
Running back KEITH FULTON has picked up the pace with 51 carries for 233 yards and 3 touchdowns.
Fullerton quarterback Trey Tinsley will test the Grossmont secondary for sure. He's completed 2182 yards for 13 touchdowns.
That should alert Grossmont's JORDAN ELLIS, who has 5 interceptions. Tinsley has been intercepted 6 times, which creates an interesting matchup.
GRIFFIN GRAFFITI:  Fullerton leads the all-time series 19-5 . . .  The first time the Griffins defeated the Hornets was in 1974, the year Grossmont won its first state championship . . . Grossmont defeated Fullerton also in 1978, '92, 2005 and '11 . . . Because so many teams had byes last week, the SCFA did not post Players of the Week awards.