Hornets put Griffins in place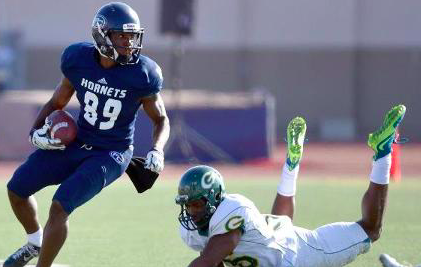 Fullteron freshman Daurice Simpson, of York, SC, makes a move following a reception on Saturday.
2016 GROSSMONT COLLEGE FOOTBALL
By Bill Dickens
© EastCountySports.com
YORBA LINDA (10-16-16) — For Grossmont College it was a nightmare in Yorba Linda as the Fullerton Hornets tied a school record for scoring on Saturday (Oct. 15) at the Griffins' expense, claiming a 79-18 National Southern Conference opening victory.
"That was a humbling of an experience as possible," tweeted Griffins secondary coach BRETT HUDSON. "If feels like we walked into a perfect storm, but it only counts as one loss at the end of the day."
The Hornets tied the 2013 record for most points scored in a game with 79. Strangely enough, the 2013 record was also against Grossmont, a 79-44 win.
The win keeps Fullerton's undefeated record intact at 6-0 and the Hornets now sit at 1-0 in the SCFA Southern Conference. The Griffins loss lands them at 4-2 overall and 0-1 in the Southern Conference.
Fullerton scored 11 touchdowns against Grossmont on this autumn afternoon. The Hornets emptied their bench but the stinger was turned in by D'Angelo Ross, who intercepted a Griffin extra point attempt and ran it back 98 yards for two points.
Grossmont put together a 6 play, 99 yard scoring drive capped by NEHIMIAH BROWN on a 10-yard junket, cutting Fullerton's edge to 7-6 in the first quarter. The PAT failed due to a bad snap.
After that it was all Fullerton.
The Griffins scored 2 second-half touchdowns – one on a 59-yard pass from SPENCER MOYER to JABRIL CLEWIS. The PAT was blocked, which further added to the Griffins frustration.
The final points of the game were scored by MARCELLUZ SMITH on a 52-yard pass from Moyer. This time a 2-point conversion failed.
Starting quarterback BRAD CAGLE left the game in the first half after going four for four for 19 yards. He was shaken up on an 11-yard sack. Moyer played the majority of the game, connecting on 15 of 47 passes for 247 yards and 2 touchdowns. He was intercepted 3 times, of which the Hornets returned 2 for touchdowns.
Brown led the Griffins ground game with 74 yards on a dozen carries. KEITH FULTON added 36 yards on 3 carries, and ISAAC MARTINEZ tacked on 22 yards on 2 carries.
RYDEN KERR led the Griffins with 10 tackles, one for loss, while JORDAN ELLIS intercepted his 6th pass of the season.
Grossmont defensive coordinator CJ ARNOLD tweeted, "What this loss means: 1. We have a lot of work to do, and 2. We can't go undefeated in conference. That's it. Time to regroup and get ready for Orange Coast College (on Saturday (Oct. 22) at home)."
SCORING
1
2
3
4
FINAL
Grossmont (4-2, 0-1)
 6
 0
 6
 6
 18
Fullerton (6-0, 1-0)
 21
 21
 30
 7
 79
Yorba Linda, CA | Nathan Shapell
PRD
TIME
SCORING SUMMARY
GROSSMONT – FULLERTON
1
12:12
Fullerton – K. Thomas 7 yd run. (J. Aguilar kick is good).
Drive: 7 plays, 77 yards in 2:48.
0 – 7
1
09:11
Grossmont – Nehemiah Brown 10 yd run. (2pt conversion rush by Michael Ledesma failed).
Drive: 6 plays, 99 yards in 3:01.
6 – 7
1
07:37
Fullerton – C. Williams 65 yd pass from Jordan Hoy. (J. Aguilar kick is good).
Drive: 1 plays, 65 yards in 0:13.
6 – 14
1
05:10
Fullerton – DeAndre McNeal 47 yd pass from Jordan Hoy. (J. Aguilar kick is good).
Drive: 3 plays, 64 yards in 1:12.
6 – 21
2
10:42
Fullerton – C. Williams 14 yd pass from Jordan Hoy. (J. Aguilar kick is good).
Drive: 8 plays, 48 yards in 3:43.
6 – 28
2
05:32
Fullerton – Gerald Hulett 2 yd run. (J. Aguilar kick is good).
Drive: 2 plays, 11 yards in 0:24.
6 – 35
2
02:16
Fullerton – Jordan Hoy 5 yd run. (J. Aguilar kick is good).
Drive: 6 plays, 60 yards in 3:16.
6 – 42
3
13:49
Grossmont – Jabril Clewis 59 yd pass from Spencer Moyer. (Dominick Grimm kick blocked).
Drive: 6 plays, 75 yards in 1:11.
12 – 42
3
13:49
Fullerton – D'Angelo Ross 98 yd extra point return.
12 – 44
3
07:11
Fullerton – Asante Wilder 20 yd pass from Jordan Hoy. (J. Aguilar kick is good).
Drive: 3 plays, 22 yards in 1:00.
12 – 51
3
06:27
Fullerton – D'Angelo Ross 26 yd interception return. (J. Aguilar kick is good).
12 – 58
3
04:48
Fullerton – Jordan Huffman 16 yd pass from Isaiah Jackson. (J. Aguilar kick is good).
Drive: 2 plays, 29 yards in 0:24.
12 – 65
3
00:19
Fullerton – Aundre Carter 7 yd run. (J. Aguilar kick is good).
Drive: 7 plays, 58 yards in 3:24.
12 – 72
4
04:38
Fullerton – Aundre Carter 6 yd run. (J. Aguilar kick is good).
Drive: 7 plays, 20 yards in 3:46.
12 – 79
4
02:36
Grossmont – Marcelluz Smith 52 yd pass from Spencer Moyer. (2pt conversion pass by Spencer Moyer failed).
Drive: 3 plays, 75 yards in 2:02.
18 – 79
GROSSMONT
STATISTICS
FULLERTON
18
FIRST DOWNS
29
8
6
4
Passing
Rushing
Penalty
13
14
2
25% (4 of 16)
THIRD DOWN EFFICIENCY
63% (10 of 16)
20% (1 of 5)
FOURTH DOWN EFFICIENCY
100% (3 of 3)
373
TOTAL OFFENSE
576
73
5.1
Total Offensive Plays
Average gain per play
75
7.7
266
NET YARDS PASSING
350
19-51
5.2
4-25
3
Completions-Attempts
Net yards per pass play
Sacked: Number-Yards
Had intercepted
20-27
13.0
2-14
2
107
NET YARDS RUSHING
226
22
4.9
Rushing Attempts
Average gain per rush
48
4.7
6-181
PUNTS: Number-Yards
3-136
30.2
Average
45.3
139
TOTAL RETURN YARDS
189
1–8
4-85
2-62
Punt Returns: Number-Yards
Kickoff Returns: Number-Yards
Interception Returns: Number-Yards
5-117
3-46
3-26
4-51
PENALTIES: Number-Yards
14-154
1-1
FUMBLES: Number-Lost
1-1
2-14
SACKS: Number-Yards
4-25
2-62
INTERCEPTIONS: Number-Yards
3-26
24:08
TIME OF POSSESSION
35:52
Grossmont

Fullerton

| PUNTING | NO | YDS | AVG | LG | TB | IN 20 |
| --- | --- | --- | --- | --- | --- | --- |
| Blake Lester | 5 | 181 | 36.2 | 39 | 0 | 0 |
| TEAM | 1 | 0 | 0.0 | 0 | 0 | 0 |
OTHER INFORMATION
Location: Yorba Linda, CA
Stadium: Nathan Shapell
Attendance: 1200
Weather: hazy
Temperature: 74
Wind: light