Buzz Kill: Patriots wear down Lincoln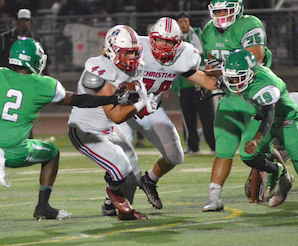 JOEY MORONES RUSHES FOR CHRISTIAN FRIDAY NIGHT AGAINST LINCOLN. / photo by Ramon Scott
2016 EAST COUNTY PREP FOOTBALL
CHRISTIAN 35, LINCOLN 17
By Jim Lindgren
© East County Sports.com
SAN DIEGO (10-15-16) — Christian senior fullback JOEY MORONES has a head full of wiry hair, several cuts and bruises on his super-sized arms and legs, and a heart the size of Texas.
The dude is a load, though, and certainly proved his worth, rushing for all five touchdowns in Christian's 35-17 victory over Lincoln on Friday night (Oct. 14) in a key Eastern League showdown in the Hornets' homecoming game at Vic Player Stadium.
Workman-like touchdown runs of 9, 1, 4, 2 and 28 yards propelled the 5-foot-10, 225-pound Morones and Christian to its first-ever victory over Lincoln. Morones finished with 124 hard-fought yards on 24 carries and now has 18 touchdowns on the season.
"We knew we had something to prove," Morones said. "They were keying on us, but we still got the job done."
With the win, Christian (7-0, 2-0) took control of the Eastern League title chase over Lincoln (4-3, 1-1). It was the Patriots' 13th consecutive league win dating to a 2012 loss to University City.
With the Hornets swarming him on every handoff, Morones carried 24 times for 124 yards. He now has 685 rushing yards and 18 touchdowns. His most impressive play might have been his 16-yard catch-and-run on a short swing pattern in the third quarter. Morones broke a couple tackles and carried a few Hornets an extra five yards on the play.
With Lincoln taking a 17-14 lead early in the third quarter, Morones scored three times in the fourth quarter to retake the lead and then put the game away.
"Morones was the man tonight," Christian coach MATT OLIVER said. "He really ran well. They knew we were going to go to him all game, and he still came up big."
Morones' five TDs matched the five he had against Imperial last month.
In its infant stages of big-time high school football, the Patriots lost to Lincoln nine straight years between 1981 and 1989 by a whopping point differential of 361-77.
"First win against Lincoln in school history," Morones said, "this one was big."
Morones also made several big stops on defense as Christian limited the high-powered Hornets to 17 points and 254 total yards.
The Patriots had 350 total yards and 20 first downs. Junior quarterback BRAD JEREMIAH completed 13 of 21 passes for 156 yards with one interception, Sprint champion THEO GOODWIN caught four passes for 80 yards. BRYCE RIEPL added four receptions for 44 yards, and ETHAN CONTRERAS caught two balls for 25 yards.
TSHOMBRE CARTER chipped in with 62 rushing yards on 13 carries.
"First time beating Lincoln, it was a really big win for us," Oliver said. "We played well for four quarters. I think we wore them down a little at the end."
The lead changed six times in the first 39 minutes, but then the Patriots flexed their muscles.
Lincoln went ahead 3-0 on its first field goal of the season, a 26-yarder by Pedro Rivera midway through the first quarter.
Christian went up 7-3 on its next possession, driving 57 yards on eight plays with Morones scoring up the middle on a 9-yard run.
Joey Morones TD dive with 1:34 left in first half gives Christian 14-10 lead over Lincoln. pic.twitter.com/edTbUaVRMH

— Ramon Scott (@RamonScottPoker) October 15, 2016
Midway through the second quarter, Lincoln took a 10-7 lead on Micah Edwards' 12-yard TD run.
Christian countered with an 11-play, 62-yard scoring drive with Morones bulling into end zone from 1 yard to make it 14-10 just before halftime. Jeremiah and Goodwin hooked up on completions for 28 and 21 yards to set up the score.
After the break, Lincoln drove 80 yards in just six plays to go up 17-14 on Da'Jon Thomas' 6-yard touchdown scamper.
Christian drove to the 7-yard line on its next possession but came away empty after Morones was stopped to a 2-yard gain on a fourth-and-three call.
Morones would not be denied on the next possession, scoring on a 4-yard blast to cap a 51-yard drive early in the fourth quarter for a 21-17 lead the Patriots would not relinquish.
Midway through the fourth quarter, Christian took over after a 12-yard punt by the Hornets put the ball at the 45-yard line. Eight plays later, Morones had TD No. 4 on a 2-yard gain, and Christian had a 28-17 lead.
After an interception by ETHAN GONZALEZ, Morones took the next play 28 yards to the house for a 35-17 lead.
"The defense made the stops when we needed it," Oliver said. "It was huge getting the field position we got tonight. That really helped a lot."
Christian's offensive line really helped a lot, too. Give credit to JONATHAN STINE, AUSTIN MANION, JAMIR HAILEY, CHASE HANDLEY and DUNCAN HUNTER.
Defensive game balls go to Morones, Riepl, Contreras, Stine, ISAAC ROSENTHAL, JOE MARKOWICZ, CJ KIRWAN and ALEXANDER GONZALEZ.
Markowicz, Stine, Kirwan and Gonzalez all had QB sacks, and Contreras had the key interception in the fourth quarter.
Lincoln owned this series when both teams were members of the City Western League, winning nine consecutive times from 1981 to 1989 by a whopping 361-77 scoring margin.
The late Vic Player was the Hornets coach back then, and Lincoln's stadium is now named in his honor.
Christian, which has won section titles in three of the past five years, next plays host to Scripps Ranch next Saturday at Granite Hills' Valley Stadium.