Matadors run roughshod over Braves
Updated: October 15, 2016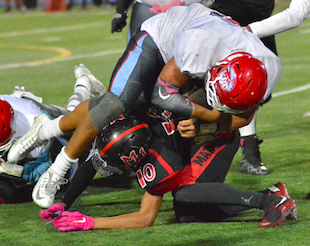 Mount Miguel's SANTINO PACHECO upends El Cajon Valley's TYSON SMITH Friday night. / photo by Ramon Scott
EAST COUNTY PREP FOOTBALL
MOUNT MIGUEL 33, EL CAJON VALLEY 8
By Bill Dickens
© East County Sports.com
SPRING VALLEY (10-15-16) — In a contest that figured to be a match of running games, the Mount Miguel Matadors took the first step forward Friday night (Oct. 14) and stampeded the visiting El Cajon Valley Braves, 33-8, creating a three-way tie for second place in the Grossmont Valley League race.
The Matadors (2-6 overall, 1-1 GVL) picked up a key victory by knocking El Cajon Valley (5-2, 0-2 GVL) out of the saddle to put itself into league title consideration.
The Matadors looked to hard-nosed running back SHEMAR GREENE, who stormed for 114 yards on 22 carries and 2 touchdowns. Greene talked about a duel with El Cajon Valley's quarterback TYSON SMITH.
"I know he's the top running back in East County, but I'm just trying to hold my own," Greene said.
For the record, Greene is in second place in East County rushing.
He noted that he was protected behind a heavy offensive line and thus was able to move the pile.
One of the big plays for the Matadors was when SANTINO PACHECO returned a punt 71 yards for a touchdown to put the final icing on the cake.
"I got blocks from ROY CORLEY, DAMIEN YERENA and ALEX LEMON," noted Pacheco, who cruised to the endzone.
For the record Lemon, who registered a sack, was a standout in the Mount Miguel defense.
A change of position for ANTHONY YARBROUGH from defensive end to linebacker proved successful for the Matadors, logging 9 tackles on the night.
"I really like flying around as a linebacker," Yarbrough said. "I think that's more my position."
For El Cajon Valley Smith, who finished with 123 yards on 28 carries, scored the only touchdown for the Braves in the first quarter.
DeSHAWN HENDERSON ran the 2-point conversion in for the Braves.