Sultans outdistance Monarchs to get back in Valley race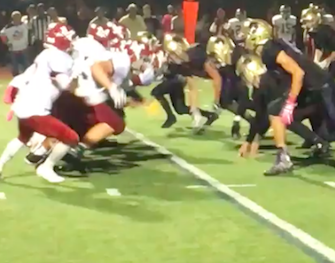 Monte Vista and Santana line up Friday night in Santee.
2016 EAST COUNTY PREP FOOTBALL
SANTANA 46, MONTE VISTA 40
By Bill Dickens
© East County Sports.com

SANTEE (10-15-16) — When it comes to throwing the football, not many quarterbacks are more on the mark than Santana junior JOSH OEDEWALDT. 
For the second time this year the 6-foot-3, 185-pound signal caller delivered 5 scoring passes in a game, the most recent of which was Friday's (Oct. 14) Grossmont Valley League slugfest won by the Sultans over Monte Vista 46-40.
Earlier in the season, Oedewaldt directed 5 scoring strikes in a victory over Mar Vista. Having thrown 5 touchdown passes in a game for the second time ties the Santana record. He currently leads East County with 23 touchdowns in eight games.
"No doubt this was a scoring fest," said Santana coach TIM ESTES. "Twice we led by 13 points but couldn't pull away."
Bottom line for Santana was the passing of Oedewaldt, as Monte Vista's running game could not catch him. Even Oedewaldt piled up 66 rushing yards to go with his 341 passing yards.
"The thing about him is he throws a strike every time we have to have it," noted Estes. 
Monte Vista's hard-nosed defense put the brakes on Santana's record-breaking running back BOBBY WALLACE, who finished with 95 yards on 18 carries and one touchdown. 
"They did a good job of bottling up Wallace," admitted Estes. "They are a very good run defense." 
On the offensive side, Monte Vista looked to 6-foot-2, 200-pound sophomore running back JAHMON McCLENDON, who rushed for 258 yards and 3 touchdowns on 36 carries.
Santana (5-3, 1-1 GVL) built a 31-19 lead in the second quarter, but Monte Vista (5-2, 1-1 GVL) trailed 31-26 at halftime. 
Santana senior defensive lineman DOMENIC DEHOYOS led the Sultans' defense with 16 tackles, while STEPHEN ROE recorded 10 stops. 
Senior ANDERS TOLHURST kept up his touchdown pace, as well, catching two of the scoring aerials from Oedewaldt. The pair were in synch all evening.
Tolhurst took a middle screen from Oedewaldt 45 yards in the second quarter to make it 31-19. Tolhust finished with eight receptions for 121 yards, while teammate BROCK ELLIS had five catches for 107 yards. Ellis also had an interception on 'D'.
In the third quarter, Oedewaldt hit senior AIDEN RAMSUSSEN on a skinny post for a 70-yard score to make it 37-33 in favor of the Sultans.
Oedewaldt got protection up front from seniors MATTHEW WHITCOMB, BRYCE MARTIN, TRENT FORSTER,ADAM VARGO and DYLAN BROWN.
The two teams combined for 10 plays of 30 yards or more in the track meet, with six of those being 50-plus-yard plays. The Monarchs had four plays go for 65 or more yards.
Running back RASHAUN WILLIS-BROWN had a 75-yard touchdown, while brothers Jahmon and JAMEZ MCCLENDON, both had 68-yard touchdown runs.
Santana led with an early touchdown when Willis-Brown, lined up under center, took a keeper sweep to the outside and simply outraced the Sultan defenders to the corner to start his long scoring jaunt.
Opening the way for the Monarchs on this evening were senior linemen EDUARDO GONZALEZ, VICTOR ICU, BRIAN SHELL, DAVID YBARRA and CURTIS STEVENS, as they pushed around Sultan defenders all night.
The theme of Santana's Homecoming was Around the World and the King was the Voice of Santana himself, MATT D'ANGELO, and the Queen was JANICE DEGUERIO.