Griffins need course in selective memory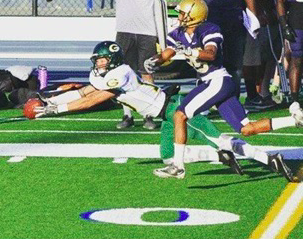 GROSSMONT'S ADRIAN TOLBERT MAKES A DIVING CATCH AGAINST MESA.
2016 GROSSMONT COLLEGE FOOTBALL 
By Bill Dickens
© EastCountySports.com
EL CAJON (10-21-16) — After suffering a black eye in a 79-18 knockout at Fullerton last week, the Griffins hope to regain their footing with a home game at Mashin-Roth Field against Orange Coast College on Saturday (Oct. 22) at 1 p.m.
The Griffins (4-2, 0-1 National Southern Conference) must recover from one of the most devastating losses in their history as they host the Pirates.
Meanwhile, Palomar's Matt Romero hooked up with Terrell Arnold for a touchdown catch last week with 17 seconds left in a game against Orange Coast. Sam Tapia drilled the PAT and the Comets beat the Pirates, 28-27.
Grossmont counts on running back NEHEMIAH BROWN, who has rushed for 383 yards and 6 touchdowns on 84 carries.
KEITH FULTON also rushed for 269 yards and 3 touchdowns on 54 carries.
There is some question as to who will be the Griffins quarterback. At this time it is undecided – starter BRAD CAGLE (1153 yards, 9 TDs) or SPENCER MOYER (497-4 TDs).
GRIFFIN GRAFFITI:  Orange Coast maintains a 16-8-1 record over the Griffins . . . Grossmont College won the state championship in 1974 with a 12-0-2 record, knocking off Orange Coast in the championship game 34-17 . . . It was the first of two championships for Grossmont College . . . Grossmont won the national championship in 2005 with a 13-1 record, defeating City College of San Francisco 41-38. . . Orange Coast missed seven PAT attempts last week against Palomar, which won the game on the final play. . . The game will be broadcast on the internet by OrangeNationTV.