Title Train: Patriots continue league run
Updated: October 23, 2016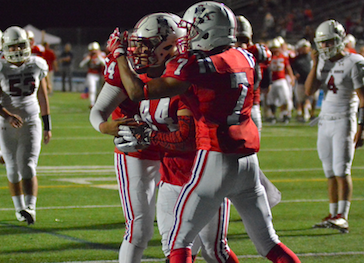 JOEY MORONES is congratulated by teammate THEO GOODWIN following a touchdown Saturday night. / EastCountySports photo
2016 EAST COUNTY PREP FOOTBALL
By Ramon Scott 
© East County Sports.com
EL CAJON (10-23-16) — The Patriots won at least a share of the Eastern League title, by drubbing the Scripps Ranch Falcons, 61-7, on Saturday night (Oct. 22) at Granite Hills Stadium.
By improving to 3-0, Christian holds victories over all the other top three contenders in the five-team circuit, with its only remaining league game against last-place Mission Bay. A win over the Bucs here at home on Nov. 4 would give Christian the crown outright.
Christian led 47-0 at halftime against Scripps Ranch, as JOEY MORONES found a new way to score, to go along with some of his old standby hits, as well.
Morones, a senior, rushed for a 7-yard touchdown just 2:10 into the game. The score was set up by a big gain on a screen pass to THEO GOODWIN from quarterback BRAD JEREMIAH, which took the Patriots into the red zone.
On the Falcons' first possession, they got a shot at an early tie, but a fourth-down pass attempt was broken up in the end zone by the Patriots.
Christian got a completion and a personal foul tacked on to take the ball near midfield, when on the next play, Morones took one of his standard up-the-middle handoffs, but soon he found himself bouncing off pile after pile on the way to a long 52-yard touchdown run.
The Patriots took their next drive in for another score, extended by a 25-yard completion to BRYCE RIEPL. On third-and-short, the Patriots got a first down run from JON STINE, which got a roar from the home faithful.
Christian (8-0, 3-0 Eastern League) capped the march with a 13-yard slant from Jeremiah to Goodwin, who held on to the throw as he crossed the goal.
TSHOMBRE CARTER came out of nowhere to record an interception for Christian on a pass that looked like it was headed to the sideline. Jeremiah then threw a short screen to Morones, who rambled home, dragging a few tacklers for his second score of the game.
Later in the second quarter, Christian blocked a Scripps Ranch (3-5, 0-2 Eastern League) field goal attempt, and after a moment of hesitation by everyone, Morones correctly picked up the live ball at his own 3-yard line and started maneuvering for a run back. He got outside the chasing defenders and then made a wild jaunt down the left sideline, with his teammates seemingly in tow.
Carter added a 1-yard score with 4:08 left in the second quarter for a 40-0 lead. He added another score for good measure late in the first half. Carter found the end zone again with a 10-yard run, which put the Pats up 54-0, before Scripps Ranch finally answered with its only touchdown of the game.
ALONZO RICHARDSON added a 3-yard score on a counter sweep in the second half. Stine had a first-half sack for Christian for an 11-yard loss.
Morones with four more scores on Saturday, now has 23 touchdowns this season, including 20 rushing TDs. He has nine TDs over the last two games. Christian has now won 14-straight league games.