Patriots quiet Pointers' Homecoming
Updated: October 29, 2016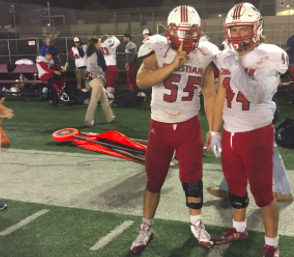 CHRISTIAN'S JONATHAN STINE and JOEY MORONES AFTER THE PATRIOTS WIN FRIDAY NIGHT AT POINT LOMA.
2016 EAST COUNTY PREP FOOTBALL
CHRISTIAN 31, POINT LOMA 21
By Chris Davis
© East County Sports.com
POINT LOMA (10-29-16) — The Christian High Patriots took all the festivities of Point Loma's homecoming and treated it like a warm-up act for their own homecoming, which is next week, and defeated the Pointers 31-21 in a non-league contest.
"We don't usually play in front of huge crowds," Christian (9-0) do-everything BENJAMIN "THEO" GOODWIN said after the contest.  "But that just ended up being in our favor because we just love energy, and we used that energy for us."
BRAD JEREMIAH threw 10-of-20 for 186 yards with a pair of touchdowns and an interception at the end of the first half (his final throw of the night).  Goodwin was on the receiving end of the majority of those completions.  The senior caught seven passes for 124 yards with a touchdown.  For the night, he had 148 yards of total offense.
"Well, he is a threat," Patriots offensive coordinator DAVID BEEZER said of his senior wide receiver.  "He is superfast and makes big plays and he is special."
Goodwin also threw for a first half touchdown as he completed a beautiful 29-yard strike to ETHAN CONTRERAS.
The Contreras scoring strike was the first of the game and after an ISAAC ROSENTHAL extra point, it was 7-0 in favor of the Patriots.
About 90 seconds later, Point Loma (4-5) would get on the scoreboard with a 2-yard run to tie the score up with just under five and half left in the first quarter.
With less than a minute remaining in the first stanza, the senior "lightning" duo of Jeremiah to Goodwin teamed up from 48 yards out to give the Pats a 14-7 lead after the first quarter.
Point Loma came back and scored to tie the game up at 14-all.
Just 80 seconds later, Jeremiah threw his second touchdown pass to the "thunder" of the Christian Thunder and Lightning combo, JOEY MORONES, for a 37-yard strike and a 21-14 lead going into intermission.
After the break the Patriots would not throw a single pass.
Point Loma would come out from the locker room and trailing by seven points, went for it on fourth and six from their own 38-yard line. That was a bad choice as the Patriot defense stopped the Pointers for a 10-yard loss on the play to give their offense great position.
Morones carried the ball three times for 29 yards which included a 1-yard surge into the end zone for a score and a 28-14 lead.
Which is where it stood at the end of 36 minutes of action.
Point Loma ran the ball in from 9-yards out to trim the lead to 28-21 with about eight and a half to go in the game.
Christian got the ball after the Pointers tried to go for it on fourth down and came up empty.
Rosenthal put the game on ice when he hit a 21-yard field goal with 65 seconds left in the game.
"It is a big deal for us to beat a good Division I team," Beezer said afterwards. "The kids played just like they have all year, they out hit them and played really great defense and offense.  We are great on both sides of the ball. That makes us tough to stop.  The kids are just a great group!"
Christian will look to put a big bow on what could be an undefeated regular season next week when they host Mission Bay at Valley Stadium, in the regular season finale and the above mentioned homecoming.