Act One – and title – goes to Highlanders
Updated: November 5, 2016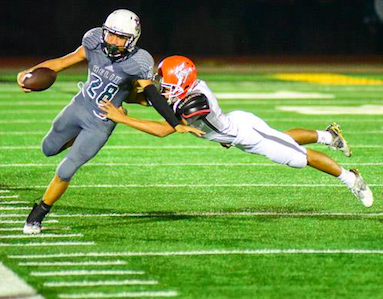 Helix's FATTO NOA carries against Valhalla Friday night. / photo by Chris Parks
2016 EAST COUNTY PREP FOOTBALL
HELIX 40, VALHALLA 13
By Jim Lindgren
© East County Sports.com

LA MESA (11-5-16) — For the first 20 minutes or so, Valhalla was enjoying the type of game Norsemen coach CHARLES BUSSEY was scheming for in a quest to upset the high-powered and ultra-talented Helix Highlanders.
The Grossmont Hills League championship was on the line – not to mention playoff seedings in the Open Division – and Bussey had a good game plan.
Keep the score low and the clock running, minimize big plays and hope for a break or two to turn momentum in your favor.
Check. Check. Check. And check!
But check out the final score: Helix 40, Valhalla 13.
As is their wont, the Highlanders flipped a switch, scored twice in the final 68 seconds of the first half and turned a 7-7 game into a 21-7 halftime lead. The Scotties then registered the first 19 points of the second half to rout the Norsemen for the seventh straight time on Senior Night at Jim Arnaiz Field.
No. 4-ranked Helix (8-2, 4-0) has now won 34 of its last 35 league games, the lone loss coming against El Capitan in 2014. Before that, Valhalla was the last league team to beat Helix in 2009 when the Norsemen won their last league title.
Hoping for a share of this year's league crown, Valhalla (8-2, 3-2) instead has to settle for third place behind Helix and Grossmont (9-1, 4-1). All three clubs, however, are expected to qualify for the eight-team Open Division playoffs, which begin in two weeks.
Considering this was a low-scoring tie game late in the first half, the final statistics are stunning. Helix had 502 total yards and 18 first downs. The Highlanders yielded only 133 yards and six first downs to the Norsemen – 80 yards and three first downs coming on an 80-yard scoring drive at the end of the game.
"They did some things defensively that took away some things we do in the first half," Helix coach ROBBIE OWENS said. "Fortunately we figured it out."
Junior quarterback CARSON BAKER threw for 269 yards on an efficient 15-of-21 passing with a 39-yard touchdown pass to RASHAD SCOTT that gave Helix a 7-0 lead early in the second quarter.
Valhalla tied it up five minutes later when JOSH McNISH-HEIDER blocked a punt that JOSH HERNANDEZ picked up around the 13-yard line and scored to make it 7-7 with 5:57 left before halftime.
Carson Baker with a 3 yd QB keep for a TD pic.twitter.com/mo3H4NdU3M

— Helix Athletics (@HelixScotties) November 5, 2016
Helix then drove 80 yards in 12 plays to make it 14-7 with 1:08 to play. The big play was a 41-yard bomb that Scott hauled in at the 2-yard line. Baker posted his first rushing TD of the season three plays later on a 3-yard scramble.
After a 3-and-out, Helix needed only two plays to extend the lead to 21-7 on the last play of the first half.
Baker connected with Scott on a 23-yard gain to the 33-yard line. On the final play of the half, Helix went razzle-dazzle. Baker handed off to ZEKE NOA on an apparent sweep left. Noa then flipped it back to tight end JAYLEN ARNOLD, who dropped back a few steps like a wanna-be quarterback.
Finally, Arnold lofted a deep pass in the direction of Scott in the front right corner of the end zone. Scott leaped among Valhalla defenders TY SCHIMKE and ROLAND GLOVER and somehow came down with the ball for the 33-yard TD and a stunning 21-7 Helix lead after MATTHIAS LAYTON converted the PAT.
"We needed a spark there," the 6-foot-4, 200-pound Arnold said of his first-ever touchdown pass. "We got off to a bad start, and we wanted to get some momentum going into halftime. I just chucked it down there, and Rashad made a great catch.
"We just put this in two weeks ago. They're not going to expect the tight end to throw the ball."
Baker has 18 touchdown passes on the season, but Arnold matched him on Friday.
"He can throw a little bit," Baker said. "He's got a great arm. And Rashad made a great catch. That really helped things right there."
Scott's highlight catch gave him six receptions for 141 yards and two touchdowns in the first half.
"What we did at the end of the first half turned the momentum," Owens said. "That probably deflated them a bit going into halftime."
Already with 141 passing yards in the first half, Baker completed his first six passes of the second half and the rout was on. Baker completed passes to eight different targets.
"He's been really good at efficiency," Owens said. "He's done a great job at distributing the ball. He's done a great job at running our offense. We're fortunate that he's just a junior."
Sophomore running back DAYON REYNOLDS caught two passes for 100 yards that led to him scoring on two short runs for a 37-7 lead in the third quarter.
Layton kicked his fourth field goal in two weeks – this one a 30-yarder – to give the Highlanders a 40-7 lead early in the fourth quarter.
Freshman sensation ELELYON "Fatto" NOA – Zeke's little brother – tallied his second straight 100-yard rushing game, gaining 118 on 19 carries. He now has 385 yards in his first three varsity games.
"Another great game for him," Baker said. "He never fails to impress me."
Zeke Noa gained 54 yards on just four carries and now has 377 rushing yards. His 26-yard gain on the third play of the third quarter looked to ignite another scoring drive, but Fatto fumbled three plays later and BRENT BURNETT recovered at the 11-yard line for Valhalla.
Next play, with BRYAN MADRIZ attempting to pass, the Scottie's BLAYKE DE LA ROSA had other plans, throwing Madriz to the ground in the end zone for a sack and a safety that gave Helix a 23-7 lead.
On the ensuing 67-yard scoring drive, Baker connected with Reynolds for a 59-yard gain, and Reynolds got the call on the next play for a 1-yard TD rush.
Similarly, on its next possession, Helix scored after Scott hit Reynolds for a 41-yard gain, and Reynolds finished the drive with a 2-yard TD.
"They made a couple big plays, throwing it over the top," Bussey said. "Big athletes making big plays. We had the QB trapped back a couple of times, but we couldn't quite get to him, and they came up with some big plays.
"Second half we couldn't stave that barrage of running. We were worn out. They're just too big and too good.
"But I'm proud of our kids. They didn't quit. They kept banging away."
Valhalla finished the scoring with a 12-play, 80-yard drive covering the final 9:30 of the game as JEROME JOHNSON bulled in from 1 yard on the final play. Johnson finished with 78 yards on 14 carries.
"That last TD drive says a lot about our guys," Bussey said. "They kept scratching. Helix did not want to give up that last TD."
Other than the blocked punt and a pair of personal foul penalties, Helix played a pretty complete game.
SCOTT YOUNG, who came in with 53 receptions for 765 yards and nine touchdowns – all team highs and among the leaders in the entire section – had zero catches on offense, but a big one on defense.
With Valhalla threatening in a scoreless first quarter, Young intercepted a tipped ball near the goal line.
The Helix defense allowed only 53 yards until the final Norsemen drive with MICHAEL SHAWCROFT posting two sacks and De La Rosa another on his safety sack. JAYDEN TAUANU'U almost got a pick on a nice pass defense, and JESSE LEASAU was in on a number of big stops along with Zeke Noa.
With all the offense the Highlanders put forth, linemen WILLIAM PAYNE, MATTHEW AVII, ISAIAH MANN, ROBERT HUNTER, De La Rosa and Arnold were marvelous in both run blocking and pass protection.
"They make it all happen" Baker said. "They played amazing. They've really come together as a unit."
With the playoffs determined by the San Diego Section Power Ratings system, it is conceivable that Helix could host Valhalla again in the first round in two weeks.
"We'll see how the chips fall in the playoff pairings," Bussey said. "We might get them again in the first round. It's not what I would ask for, that's for sure."