Champ Pats impress Homecoming throng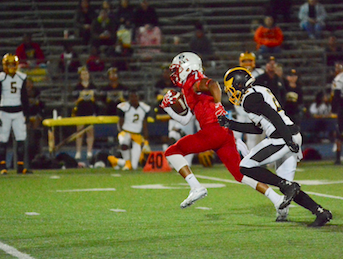 BEN GOODWIN scores on the game's first series Friday night against Mission Bay. / photo by Ramon Scott
2016 EAST COUNTY PREP FOOTBALL
CHRISTIAN 51, MISSION BAY 21
By Bill Dickens
© East County Sports.com
EL CAJON (11-5-16) — The Christian High Patriots powered their way to a 10-0 finish in Eastern League play as they buried the Buccaneers of Mission Bay 51-21 in Friday night's (Nov. 4) Homecoming game at Granite Hills Stadium.
The celebration wasn't exactly at the magnitude of the Chicago Cubs, but the Patriots were proud of their finish.
Christian scored seven touchdowns in the contest, including four by THEO GOODWIN.
The speedy wide receiver reeled in three touchdown passes from quarterback BRAD JEREMIAH and sprinted 80 yards on a scoring run as the Patriots put this one away.
It didn't take long for Goodwin to get his Senior Night started right.
He scored on a 58-yard slant play just one minute into the game on the opening series.
Jeremiah completed 9 of 15 passes for 185 yards and 3 touchdowns for the undefeated Patriots.
TSHOMBRE CARTER caught 10 passes for 57 yards and one touchdown for Christian.
Patriots defensive coordinator MIKE MITCHELL said, "It's unbelievable. We played hard all the way down the line. If you would have told me we would end up 10-0 and finish up undefeated I would have thought you were dreaming."
The Patriots scored in all four periods as they bounced the Buccaneers, who battled tough through the first 20 minutes or so.
An early 78-yard touchdown reception by MARCUS NICKERSON that countered the game's opening score, followed by an interception and another TD catch from Nickerson had the Bucs on top 14-7 not one minute into the second quarter.
JOEY MORONES collected 64 yards and a touchdown on 9 carries.
The senior touchdown maker scored on a TD run with 9:23 left in the first half to tie the game.
Jeremiah took a quarterback sneak in to give Christian a 21- 14 lead in the second.
But then JON STINE and DAVID MORENO took turns registering sacks on back-to-back plays and Goodwin caught a TD pass with just over a minute left before halftime, as he wrestled a bullet from Jeremiah away from a tough hand-fight by a Buc defender.
Theo Goodwin TD rec. for Christian with 1:02 left in first half for 28-14 lead over Mission Bay. pic.twitter.com/n5G1A361lu

— Ramon Scott (@RamonScottPoker) November 5, 2016
Goodwin's receiving was also impressive as usual as he gathered 5 pass receptions total for 139 yards.
Christian ended up with the top-seed, opposite fellow unbeaten Bishop's in the Division 3 postseason picture.