Griffins pick good time to snap losing streak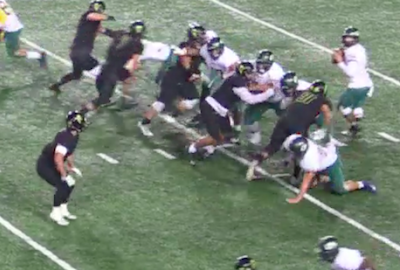 2016 GROSSMONT COLLEGE FOOTBALL 
By Bill Dickens
© EastCountySports.com
COSTA MESA (11-07-16) — The way Grossmont College 10-year head coach MIKE JORDAN sees it, the Griffins could conceivably land a post-season bowl berth if they are successful against Palomar in the regular season finale.
"It's all about going 6-4 now," Jordan said. "If we win next week I think there's a 90 percent chance we'll get a bowl bid."
The Griffins snapped a three-game losing streak by edging the Golden West Rustlers 40-28 on Saturday (Nov. 5) in a National Southern Conference contest. The Griffs now stand at 5-4 overall and 1-3 in the division.
"There are no cheap wins in our conference," Jordan pointed out. "By winning this game it's new life for us, even though I know we could have won games we've lost in the past."
The Grossmont passing trio of quarterback BRAD CAGLE and his sure-handed receivers ADRIAN TOLBERT and JABRIL CLEWIS put on an aerial exhibition against previous conference-leading Golden West (4-5, 3-1 SCFA).
Cagle, who ran circles around an aggressive Golden West defense, completed 19 of 39 passes for 229 yards and 4 touchdowns. He also scored on a 10-yard scramble, clipping the pylon as he dove into the endzone, which gave Grossmont a 33-28 lead they would not lose with 8:40 remaining.
Cagle & Company punched the lights out when he fired a 27-yard TD pass that Tolbert beat the ace of the Golden West secondary with an over-the-shoulder catch.
The 6-foot-4 Tolbert finished the game with 7 catches for 134 yards and 3 touchdowns.
"Is Tolbert a D-I receiver? There's no doubt," Jordan said. "He has all the moves. He can really go up and get the ball."
Jordan continues to rave about his 6-foot freshman quarterback.
"He's probably only a 5-11 guy but I'll take him any day," Jordan said. "He's my guy. He's like a Brett Favre."
Cagle led the Griffins to a 27-14 halftime lead. In the second half Golden West put on a series of blitzes that disrupted the Grossmont offense. The Rustlers took a 28-27 lead before Cagle rallied the Griffin troops for the victory.
Grossmont is laden with injuries. The team's leading rusher NEHEMIAH BROWN is on the sidelines with a hamstring pull. His availability next week is questionable.
"Our line was patched up. We had to go with four guards and a center, our tackles were injured," Jordan said.
Running back KEITH FULTON led the Griffin ground troops with 16 carries for 76 yards.
Grossmont College scored their 5th defensive touchdown of the season in this game. The Griffs scored 24 points off Rustlers' turnovers.
Freshman defensive back JORDAN ELLIS was a ball hawk, pulling down his 7th, 8th and 9th interceptions at the expense of the Rustlers. The Griffins now have 19 picks as a team. ANTON PAIGE also grabbed an interception for the Griffs.
Three Griffins sacked the Rustlers' quarterback – COLE KIDD, NARQUESSE SMITH and QUANTARIUS BOON.
Sophomore SEBASTIAN SMITH tipped the lid on the Griffins' scoring with their first touchdown of the game. It was on an 18-yard pass from Cagle, and the race was on.
SCORING
1
2
3
4
FINAL
Grossmont (5-4, 1-3)
20
7
0
13
40
Golden West (4-5, 3-1)
7
7
0
14
28
Orange Coast College | LeBard Stadium
PRD
TIME
SCORING SUMMARY
GROSSMONT – GOLDEN WEST
1
14:44
Golden West – Zimari Manning 23 yd pass from Adam Vance. (Quinton Conaway kick is good).
Drive: 2 plays, 23 yards in 0:06.
0 – 7
1
11:04
Grossmont – Sebastian Smith 18 yd pass from Brad Cagle. (Dominick Grimm kick failed).
Drive: 9 plays, 73 yards in 3:30.
6 – 7
1
07:07
Grossmont – Adrian Tolbert 26 yd pass from Brad Cagle. (Conner Erwin kick is good).
Drive: 8 plays, 51 yards in 2:23.
13 – 7
1
02:10
Grossmont – Jordan Ellis 45 yd interception return. (Conner Erwin kick is good).
20 – 7
2
07:33
Grossmont – Adrian Tolbert 15 yd pass from Brad Cagle. (Conner Erwin kick is good).
Drive: 7 plays, 58 yards in 3:29.
27 – 7
2
03:18
Golden West – Zimari Manning 4 yd pass from Adam Vance. (Quinton Conaway kick is good).
Drive: 7 plays, 78 yards in 3:54.
27 – 14
4
14:53
Golden West – Angel Matute 28 yd pass from Adam Vance. (Quinton Conaway kick is good).
Drive: 11 plays, 89 yards in 6:04.
27 – 21
4
11:21
Golden West – Desmond Bowden 2 yd run. (Quinton Conaway kick is good).
Drive: 3 plays, 38 yards in 1:18.
27 – 28
4
08:40
Grossmont – Brad Cagle 10 yd run. (2pt conversion pass by Brad Cagle failed).
Drive: 7 plays, 80 yards in 2:34.
33 – 28
4
07:10
Grossmont – Adrian Tolbert 27 yd pass from Brad Cagle. (Conner Erwin kick is good).
Drive: 1 plays, 12 yards in 0:23.
40 – 28
GROSSMONT
STATISTICS
GOLDEN WEST
23
FIRST DOWNS
22
13
6
4
Passing
Rushing
Penalty
13
7
2
40% (6 of 15)
THIRD DOWN EFFICIENCY
38% (5 of 13)
100% (1 of 1)
FOURTH DOWN EFFICIENCY
0% (0 of 1)
229
NET YARDS PASSING
347
19-39
5.9
1-8
0
Completions-Attempts
Net yards per pass play
Sacked: Number-Yards
Had intercepted
28-46
7.5
2-19
4
109
NET YARDS RUSHING
68
26
4.2
Rushing Attempts
Average gain per rush
27
2.5
7-233
PUNTS: Number-Yards
5-184
33.3
Average
36.8
147
TOTAL RETURN YARDS
159
1-11
4-38
4-98
Punt Returns: Number-Yards
Kickoff Returns: Number-Yards
Interception Returns: Number-Yards
3-35
7-124
0 0
12-88
PENALTIES: Number-Yards
11-106
1-1
FUMBLES: Number-Lost
4-1
2-19
SACKS: Number-Yards
1-8
4-98
INTERCEPTIONS: Number-Yards
0 0
26:02
TIME OF POSSESSION
33:58
Grossmont

Golden West

| PASSING | C-A | YDS | LG | TD | INT |
| --- | --- | --- | --- | --- | --- |
| Brad Cagle | 19-39 | 229 | 27 | 4 | 0 |

| PASSING | C-A | YDS | LG | TD | INT |
| --- | --- | --- | --- | --- | --- |
| Adam Vance | 28-46 | 347 | 39 | 3 | 4 |

| INTERCEPTION RETURNS | NO | YDS | AVG | LG | TD |
| --- | --- | --- | --- | --- | --- |
OTHER INFORMATION
Location: Orange Coast College
Stadium: LeBard Stadium
Attendance: 250
Weather: Fair
Temperature: 65
Wind: SW 5MPH