SR. MOMENT: Wasimi saves best for last
Updated: November 11, 2016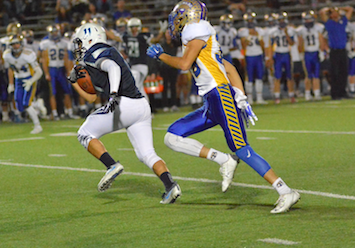 Granite Hills senior Mashal Wasimi gets by a San Pasqual defender en route to a touchdown Thursday night. / EastCountySports photo
2016 EAST COUNTY PREP FOOTBALL – SAN DIEGO CIF DIVISION 2 FIRST ROUND
GRANITE HILLS 30, SAN PASQUAL 14
By Ramon Scott
EastCountySports.com
EL CAJON – MASHAL WASIMI turned in the finest moments of his high school football career during his final home game for the Granite Hills Eagles Thursday night.
Wasimi, a senior wide receiver, had catch-and-run touchdowns of 81 and 68 yards to lift the fifth-seeded Eagles to a closer-than-appeared 30-14 win over visiting San Pasqual at Granite Hills Stadium.
Granite Hills, the Grossmont Valley League champion, has now won six games in a row and will travel to face fourth-seeded Olympian (6-4) next Friday night (Nov. 18) in the San Diego Section CIF Division 2 quarterfinals.
"Wasimi came up with a couple of big plays for us," said Granite Hills coach KELLAN COBBS. "Every week it seems like we have a different guy making big plays for us."
Wasimi's first big play came off a double play-action fake by junior quarterback JAKE SIEGFRIED, which may have given the 5-foot-10 pass catcher just enough time to get past a wooed defender.
After running under the long toss inside his own 40, Wasimi smartly cut back to elude a recovering defender, then was taken down just over the goal line, extending the Eagles' second-quarter lead to 16-0.
But it was an even further unexpected second score early in the fourth quarter by Wasimi that sealed the doomed the Golden Eagles' brief comeback spirit.
Siegfried fired a dart off play action to his slanting receiver, who caught the ball in between a pair of converging defenders just over his own 40. Their momentum resulted in a collision between his two opponents that left Wasimi as the only man standing in a race to the end zone.
The score extended the Eagles' lead to 30-14 with 10 minutes left in the game.
"It's been a long time coming for him, and I think Mashal knows that, too," said Siegfried, who was 10-of-15 passing for 203 yards.
"We do that in practice all the time, it just finally happened in a game."
Wasimi isn't the speediest receiver on the field, but resembles an effective precision route runner that puts himself in position to make a big play. He entered the game with just 11 catches on the season and one previous score.
Siegfried also rushed for 67 yards and one touchdown on 16 carries. His 1-yard score in the first quarter put Granite Hills' ahead 9-0.
Twelfth-seeded San Pasqual (6-5) opened the season here in Sept., losing 14-12 without injured quarterback Weston Erdman, who was sacked six times in the rematch last night, including two by senior KYLE TINNEY.
Seniors BRENDEN QUILL and ZACH STORER had interceptions for Granite Hills, which forced the Golden Eagles to try and stretch the field out of their triple-option comfort zone after building a lead.
Quill's pick came inside the Eagles' 5 with just over a minute left in the first half, sending Granite into the locker room ahead, 16-0, on a terrific defensive half.
"I have to give it to our scout team for mimicking their offense in practice," said Granite Hills senior linebacker MATT FAUBEL, who recovered a pair of fumbles. "Everyone on our defense had to know what we were doing and execute against a team like (San Pasqual). We're a very calm team, so we were able to stay with our reads."
The Golden Eagles got on the board on  a 23-yard pass from Erdman to Sam Serrato in the third quarter, bringing the visitor's side to life.
But, Granite Hills junior running back SETH ALLISTER busted open for a 58-yard score on a draw play just two minutes later to negate the swing.
San Pasqual closed to within 23-14 following a 56-yard burst by Serrato with 4:49 left in the third.
Last week's sweeping touchdown hero SHANE SWECKER – another member of the Eagles' unheralded array of play-makers – had three rushes for 75 yards.
Granite Hills senior receiver GUSTAVO GUTTIEREZ, usually Siegfried's main man, caught 3 passes for 42 yards.
"All of my guys are talented and I'm just hitting everybody right now wherever I can," Siegfried said.
"We're an athletic team, and I think we have a shot (to go further in the playoffs), I really do."
The Eagles scored first on a field goal by senior BRYCE STRICKLAND – the East County's all-time leading kick-scorer. He also averaged 49 1/2 yards on two punts on the night.
After San Pasqual put a brief scare into the home folks with a late punt block, giving the Golden Eagles the ball at the Granite 11 down just two scores, Tinney finished off the Golden Eagles' last drive with a fourth down sack.
It was a fitting finale for a defense that was seemingly in the back pocket of the San Pasqual package most of the night.
"We had a lot of film and played them at the beginning of the year," Granite Hills' star senior defensive end NOAH JOUBERT said. "At practice, we were able to see triple-options and double-options, so we were ready."
The Eagles are riding a wave of momentum and appear to be relishing their role as an overlooked league champion.
"We just love playing football and we have our eyes on the prize right now," said junior offensive lineman GARRETT CURRAN. "We have a team that plays and practices hard. We have a lot of momentum, and as of right now, there's not much that can stop us."
First up is a road showdown against an Olympian team that also relies primarily on the run.
"We're really looking forward to next week, but we're not satisfied just yet," Joubert said. "We want to do our celebrating at Southwestern College."
Last game I will ever play on this field… Quarterfinals we are coming for you!!!! #olympian week pic.twitter.com/ioIxxGwaG7

— Noah Joubert (@nojobear) November 11, 2016