2016 EAST COUNTY FEARLESS FORECASTER – Week 12
Updated: November 10, 2016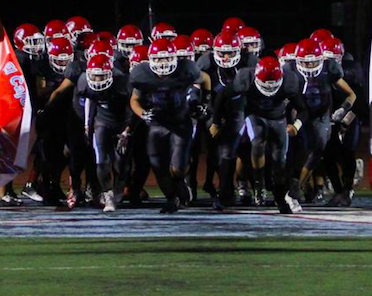 Photo by NATALIE DIAZ / ECVBraves.com
2016 EAST COUNTY PREP FOOTBALL FEARLESS FORECASTER
By Bill Dickens
EastCountySports.com
EL CAJON – The Grossmont Valley League champion Granite Hills Eagles may be an underdog in tonight's opening-round San Diego CIF Division 2 playoff game if postseason history is any indication.
The visiting San Pasqual Golden Eagles post a most impressive win-loss record when it comes to first-round matchups.
San Pasqual is 21-4 since 1987 in these early round games, including six-straight victories when facing foes from the Grossmont Conference.
The 12th-seeded Golden Eagles (6-4) will visit Valley Stadium at 7 for a rematch of a Week 1 contest, won by Granite Hills, 14-12, as the visitors committed six turnovers.
That game was scoreless at halftime before Granite Hills put up a pair of scores in the third quarter.
Despite the fact that the Golden Eagles run a triple-option offense, Granite Hills had three interceptions in the opener, including a pick-six by senior DURADE AQILI after RICKY GAMINO batted the attempted pass.
Meanwhile, junior East County sack master TYLER GONZALEZ was a menace in that game with two forced fumbles and had 1 1/2 sacks. The Golden Eagles started their backup quarterback in that one, as their starter missed the opener with an injury.
Ironically, in that game, junior quarterback JAKE SIEGFRIED was forced into action after an injury to the Eagles' starter and hasn't looked back, putting up over 2,000 yards of total offense this season. He also has thrown for 10 touchdowns and rushed for nine more.
Last time they met, San Pasqual's Spencer Pugh led the rushing attack, but the Golden Eagles are said to be wary of Eagles' defensive standout WILLIAM BURTON.
The Eagles enter the game tonight as the division's fifth-seed. Just two years ago, the Eagles were stopped from a possible chance at the CIF Division 3 finals on a goal line stand by Hoover.
A Granite Hills win would not only extend the season and set up a matchup at Olympian in the second round, but it also would give Eagles' kicker BRYCE STRICKLAND another game to improve his total on the county's all-time kick scoring chart.
The senior, who started kicking as freshman with the Eagles, is already the East County's all-time leader for kick scoring with 227 (passing Helix All-American SCOTT WEBB from 1980-82) and ranks third all-time in section history for placekickers (two are tied for first at 261).
Strickland has 23 career field goals and has made 158 extra-points. Could it come down to Bryce's boot? … GRANITE HILLS, 24-21.
Friday's games
BONITA VISTA (3-7) at WEST HILLS (5-5), 7 – The 11th-seeded Barons come to Santee for a Division 2 battle with a losing mark, but no doubt played one of the county's toughest schedules this season.
Bonita Vista is playing its third-straight on the road, having closed the season with road wins at Otay Ranch and Eastlake, and just last season, the Barons advanced all the way to the CIF State Division IV-AA championship game in Hanford.
The Wolf Pack would like to think they are battle-tested after the rigors of a tough Grossmont Hills League campaign. They rode a four-game winning streak back in September, but enter this one on a three-game losing skid.
West Hills tries to control the game and the clock with a three-pronged running attack led by backs JOVAN BEA and GRIFFIN GUINN. Quarterback HAYDEN ROACH has nearly as many rushing attempts as passes.
The Barons are more much more balanced behind quarterback Anthony Posada, however they have 21 touchdowns through the air this season and just six on the ground.
Senior Keenan Ellis is a big-play threat, averaging over 23 yards per reception and has five scores on the year. That adds responsibility to Wolf Pack defenders RYAN JEWELL, MITCHELL CARLIN and DALLEN BROWNING.
Senior Dean Klaser leads Bonita Vista with over 500 yards rushing this season, but hasn't been a huge goal line threat, with just three rushing touchdowns.
The winner will meet the El Capitan Vaqueros in Lakeside next week.
Unless, they can win the turnover battle, the Wolf Pack will need a near-flawless performance in this one… WEST HILLS, 24-22.
CARLSBAD (3-7) at STEELE CANYON (3-7), 7 – The Cougars snapped a five-game losing streak by winning at El Capitan last week in the season finale, while the Lancers had a 5-game losing streak of their own before finishing the season with wins over El Camino and Vista.
If the Cougars can move the ball effectively, they should have enough to win this Division I matchup in the Canyon, as Carlsbad has not really forced very many turnovers this season.
Steele Canyon junior quarterback THOMAS FISHBURNE guided his squad all the way to the Division I semifinals last season as a No. 7 seed, so he's done this before.
Meanwhile, sophomore back ISAIAH THOMPSON has emerged as an offense threat, likely making junior DEONTAE MCKINNEY a little more effective in a dual-role.
Steele Canyon has many of their key parts back together on defense, which hasn't been the case most of the season.
MIKEL OLIVER, WAYNE BARELA and COLTON SANDOVAL were key members of last year's playoff run.
Junior PERRY STEELE was the man in last week's win with a touchdown reception and an interception for the Cougars.
Carlsbad junior quarterback Isaiah Ramos has over 1,400 yards passing this season. Junior Joe Fontenot has 23 catches and three touchdowns.
The Lancers defense had 22 sacks this season led by senior OLB Jesse Atiga.
The team with the most points at the end of the game wins a trip to face the top-seeded Madison Warhawks… STEELE CANYON, 24-23.
MOUNT MIGUEL (3-7) at OTAY RANCH (3-7), 7 – The Matadors have won two of their last three games and are a sure threat when their offense in clicking, but they still will wear the underdog label in this Division 4 matchup in the South Bay.
Mount Miguel has a host of seniors that no doubt are going to leave it all out on the field. The Mustangs, meanwhile, come into the contest having lost three of four.
Matadors' senior quarterback BENNY VALADEZ has completed 64 percent of his passes this season and has a pair of senior targets in RICHARD MOORE and MARIO COKER, who have combined for 65 receptions between them. Valadez has thrown for 11 scores and run for eight more.
That has opened things up for junior running back SHEMAR GREENE, who has rushed for over 1,000 yards this season following his monster game last week in the season finale at Santana, in which the Matadors won, putting up a season-high 47 points
The Matadors' CAMERON HANSON, also a senior, is the team leader on defense. He is second in the East County this season with 102 tackles, including 47 solo. Senior ANTHONY YARBOROUGH has 6 1/2 sacks on the campaign.
The Mustangs are led by Devon Lloyd, who has 6 receiving touchdowns on offense and seven interceptions on defense.
ORHS quarterback Cristian Zamudio has thrown for nine touchdowns this season, but has completed just 41 percent of his passes, while running back Gus Espiritu is a 1,000-yard rusher this season. Fenuki Kauvaka is a touchdown vulture, as both backs have rushed for 5 touchdowns this seasons. The Mustangs have a 2-to-1 run/pass play ratio.
Mount Miguel missed the postseason last year, so the Mount Miguel veterans will be hungry to score a playoff win in their senior season… MOUNT MIGUEL, 35-33.
SERRA (4-6) at EL CAJON VALLEY (5-5), 7 – The Braves will need a reversal of fortune to advance to the second round of the Division 4 playoffs.
Seventh-seeded El Cajon Valley has lost five-straight games after starting the season 5-0, but don't expect a change in strategy.
The Braves rely on senior star TYSON SMITH, the East County's leading rusher.
The quarterback has 1,484 yards on the ground this year to go along with 16 touchdowns.
The 10th-seeded Conquistadors had missed the playoffs in each of the last two seasons, but have won two of their last three games coming into this matchup.
Conquistadors' junior running back Bryan Pratt averages over 7 yards per carry and has scored 11 touchdowns this season, but Serra has thrown for just seven touchdowns this season and completes just 44 percent of their passes.
Senior Ryen Sanford and junior Earnesto Coleman will have the main responsibility of containing Smith, as well as his top back, MAQUEL GARNER.
El Cajon Valley has defensive stars in FAAMAMA LAUIFI, OMAR GARCIA and DANIEL WILSON, but the Braves seemingly did more chasing than tackling during the Grossmont Valley season.
The Braves are allowing over 45 points per game over those last five losses… SERRA, 30-24.