Griffins run out of big plays, season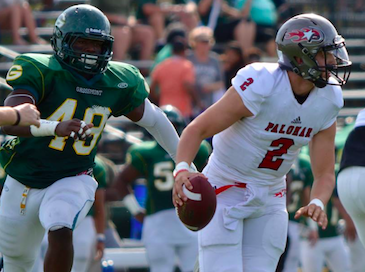 2016 GROSSMONT COLLEGE FOOTBALL
By Bill Dickens
© East County Sports.com
EL CAJON (11-13-16) — Grossmont College concluded the season by turning the ball over four times, including three interceptions and one fumble, as the Griffins succumbed to Palomar 38-26 Saturday (Nov. 12) at Mashin-Roth Field.
Grossmont's opportunity for a bowl game all but dwindled with the loss.
Grossmont drove down on a final series, but Zach Gallina's interception of a BRAD CAGLE pass in the end zone and return to the Palomar 38 when Grossmont had no timeouts left sealed the win for Palomar, which went into victory formation and ran out the clock.
JORDAN ELLIS collected his 10th interception for the Griffins.
Palomar's Sam Tapia's 46-yard punt that was downed at the Grossmont 1-yard line set up a safety on the next-to-last series.
Grossmont also fumbled a Tapia punt to the 9-yard line, and Palomar recovered and scored on Johnny Arzola's 1-yard run midway through the second quarter. Tapia had 5 punts inside the 20-yard line, including 4 inside the 10.
Grossmont finishes the regular season 5-5 and 1-4 in the National Southern Conference.
Palomar finishes the season 4-6 and 2-3 in the National Southern Conference.
Palomar had 435 yards in total offense, 162 rushing and 273 passing. Arzola rushed for 151 yards on 30 carries. Arzola crashed his way for 171 yards on 30 carries.
Grossmont's Cagle finished the season with 1826 yards and 18 touchdowns on 130 completions of 268 attempts.
Cagle threw a touchdown pass to ADRIAN TOLBERT with 14:12 left in the game, which gave them a temporary 28-27 advantage.
DOMINIC LEWIS had a 70-yard interception return for a touchdown in the first quarter fort the Griffins, which gave them a 14-7 lead. The ball was oringally tipped before being caught by Lewis.
Cagle tied the game at 7-7 in the first quarter with a quarterback sneak for the TD.
Palomar went on to score 17-straight points, but Grossmont's RODERICK WOODS had a 51-yard interception return for a touchdown with a half a minute left in the first half to close the lead to 24-21.
November 12, 2016
Palomar        7     17   3   9  -- 36
Grossmont     14      7   0   7  -- 28

1st Quarter
 P – Johnny Arzola 52 pass from Matt Romero (Johnny Arzola kick)
 G – Brad Cagle 1 run (Dominick Grimm kick)                                                      
 G – Dominic Juarez-Lewis 70 interception return (Dominick Grimm kick)
 
 2nd Quarter
 P – Terrell Arnold 48 pass from Matt Romero (Johnny Arzola kick)
 P – Johnny Arzola 1 run (Johnny Arzola kick)  
 P – FG Johnny Arzola 21                  
 G – Roderick Woods 51 fumble return (Dominick Grimm kick) 
 
 3rd Quarter
 P – FG Johnny Arzola 27                          
 
 4th Quarter
 G – Adrian Tolbert 47 pass from Brad Cagle (Dominick Grimm kick)    
 P – Terrell Arnold 19 pass from Matt Romero (Johnny Arzola kick)   
 P – Safety, Roger Mann tackles Brad Cagle in end zone