Griz stun Foothillers in frantic finish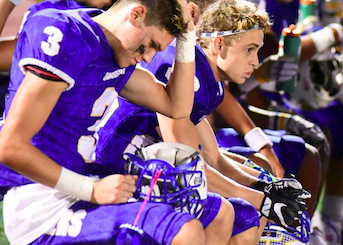 Grossmont players during the Foothillers' game with Mission Hills in the CIF playoffs Friday night. / photo by Chris Parks
2016 EAST COUNTY PREP FOOTBALL – SAN DIEGO CIF OPEN DIVISION PLAYOFFS
MISSION HILLS 49, GROSSMONT 48
By Jim Lindgren
© East County Sports.com
EL CAJON (11-19-16) — Depending on the colors you were wearing, Friday night's (Nov. 18) wild and crazy Open Division quarterfinal game between Mission Hills and Grossmont was either heartening or heartbreaking.
It certainly was heart-stopping … and thoroughly entertaining.
Down to the final play.
After 97 total points, 1,082 total yards, two defensive touchdowns totaling another 70 yards, a blocked PAT and a blocked field-goal attempt on the final play of the one of the craziest playoff games in San Diego Section history, Grossmont senior DOMINIQUE GUEVARA might have summed it up best.
"It was really hard to leave the field," Guevara said. "It really hurt."
Mission Hills 49, Grossmont 48.
With the win, No. 5-seeded Mission Hills (7-4) advances to play top-seeded Cathedral Catholic (10-0) next Friday at Cathedral in the semifinals. No. 4-seeded Grossmont finishes 9-2 with its only other loss coming against Helix (9-2), the No. 2-seed who will play No. 3 Rancho Bernardo (11-0) in the other semifinal on Friday.
Grossmont's epic quarterfinal was tied seven times and neither team had more than a 7-point lead.
"That's the kind of game I thought it would be," Grossmont coach TOM KARLO said. "I thought it would be a shootout.
"They're so much bigger than us, but we held our own. We proved we belonged in the Open Division. I'm very proud of our kids.
"It was a great high school football game. They just did one more good thing than us."
On the final play of the game, Mission Hills' Isaac Anderson got a hand on a 31-yard field-goal attempt by CRISTOPHER GARCIA that misdirected a low kick below the goal post.
Moments earlier, Mission Hills appeared to have won on another blocked field-goal attempt from 36 yards, but the Grizzlies were whistled for roughing the kicker.
Six minutes earlier, Anderson blocked a PAT by Garcia after Grossmont had taken a 48-42 lead on a 4-yard run by JAMES MACKEY.
"Mission Hills is leaving here feeling pretty lucky," Karlo said. "It could have gone either way."
Absolutely! It could have gone either way all night.
Mission Hills piled up 565 yards on 83 plays, Grossmont 517 on 60.
Mission Hills' Jack Tuttle was 22 of 32 for 354 yards and two touchdowns, plus he ran for the decisive score with 0:27 left to play.
Grossmont's HUNTER GAINES was 25 of 35 for 334 yards and three touchdowns, plus he hit Guevara on a 48-yard "Hail Mary" pass with 0.7 seconds left that set up the failed field-goal attempts.
Mission Hills' Sam Dixon carried 34 times for 186 yards and four touchdowns.
Grossmont's JAMES MACKEY (12-84-1) and SHEVELL STERLING JR. (7-62-1) combined for 146 rushing yards and two scores.
Mission Hills' Christian Esqueda caught six passes for 158 yards, including a 67-yard TD on the first play of the second half.
Guevara finished with eight receptions for 154 yards, including TDs of 21 and 32 yards. Teammate JOSH MOALA nabbed eight balls for 81 yards, including a 24-yard touchdown.
@GrossmontBall ties it up 35-35 TD by WR @JoshMoala with th catch and run #sdfnl16 pic.twitter.com/ZZ4G0768G2

— SDFNL Magazine 💫 (@SDFNLMagazine) November 19, 2016
"I knew we were going to get a lot of points and a lot of yards," Karlo said. "I knew it was going to be an offensive game. I'm most proud of our offense, but our defense also scored two touchdowns."
JOE WILLIAMS scored the first of those two defensive touchdowns, scooping up a fumble caused by ANDREW MINK on a sack and racing 35 yards for the score and a 7-0 lead on the second play of the game.
In the second half, ANDREW HOLT sacked Tuttle and forced a fumble that he also recovered and returned 35 yards for a touchdown and a 42-35 lead late in the third quarter.
@GrossmontBall Andrew Holt with the defensive pick up for a TD Gmont takes the lead 42-35 #sdfnl16 pic.twitter.com/tUdnu6Htlc

— SDFNL Magazine 💫 (@SDFNLMagazine) November 19, 2016
Dixon scored his fourth touchdown a few minutes later to make it 42-42 – the seventh tie of the game.
Fewer than three minutes later, Grossmont drove 80 yards in 11 plays and went ahead 48-42 on Mackey's 4-yard touchdown run with 6:07 left. The blocked PAT by Anderson would prove critical.
Mission Hills drove on it ensuing position, but with 2:45 left, on fourth-and-7 from the 24-yard line, LUKE MORSE deflected a pass to give the Foothillers the ball and a chance to run out the clock.
After a 10-yard run by Mackey, Grossmont was forced to punt three plays later with 1:47 left.
Mission Hills took over at its own 48-yard line with 1:39 left. Tuttle promptly hit Maurice Jones on a 13-yard pass. Tuttle hit Louie Flores on an 11-yard pass. Tuttle hit Flores again on a 9-yard pass. Tuttle then rushed for eight yards, hit Junior Salas on a 6-yard pass and plunged in from the 1-yard line for the game-tying touchdown with 0:27 to play. Eric Cavataio converted his seventh PAT for the final 49-48 margin.
But Grossmont wouldn't quit.
Starting from the 25-yard line, Gaines hit Guevara for eight yards. On the next play, Gaines threw deep to Guevara who somehow leaped among three defenders and came down with the 48-yard reception for a first down at the 19-yard with 0.7 seconds left.
"It was phenomenal just to make that catch with three guys on him like that," Karlo said. "That was a big-time catch."
Said Guevara, "If you're trying to get to the next level, there's no question you have to come down with balls like that. I knew my quarterback was going to put the ball in the best spot for us to continue our season. I was hoping (Coach) would keep the offense on the field and try for one more jump ball."
Karlo elected to try for the field goal, but with deep penetration by Mission Hills, neither attempt had a chance.
Mission Hills coach Chris Hauser won a CIF title for Vista in 1981 by beating Helix and QB JIM PLUM in a dense fog at Qualcomm Stadium. Hauser later coached at Vista for four seasons and won a CIF title in 2001 before taking the Mission Hills job when the school opened in 2004.
In his third year, Hauser guided Mission Hills to the first of its 11 straight semifinal appearances and won another CIF title in 2013, the first year the section conducted an Open Division.
The Grizzlies lost to St. Augustine in last year's Open Division semifinals and graduated 23 starters. Tuttle was the lone returning starter this season.
Friday's game, Hauser said, was the wildest game he has ever been a part of.
"It's right up there with a game we had against Dana Hills in 2010 when we won in double overtime," Hauser said. "But this one tops that.
"It's just an amazing accomplishment for our kids. Grossmont, those guys are the real deal. They're such a dynamic offensive team. To come out of this and advance to another semifinal is just amazing."
Grossmont entered the playoffs averaging 37.8 points and 427.2 yards per game. But this was its first year in the Open Division, and the last time the Foothillers played for a CIF championship was when they won it all in 1971 under Pat Roberts.
The only other time Grossmont played Mission Hills was in the 2009 Division II quarterfinals, won by the Grizzlies 35-7. Grossmont's coach then was the late RON MURPHY.
Gaines finished his senior season with 2,741 passing yards and 33 touchdowns.
"Hunter Gaines played amazing," Karlo said. "He was the best quarterback on the field tonight. He played tremendous."
Guevara finished his senior season with 76 receptions for 1,168 yards, 16 touchdowns and a deep admiration from the visiting coach.
In a brief conversation after the game, Hauser told Guevara: "I have tremendous appreciation for your talents as a player and who you are as a person."
WOW!! Check out this play by @GrossmontBall that our partner @SDFNLMagazine caught! #CIF #Playoffs pic.twitter.com/95nSfxslo5

— ScoreStream (@scorestream) November 19, 2016