Wallace strikes again in Sultans' shutout
Updated: November 19, 2016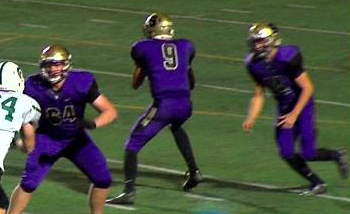 BOBBY WALLACE takes a handoff from JOSH OEDEWALDT as DYLAN BROWN blocks.
2016 EAST COUNTY PREP FOOTBALL – SAN DIEGO CIF DIVISION 4 PLAYOFFS
SANTANA 44, CORONADO 0
By Ramon Scott
EastCountySports.com
SANTEE – Santana's high-powered offense clicked early and often against visiting Coronado and the Sultans' BOBBY WALLACE broke three more school records in a San Diego CIF Division 4 quarterfinal win Friday night at Community Stadium.
On top of it, the Santana defense pitched a playoff shutout against an Islanders team that came in averaging over 32 points a game. It was a huge confidence boost at just the right for a unit that got caught up in a couple of shootouts this season.
The Sultans didn't wait to let their home crowd know that they have a championship contender when BROCK ELLIS returned the opening kickoff 88 yards for a touchdown, behind the blocks of senior special teams standouts SERGIO CALVILJO and  BRIAN MCRAE.
Wallace broke the school's single-season rushing record of 1,244, set by DREW PALMER back in 1994.
He scored on a 14-yard run in the second quarter to make it 14-0.
Wallace now has 1,353 rushing yards on the season.
The second school record he broke was the all-time touchdown mark, as he scored on an 80-yard reception on a screen pass.
On the play, he also scored his 22nd TD of the year, so he broke the single-season scoring record, as well.
Santana quarterback JOSH OEDEWALDT dropped back against a blitz for a short dump to Wallace. His behemoth offensive line, which does most of its work in the trenches, this time found themselves downfield ahead of the play.
Seniors TRENT FORSTER and BRYCE MARTIN teamed up on a helpless linebacker and Wallace had clear sailing for a long-distance score, except for one defender which he easily side-stepped.
The touchdown record was held by JOHN FIELDS back in 1999 and the scoring record was previously held by Fields in 1999 and JONATHAN TIPPIN in 2006, who both had 128 pts.
Wallace now has 138 pts on the season.
He ended up scoring a third touchdown on a 35-yard burst through the line of scrimmage in the third quarter, which gives him 23 total on the season.
Wallace had 190 all-purpose yards on the evening and set yet another school mark, breaking Tippin's career record with 3,532 all-time.
The Santana defense had 6 sacks on the night, including three by junior DALE GENSCHAW.
Senior DOMINIC DEHOYOS let the shutout brigade with 10 tackles and a sack, while junior BRAYDEN NIETO had two sacks and eight tackles.
Junior LANDON WOOD added nine tackles for the Sultans.
Just before halftime, Oedewaldt found senior running back ANTHONY ROSAS for a 2-yard touchdown on a roll-out play, which gave the Sultans a 28-0 lead.
Oedewaldt was 15-of-22 for 300 yards, while senior receiver ANDERS TOLHURST continued him awesome campaign with six catches for 104 yards.
Also stepping up for the Sultans in the receiver dept. was junior DAVON CHESNUT, who caught four passes for 93 yards, including a 62-yard reception.
Sophomore IAN LITTON rushed for a touchdown for Santana, which travels to face league rival Monte Vista in the Division 4 semifinals next Friday night.
The Sultans (7-4) defeated Monte Vista, 46-40, in a league game last month.