Hilltop can't stop rolling Patriots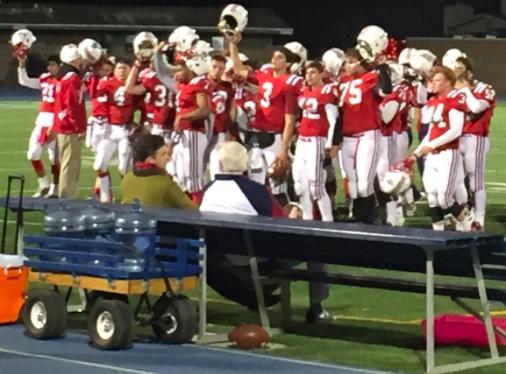 Pats celebrate to the crowd following the win.
2016 EAST COUNTY PREP FOOTBALL – SAN DIEGO CIF DIVISION 3 PLAYOFFS
CHRISTIAN 50, HILLTOP 27
By Bill Dickens
© East County Sports.com
EL CAJON (11-19-16) — The high-powered Christian Patriots offense, which scored 62 points against Scripps Ranch earlier this season, overpowered Hilltop 50-27 in the quarterfinals of the San Diego Section Division III playoffs. That was a stepping stone to the high-stepping offense for the 11-0 Patriots.
JOEY MORONES rushed for a 37-yard touchdown with 6:56 left in the first quarter for a 7-0 lead for the Patriots, as the big senior bounced out to the right side and shed one tackler before getting loose outside the hashmarks for the run to the end zone.
#44 Joey Morones runs it 47 yds for the first PATRIOTS TD!!! 7-0 PATS w/6:56 left in 1st Q!!! pic.twitter.com/IkulkXsZA1

— CUSSDPatriots (@CUSSDPatriots) November 19, 2016
The Lancers' opening drive resulted in a fourth-down punt attempt, but the visitors opted for a run out of punt formation, which was stuffed by the Patriots.
BRAD JEREMIAH hit BRYCE RIEPL for a 28-yard passing TD to make it 14-0 Patriots with 3:51 left in the 1st quarter.
TSHOMBRE CARTER carried it in from 8 yards out for another Patriots' score to make it 21-0 at the end of the 1st quarter. Carter helped extend the drive when he rushed for a first down out of a fourth-down punt formation.
#23 Tshombre Carter carries it 8yds for another PATRIOT TOUCHDOWN!!! 21-0 at the end of the 1st Quarter!!! pic.twitter.com/poxzuVwhiE

— CUSSDPatriots (@CUSSDPatriots) November 19, 2016
The Christian defense appeared to have Hilltop on the ropes early with several plays ending in negative yardage.
However, Hilltop scored a TD to close the gap to 21-7 with 5:50 left in the 1st half on the "aw shucks" play, when the quarterback bounced a backwards pass to Stephen Rasmussen, who threw to his open man Gus Ferreira down the field for the score.
Then the Lancers added another score to make things interesting at 21-14 late in the second quarter when Domonic Esparaza scored from 5 yards out.
That Hilltop drive was aided by another razzle-dazzle play when Alex Tejada appeared to run a sweep, but he threw a backwards pass back across the field back to that man Rasmussen again, who in turn, threw a 30-yard completion to Ferreira. The Lancers later converted a fourth-and-2 to extend the drive.
Jeremiah threw to THEO GOODWIN for a 64-yard passing score on the next play to put Christian ahead 28-14.
Goodwin's route landed him in double coverage, but Jeremiah's aerial split the defenders, as the speedster found the ball landing right in his mitts around the 25-yard line, as he turned it into the score.
"It's a great feeling," Goodwin said of the win. "We trained hard for this. It's all paying off right now."
The Lancers opened the second half with a failed on-side attempt, setting up a short field.
Carter carried the ball for a 22-yard score to make it 35-14 Christian with 10:40 left in the 3rd quarter.
#23 Tshombre Carter carries it 22yds for a PATRIOT TD!!! 35-14 CHRISTIAN w/10:40 left in 3rd Q.!!! pic.twitter.com/thROUiAknJ

— CUSSDPatriots (@CUSSDPatriots) November 19, 2016
The Lancers ran in another TD to close the score to 35-21 with 9:27 left in the 3rd quarter. Tejada hit Ferreia with a 48-yard score.
This time, the Lancers were able to make an onside kick recovery, but Christian stopped the offensive series.
Morones carried the ball in for another TD and also rushed in the 2-point attempt to make it 43-21 with 4:39 left in the 3rd quarter.
A 28-yard pass for a score from Jeremiah to Riepl made it 50-21 with :48 left in the 3rd quarter, which closed the door on the Lancers.
28yd pass play #3 Bradley Jeremiah to #24 Bryce Riepl for another PATRIOT touchdown!!! 50-21 CHRISTIAN w/:48 left in 3rd Q.!!! pic.twitter.com/LeiBnPvQcm

— CUSSDPatriots (@CUSSDPatriots) November 19, 2016
Jeremiah completed 11 of 16 passes for 208 yards and 3 touchdowns.
The receiving corps of Goodwin finished with 11 for 16 catches for 218 yards. Morones rushed on 8 carries for 76 yards and 2 touchdowns and Carter finished with 16 carries for 82 yards and 2 touchdowns.
"Our guys were pretty bubbling after going 11-0," said Patriots offensive coordinator DAVID BEEZER. "But just as fast as you can go up, you can do down, so we have to keep the fire burning."
Lincoln will face Christian in the Division III semifinals on Friday (Nov. 25) at Granite Hills.