Parsons makes splash in Midland's T-25 win
Updated: November 28, 2016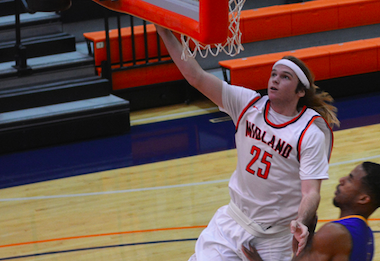 Midland University junior BRYCE PARSONS, from West Hills High/Cuyamaca College.
EAST COUNTY FOUR-YEAR MEN'S COLLEGE BASKETBALL STANDOUTS
By Bill Dickens
Special to East County Sports.com
FREMONT, Neb. (11-28-16) — At just 5-foot-9, CHASE PARSONS was a first-team All-East County performer at West Hills High School in 2013-14, joining the likes of T.J. LEAF and TOMMY RUTHERFORD on the area's premier all-star award squad.
Just 2 1/2 years – and one-inch in growth – later, Parsons is still matching up and excelling with the big boys in his basketball career.
Sunday night (Nov. 27) the Cuyamaca College graduate – now playing at Midland University (Neb.) torched the 14th-ranked Dakota State Trojans for a career-high 28 points in a dominant 88-68 victory in the Draemel Classic at the Wikert Event Center.
It was just the third appearance of the season for Parsons, a junior at Midland, who averaged over 14 points and nine rebounds as a senior with the Wolf Pack in '13-'14. Parsons also had played in a Nov. 11 win where he scored 14 points, including 3-of-5 from three.
No. 21 Midland University bounced back from a disappointing loss on Saturday (Nov. 26), where Parsons went 1-for-7 from the field and 0-for-4 from three.
The Warrior bench poured in 40 points on Sunday led by Parsons' 10-of-15 effort from the field.
The Trojans built a 17-11 midway through the first half before Parsons scored five straight points to cap a seven-point run, giving the Warriors an 18-17 edge at the 8:33 mark. The teams traded leads over the next several minutes in a fast-paced first half until Parsons connected from downtown to give MU a 26-23 lead at the 5:42 mark.
Midland did not trail for the remainder of the contest.
Diamontae McKinley and Parsons went back-to-back from beyond the arc in the final minutes of the half and the Warriors took a 42-37 lead into halftime.
Midland proceeded to use a 17-6 run over the first six minutes of the second half to put the game out of reach. Dakota State was able to cut its deficit to single digits, 61-53, with 10:02 left on the clock, but the Warriors answered again with a 15-6 spur. Parsons capped that run with a steal and a breakaway layup on the other end of the court.
Parsons also had four steals, was 4-of-6 on free throws and 6-for-10 shooting from the floor.
Midland improves to 7-2 with the victory and Dakota State falls to 3-6 this season. The Warriors are off to the best start in over a decade despite losing two-straight before Sunday's win.
The Warriors return to action next Saturday for a conference matchup against Mount Marty College. Tipoff is scheduled for 4 p.m. on December 3rd.
Needless to say, Parsons should start to receive much more playing time for a team that has played very well so far this season.