What a return for Valhalla's Ruiz
Updated: November 28, 2016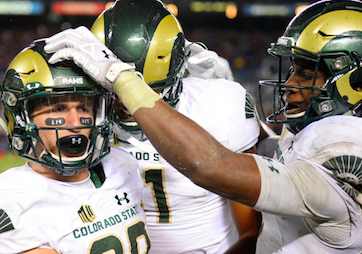 Robert Ruiz, of Valhalla High, is congratulated by teammates Saturday night following his 91-yard punt return against the Aztecs.
2016 EAST COUNTY FOUR-YEAR FOOTBALL STANDOUTS
By Bill Dickens
© East County Sports.com
SAN DIEGO (11-28-16) — After an injury-riddled career, Valhalla graduate ROBERT RUIZ erupted for a stellar night as he caught an 11-yard touchdown pass and returned a punt for 91 yards and a touchdown as Colorado State pounded San Diego State 63-31 in Qualcomm Stadium on Saturday.
The 91-yard punt return was the longest in Rams' history, and broke a 90-year-old team record, which gave CSU a 35-17 lead. A little later, his TD reception gave the Rams a 42-24 lead.
It was quite a leap for Ruiz from missing the Rams' 2015 seasons due to injuries suffered during fall camp. He redshirted back in 2012, but saw action in 10 games in 2013-14 combined, however he had just one reception over the two seasons.
But he has picked the right time to emerge onto the scene in Fort Collins.
Ruiz has played in all 11 games this season, recording 18 catches for 294 yards and three touchdowns. Prior to his record-breaking return to demoralized the bewildered Aztecs, he had returned 17 punts for 78 yards (4.6 avg) on the year.
The 2011 second-team All-East County pick pulled in his first career touchdown catch on a 13-yard pass from QB Collin Hill against UNC (Sept. 17), with just the second catch of his career and first since early in his freshman season.
Ruiz recorded a career-highs four catches for 49 yards against Wyoming on Oct. 1.
Now, he will get one last chance to shine as a member of the Rams in a bowl game in just a few weeks.
For Ruiz, it was just a matter of time before he would shine.
–
USD quarterback ANTHONY LAWRENCE, a Grossmont High alum, completed 26 of 40 passes for 296 yards and 2 touchdowns as the Toreros posted their first ever post-season playoff game win by defeating Cal Poly San Luis Obispo 35-21.
He will lead the Toreros against national power North Dakota State in the packed 19,000-seat FargoDome this weekend. The Bison have 20 straight FCS playoff victories. The Bison have won five consecutive FCS championships.
–
Former Grossmont College wide receiver TIM PATRICK hauled in 5 passes for 78 yards but it wasn't enough as the Utah Utes fell to Colorado 27-22.
–
Valhalla alum and product of BYU, NICK KURTZ reeled in 4 passes for 50 yards as the Cougars conquered Utah State. Kurtz finished with 85 receptions for 1,060 yards and 5 touchdowns in his two-year career with the Cougars, although a bowl game still awaits,
–
A couple of former Helix players ended their seasons with UNLV Saturday night, as senior KENNY KEYS wound up his career with eight tackles, while freshman wideout MEKHI STEVENSON caught a pair of passes for 16 yards.
–
In 11 games, LAWRENCE DICKENS (Steele Canyon) reeled in 42 passes for 553 yards and a touchdown at Marist College to complete his junior season. He also returned 27 kickoffs for 603 yards.
–
Helix graduate GARY THOMPSON, a 6-foot-2, 260-pound defensive end, will conclude his career with the Marshall University Thundering Herd this year. He has 150 career tackles, 19 sacks, 5 fumble recoveries, 7 forced fumbles and 10 pass break-ups.
–
Mount Miguel graduate MIKE JONES has recorded 2 interceptions and 49 tackles for Dixie State University in St. George Utah during his freshman campaign, while Grossmont High alum ALEX LILLIARD has made 23 tackles this season at Dixie State in his first season
Mount Miguel alum MALCOLM JACKSON, a defensive end, had 17 tackles and one sack for Dixie in his senior season.