Host Griffins win opener at annual tournament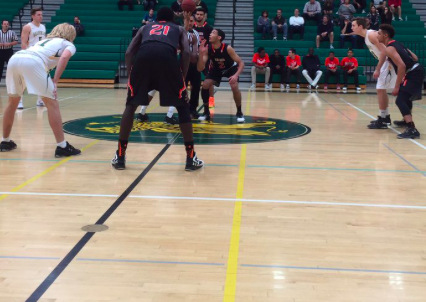 Grossmont tips off against Balboa Prep on Friday.
2016-17 GROSSMONT COLLEGE MEN'S BASKETBALL
By Chris Davis
© East County Sports.com
EL CAJON (12-3-16) — The Grossmont College Griffin men's basketball team got back on the winning ways on Friday (Dec. 2) as they defeated Balboa Prep Academy by a 75-62 score in a 1st Round game at the 45th Annual Grossmont College Invitational at Grossmont College.
Grossmont (4-4) came into their own tournament on a 3-game losing skid, albeit two of those three games were against pre-season top 5 teams.
"We played well on both ends of the court today," Griffins head coach DOUG WEBER said after the game.  "We have been defending, but today we were also scoring."
BRYCE PARSONS (West Hills) led all scorers with 20 points.  "Bryce is our leading scorer and rebounder," Weber stated.
Joining Parsons in double figures for GC was DAVID WHEELER (Mira Mesa, 16) and RONALD BLAIN (McDonough, Georgia, 12).
The Griffins shooting was outstanding as they shot 47.6 percent (30-of-63), which is second to only their victory over Antelope Valley on Nov. 18 when they shot 48.3 percent from the field.
Shooting from the free throw line was also exemplary as the Green and Gold was 72.2 percent (13-of-18), which was their best day at the line from a made free throw standpoint.
The Griffins will face Los Angeles Southwest (4-5) on Saturday in the first championship semi-final.  The Cougars put 106 on the board against College of the Desert on Friday.  "Their two big kids are really good," Weber said looking towards the match-up on Saturday.  "We just can't get into a track meet with them.  They want to go fast and COD wanted to play fast as well."
Balboa Prep at Grossmont
@ Grossmont College – El Cajon, Calif.
12/2/2016 at 2:00 p.m.
| FINAL | 1 | 2 | T |
| --- | --- | --- | --- |
| Balboa Prep  |  30 |  32 |  62 |
| Grossmont (4-4) |  39 |  36 |  75 |
Balboa Prep

#
STARTERS
MIN
FGM-A
3PM-A
FTM-A
OREB
DREB
REB
AST
STL
BLK
TO
PF
PTS
01

N. Brown-Henderson

30
5-11
3-8
3-6
0
2
2
2
2
0
3
5
16
02

Andre Allen

24
0-3
0-0
0-0
0
2
2
0
0
0
0
0
0
04

Isaiah Camon

25
4-7
1-2
0-0
0
2
2
5
2
0
1
1
9
21

Ismaila Kane

17
2-3
0-0
3-4
2
8
10
1
1
5
3
3
7
55

Jose Serrano

24
4-9
0-1
3-5
0
3
3
3
0
0
3
1
11
#
RESERVES
MIN
FGM-A
3PM-A
FTM-A
OREB
DREB
REB
AST
STL
BLK
TO
PF
PTS
13

Mojus Mojus

23
3-9
0-4
0-0
1
3
4
2
1
0
6
1
6
15

Berrit Keith

6
0-1
0-0
1-2
0
1
1
1
0
0
1
1
1
24

Christian Wilson

27
4-7
0-0
1-2
0
4
4
0
1
0
2
4
9
32

Malcolm Little

24
1-3
1-3
0-0
0
1
1
3
0
0
1
3
3
TM

TEAM

2
0
2
0
0
TOTALS
23-53
43.4%
5-18
27.8%
11-19
57.9%
5
26
31
17
7
5
20
19
62
Grossmont

#
STARTERS
MIN
FGM-A
3PM-A
FTM-A
OREB
DREB
REB
AST
STL
BLK
TO
PF
PTS
05

Daniel McCowen

29
2-8
0-3
2-2
0
0
0
6
1
0
2
0
6
11

Bryce Parsons

36
8-13
1-1
3-4
3
5
8
3
2
0
0
3
20
15

Oscar Limon

32
4-6
0-1
0-0
0
6
6
3
1
0
1
1
8
20

Ronald Blain

31
5-14
0-0
2-5
1
5
6
1
4
2
3
2
12
23

David Wheeler

22
6-10
1-4
3-3
2
5
7
3
1
0
2
3
16
#
RESERVES
MIN
FGM-A
3PM-A
FTM-A
OREB
DREB
REB
AST
STL
BLK
TO
PF
PTS
01

Kyle Ruiz

2
0-0
0-0
0-0
0
0
0
0
0
0
0
1
0
04

Corwin Feerick

16
1-5
0-0
0-0
1
2
3
0
1
2
0
1
2
10

Josh Moran

19
1-4
0-2
2-3
0
0
0
2
1
0
1
2
4
30

Taka Hall

2
0-0
0-0
0-0
0
0
0
0
0
0
0
1
0
32

Quinn Skillin

11
3-3
0-0
1-1
1
3
4
0
2
0
3
1
7
TM

TEAM

2
1
3
0
0
TOTALS
30-63
47.6%
2-11
18.2%
13-18
72.2%
10
27
37
18
13
4
12
15
75
BALBOA PREP
TEAM STATISTICS
GROSSMONT
43.4% ( 23-53)
Field Goal %
47.6% ( 30-63)
27.8% ( 5-18)
3pt Field Goal %
18.2% ( 2-11)
57.9% ( 11-19)
Free Throw %
72.2% ( 13-18)
31
Rebounds
37
17
Assists
18
20
Turnovers
12
16
Points off Turnovers
15
8
2nd Chance Points
10
32
Points in the Paint
46
15
Fastbreak Points
8
19
Bench Points
13
3
Largest Lead
16
1st-13:10
Time of Largest Lead
2nd-18:41
Ties: 1; Lead Changes: 4
OTHER INFORMATION
Technical fouls: 

Balboa Prep-None ; Grossmont-None .


Officials: 

Michael McNeilly, Manny Horner, John Grindle