Torreys end Sultans' historic climb
Updated: December 3, 2016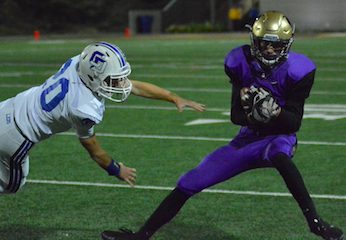 Santana's AIDEN RASMUSSON secures a pass Friday night against La Jolla Country Day. / photo by Ramon Scott
2016 EAST COUNTY PREP FOOTBALL – SDCIF Final Playoffs – Division IV
By Jim Lindgren
© East County Sports.com
CHULA VISTA (12-3-16) — By TIM ESTES' best account, 22 seniors on this year's Santana football team came in together as freshmen in Estes' second season as head coach. The young Sultans were raw back then, of course, but eventually grew and matured into a unit that would put Santana oh-so close to its first-ever championship in the 52-year history of the school.
Close, indeed, but still no title.
In a game effort worthy of Estes' highest praise, Santana was simply outgunned by a dynamic squad from La Jolla Country Day, which features the San Diego Section's all-time leading passer in Braxton Burmeister.
The Arizona-bound Burmeister threw for 274 yards and four touchdowns, as well as rushing for 102 yards and another score, as the Torreys downed Santana 38-24 in the Division IV championship contest on Friday afternoon at Southwestern College.
After a breakneck 14-14 first quarter, No. 3-seeded Santana (8-5) took a 17-14 lead with 4:05 to play in the first half on a 39-yard field goal by TIMMY TISCHER, his fifth and longest of the season.
No. 5 LJCD (11-3), however, scored the next 24 points over a 22-minute span to go up 38-17 with 5:21 to play.
Santana got to within 38-24 on a 13-yard touchdown pass from JOSH OEDEWALDT to BROCK ELLIS with 3:14 left, but an unsuccessful onside kick attempt and a roughing-the-punter penalty sealed the win for the Torreys.
Having sprained two fingers on his throwing hand in last week's 35-32 semifinal win over Monte Vista, Oedewaldt did not throw a pass all week in practice leading up to Friday's championship game.
The injury didn't appear to bother Oedewaldt one finger-bit, especially in a blistering first quarter that featured a combined 250 total yards.
The junior quarterback completed his first 10 passes for 77 yards, including a 26-yard touchdown to AIDEN RASMUSSON to give Santana a 14-7 lead with 1:37 still to play in the first quarter.
Oedewaldt finished 22-of-36 passing for 202 and two touchdowns. He was intercepted twice, but one was after a tipped ball downfield.
For the season, Oedewaldt finished with 2,933 passing yards and 33 touchdowns.
"To be honest, we didn't expect him to do so well at the beginning of the season," Estes said before the game. "He's performed way above expectations. He's done a fantastic job."
After the game, Estes heaped on more praise. "Josh has been great all season, and he had another great game today."
Senior tailback Bobby Wallace, already Santana's career and single-season rushing leader, piled up 148 yards on 32 carries. He had 105 yards on 20 carries in the first half, and his 6-yard touchdown gave Santana an early 7-0 lead after junior CAMERON KANE recovered a fumble on the fourth play of the game.
Wallace finished his brilliant career with 3,318 rushing yards. His school-record this year is 1,664 rushing yards with 24 touchdowns.
Wallace was hardly the only senior performing well for the Sultans.
Rasmusson caught eight passes for 75 yards and a touchdown. Ellis nabbed six balls for 89 yards and a touchdown. ANDERS TOLHURST grabbed six receptions for 33 yards.
"The seniors have done a great job for the program," Estes said. "I can't say enough about them. It's been a pleasure to coach these guys."
Five seniors start on the offensive line – MATTHEW WHITCOMB, TRENT FORSTER, ADAM VARGO, DYLAN BROWN and BRYCE MARTIN — protected Oedewaldt awfully well and opened nice holes for Wallace. Afterward, Forster was rewarded as the sportsman of the game.
On defense, senior STEPHEN ROE had an interception that led to an 11-play, 55-yard drive and Tischer's 39-yard field goal for a 17-14 Sultans lead.
@SantanaSultans defense with the pick #sdfnl16 pic.twitter.com/WCEOfR7a3n

— SDFNL Magazine 💫 (@SDFNLMagazine) December 2, 2016
Senior DEVAN HENSELMEIER had the Sultans' lone sack for a 7-yard loss. Senior SPENCER GULIHAR had nine tackles. Senior NOAH JACKSON had two tackles and numerous pass disruptions. Senior DOMENIC DEHOYOS also chipped in two tackles.
In the end, though, it was the Torreys and Burmeister gripping their second CIF title in the past two years.
Playing as the No. 5-seed in both seasons, LJCD won its second 11-man title after beating Vincent Memorial for the Division V crown in 2014.
Santana lost to Valley Center 20-14 in the Division IV championship game in 2011 in coach DAVE GROSS' final season before Estes took over the program. It was the Sultans' first title game.
The Sultans were 1-8, 1-9 and 4-6 in Estes' first three seasons. Last year, they finished 7-5 after a Division IV quarterfinal loss to University City.
This was the first-ever meeting between Santana and La Jolla Country Day.
"They're a good football team; that's why they're here," Estes said.
In the first quarter, Santana put up 14 points and 105 yards. LJCD got 14 points and 145 yards, combining for 250 yards in the quarter.
"The first quarter was pretty good," Estes said. "In fact, the whole first half was good for us. We just couldn't get a couple of things going in the second half.
"The outcome wasn't because of our effort. Our guys played hard right to the end.
"They've been great guys to work with all season. They've never let me down. I couldn't be more proud of them."
Said Burmeister: "We knew they could score. We knew we could score. It was just a matter of how much from either team. Fortunately, we came out on top. Santana's a great team. They made us fight for everything we got."
In the end, Burmeister was as good as advertised.
With at least one game remaining – in the state playoffs – Burmeister now has 3,994 passing yards and 48 TDs this season. His rushing totals stand at 1,258 yards and 23 TDs.
For his career, he has 11,045 passing yards and 122 TDs, both section records.
"I actually thought we did a pretty good job with their quarterback," Estes said, referring to the fact the Sultans held Burmeister under his game average of 310 yards per game.
"That guy's really talented. That type of athlete, having the ball in his hands every play, he can make things happen with his arm and his feet."
Brennan Goring, who commutes to La Jolla Country Day from his El Cajon home, is the section's all-time leading receiver. He caught eight passes for 86 yards and two touchdowns, giving him 217 career receptions for 3,076 yards.
Like Estes, LJCD's third-year coach Tyler Hales adores his team. "I'm just super excited and relieved that we have another week," he said. "I love this team. It's a special group. Top to bottom – players, coaches, administrators, everybody – it's an awesome group."
Said Estes: "I give them all the props. They played really well."