Knights make Pats look like rooks
Updated: December 4, 2016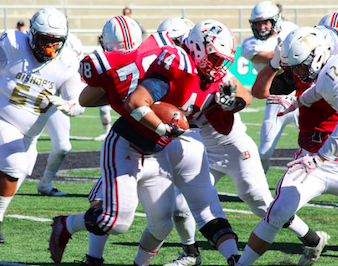 JOEY MORONES CARRIES AGAINST BISHOP'S. / CHS RedZONE photo
2016 EAST COUNTY PREP FOOTBALL – SAN DIEGO CIF DIVISION 3 CHAMPIONSHIP
BISHOP'S 49, CHRISTIAN 20
By Jim Lindgren
© East County Sports.com
CHULA VISTA (12-4-16) — A few old pals from the past popped in to spoil Christian's perfect season Saturday afternoon (Dec. 3) in the San Diego Section Division III championship game at Southwestern College.
It was nice to see them again, the Patriots thought, but did they have stay so long and wreak such havoc?
Christian alum Joel Allen, Class of 2003, is now the head coach at The Bishop's School, which walloped Christian 49-20 in a game that wasn't even that close.
The Knights' quarterback, junior Jeffrey Jackson, was a freshman at Christian before transferring to Bishop's with his younger brother, Jacob Jackson, who is also a junior.
Jeffrey Jackson dissected the Patriots all afternoon, completing 29 of 33 passes for 329 yards and five touchdowns without an interception. Heck, only four of his passes hit the turf.
"You get only four incomplete passes, you're not going to win," Christian defensive coordinator MIKE MITCHELL said. "They stepped up and played a heck of a game today."
Mitchell, of all people, should have known what to expect. His son, Danny Mitchell, is the offensive coordinator at Bishop's. Danny Mitchell, Class of 2007, was the Patriots' quarterback when Christian won a championship in 2006.
"My son kicked our butts," Mitchell said.
Top-seeded Christian (12-1) was trying to win its 11th section championship. Its 10 titles are third most in section history next to Oceanside's 15 and Cathedral Catholic's 11. The Patriots were 45-6 over the past four seasons with championships in 2013 and 2014.
No. 2-seeded Bishop's (13-0) would not be denied – right from the start.
The Knights' Garth Erdossy recovered an onside kick to start the game, and eight plays later they had a 7-0 lead on a 2-yard run by Justin Woodley.
Christian responded with a 13-play, 65-yard drive to make it 7-6 after JOEY MORONES scored on a 1-yard plunge. The PAT failed, and one point was the closest the Patriots would get to this juggernaut squad from La Jolla.
Joey Morones punches it in for the @CHSPatsFootball TD! PAT is blocked @TBSAthletics leads 7-6 1:14 left in 1Q #sdfnl16 #sdcifship pic.twitter.com/6GDq4r4Bv2

— Brett Fisher Jr. (@BrettFisherJr1) December 3, 2016
Bishop's scored the next six touchdowns to go up 49-6 not even midway through the third quarter.
Jeffrey Jackson tossed five straight touchdown passes, and Erdossy finished the Knights' onslaught with a 46-yard interception return for a touchdown.
Jacob Jackson caught six passes from his brother for 53 yards, including a 9-yard touchdown.
Mozes Mooney had 10 receptions for 127 yards and touchdowns of 8, 29 and 23 yards. Woodley caught eight balls for 107 yards and a score from 33 yards. Four other receivers also caught passes.
Six rushers totaled 174 yards, including 82 yards by Jeffrey Jackson. The Knights finished with 503 total yards, plus two interceptions.
"They have really good skill guys," Christian coach MATT OLIVER said. "That's the best group of skill guys I've seen in quite a while."
Mike Mitchell had to agree.
"They had weapons all over the place," he said. "They are so skilled at the wideout position. They spread you out so much, it's undefensible."
Christian, meanwhile, mustered only 280 yards, well below its average of 363 yards per game. The Patriots came in averaging 40.8 points per game.
Christian got its second touchdown on a 60-yard pass from BRAD JEREMIAH to Morones, who broke free up the middle after a short pass up the seam.
Morones scored again on a 2-yard run with 2:48 left. The fourth quarter was played with a running clock, something Christian is used to applying to other teams.
"Nothing really went well for us," Christian coach MATT OLIVER said. "From the onside kick to the running clock.
"We kind of ran into a buzz saw today. We got behind and couldn't get any traction.
"I thought we were off today in all phases."
Bishop's claimed its fifth CIF title and third under Allen, who also picked up a state championship in 2010. The Knights lost to Mater Dei in last year's Division IV title game, and Mater Dei went on the win the state championship.
Bishop's will find out today who it plays in its quest for a state crown.
"It'll just be icing on the cake from here on out," said Jeffrey Jackson, who added that is fun to play against his old pals.
"It was a little freaky seeing all my old friends and coaches," he said. "But at the same time, it was a lot of fun."
Jeremiah finished 11 of 24 passing for 182 yards and one touchdown with two interceptions.
With the two picks, Bishop's extended its section record with an amazing 37 interceptions this season, a total that also leads the nation.
Remember, those remarkable receivers also play defense.
"It was frustrating," said Jeremiah, who had only thrown six interceptions all season. "I didn't play as well as I wanted to.
"They're a great team. I think we underestimated them a little bit."
Morones, who entered with 1,062 rushing yards, tallied only 56 with 12 carries. His two TDs, however, gave him 28 for the season.
THEO GOODWIN had five receptions for 56 yards.
Great catch by Theo Goodwin to give @CHSPatsFootball a red zone first down #sdfnl16 #sdcifship @SDFNLMagazine pic.twitter.com/Dwp61tCMdo

— Brett Fisher Jr. (@BrettFisherJr1) December 3, 2016
On defense, CJ IRWAN posted 17 tackles, TSHOMBRE CARTER added 14, DAVID MORENO 10 and JOE MARKOWICZ seven. JONATHAN STINE had a sack and BRYCE RIEPL and JAVIER JIMINEZ shared another sack.
Jonathan Stine gives @CHSPatsFootball a first and goal #sdfnl16 #sdcifship @SDFNLMagazine pic.twitter.com/AU2ZUGgN5B

— Brett Fisher Jr. (@BrettFisherJr1) December 3, 2016
"We can't hang our heads," Mike Mitchell said. "We had such a special team this year. We were picked to not even win a game in the Eastern League this year. We went undefeated in league.
"We were undefeated heading into the championship, so I think we proved ourselves. We just didn't play the kind of game we're capable of playing."