Dons render Helix defenseless in final
Updated: December 4, 2016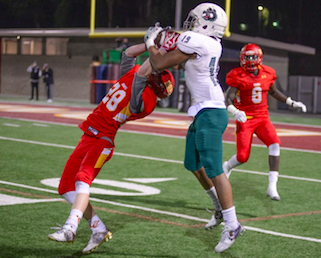 Helix's SCOTTIE YOUNG wrestles for a catch against Cathedral Catholic in the San Diego CIF Open Division championship Saturday night. / photo by Christopher Smith - MBA Sports
2016 EAST COUNTY PREP FOOTBALL – SDCIF Division III Championship
CATHEDRAL CATHOLIC 35, HELIX 27
By Jim Lindgren
© East County Sports.com
CHULA VISTA (12-4-16) — Helix star ZEKE NOA was the San Diego Section defensive player of the year last season, and the 6-foot, 225-pound stud very well could receive the same honor again this fall.
Remarkably, Noa might have even picked up some votes by not playing in the Open Division championship game on Saturday night at Southwestern College.
Without the injured Noa, Cathedral Catholic ran roughshod over, around and through the Highlanders' defense like no other team had ever done to Helix.
Try this on for size: 427 rushing yards by the Dons.
Against Helix!
Against arguably the stingiest defense among the Open Division big-timers!
Against the defending champions who suddenly forgot how to defend!
Cathedral had not one, not two, but three guys top 100 rushing yards in beating down the Scotties in a 35-27 victory to cap an undefeated season for the Dons.
Strangely enough, Cathedral beat Helix 35-28 on Sept. 16 in a nonleague game in Del Mar.
On Saturday (Dec. 3), helpless Helix watched a 14-0 early lead evaporate under the rushing barrage and found itself trailing 35-14 at the end of the third quarter.
Behind the stellar play of CARSON BAKER, SCOTTIE YOUNG and RASHAD SCOTT, the Scotties rallied late and made it a one-touchdown game with 3:34 to play.
From there, however, the Dons were able to "run" out the clock … thanks, of course, to two long runs by quarterback Tate Haynes.
"Obviously we missed Zeke," Helix coach ROBBIE OWENS said. "Obviously he was the heart and soul of our defense.
"We missed him bigtime. Having him makes us 10 times better as a team."
A torn ACL in his right knee, sustained late in Helix's win over Rancho Bernardo in the semifinals last week, put Noa on the sidelines with a sturdy brace and a pending surgery sometime in January.
Top-seeded and ranked No. 5 in the state, Cathedral Catholic (13-0) advanced to the state regional playoffs.
No. 2-seeded Helix (10-3) lost only to Timpview of Provo, Utah, by a score of 28-21 and twice to Cathedral.
This was the Highlanders' third straight trip to the Open Division final. Helix lost to Oceanside 20-13 in the 2014 Open title game and then withstood St. Augustine 44-30 in the final last year.
Baker, a junior, threw for 308 yards and three touchdowns, completing 24 of 38 attempts without an interception.
Young caught nine of those for 157 yards, plus he scored on a 5-yard run. Scott hauled in five balls for 71 yards and two touchdowns. Tight end JAYLEN ARNOLD snatched six balls for 57 yards, and EVAN PERKINS added three receptions for 13 yards.
Zeke Noa was also the Highlanders' leading rusher with 640 yards before his injury. His little brother, freshman ELELYON NOA, rushed 16 times for 71 yards, plus he caught a 5-yard touchdown pass.
Young and MICHAEL SHAWCROFT led the defense with 10 tackles apiece.
Helix looked to be rolling early. Scott had an interception midway through the first quarter that led to a 6-play, 89-yard drive and a 5-yard touchdown run by Young out of a wildcat formation.
And then @_scottieoo pounds in the short TD. @HelixScotties lead 7-0 late 1st qtr. @SDFNLMagazine @mbasports2 @SDPrepInsider @SportsRecruits pic.twitter.com/f2iYepJe7x

— Eric Williams (@WBKsports) December 4, 2016
The key play on the drive was an amazing double-pitch flea-flicker. Out of the shotgun, Baker took the snap and pitched back to Elelyon Noa, who rushed forward but not past the line of scrimmage before dishing the ball back to Scott, who then quickly fired a lateral to Baker deep in the backfield. Baker then unleashed a bomb to a wide-open Young for a 58-yard gain down to the 5-yard line.
A nice flea-flicker from @Cbakess9 to @_scottieoo gets @HelixScotties inside the 10 yard line. @SDFNLMagazine @SDPrepInsider @SportsRecruits pic.twitter.com/W87ZU9LrDc

— Eric Williams (@WBKsports) December 4, 2016
Young scored on the next snap.
A sack by LARS LASH on the Dons' next series forced a punt and led to an 11-play, 54-yard scoring drive that gave Helix a 14-0 cushion with 7:55 to play in the second quarter.
Again, fortune was on the Scotties' side. On first-and-goal from the 10-yard line, Baker fired a fastball to Young on an inside slant pattern. The bullet, however, bounced off the otherwise sure-handed Young high into the air and finally came down into the waiting lap of Scott in the end zone.
Helix convert two 4th downs. Then @Cbakess9 hits @Rvficki for a TD pass after @_scottieoo deflects the pass. They lead 14-0. @SDFNLMagazine pic.twitter.com/1OBpqFmR2c

— Eric Williams (@WBKsports) December 4, 2016
Easy-peasy, right?
Hold on.
Cathedral then scored the next five times it touched the ball for a 35-14 lead with 0:08 to play in the third quarter. The Dons scored twice in the final 4:45 of the first half to tie the game 14-14 at intermission.
"We had to step up, and we didn't make enough plays," Perkins said. "That's what it was. We just missed assignments, and they capitalized every time."
Out of the Dons' wing-T offense, Shawn Poma led all rushers with 161 yards and two touchdowns on just 12 carries. Adam Eastwood added 124 yards and a score on 20 attempts. Haynes, the son of NFL Hall of Famer Mike Haynes, gained 119 yards and two touchdowns on 13 keepers.
Haynes wasn't pretty in passing, but he did tally 51 yards on 5-of-7 attempts with one interception.
"That phone booth offense," Owens said, "they did a great job of controlling the football."
After Helix assumed its 14-0 lead, Cathedral reeled off an 8-play, 76-yard drive and scored when Poma took a sweep left, broke three tackles and raced to a 22-yard touchdown.
Helix drove 60 yards on its ensuing possession, but Elelyon Noa fumbled after a short gain, and the Dons' Morrison Mirer pounced on it at the 21-yard line.
Seven plays and 79 yards later, including a 46-yard pickup by Poma, Cathedral tied the game on a 1-yard QB sneak by Haynes with 0:07 to play before intermission.
To start the third quarter, Cathedral reeled off a 4-play, 8-yard drive and scored on a 57-yard scramble keeper by Haynes.
"That opening series of the second half was crucial," Owens said. "We didn't come into the second half and do what we needed to do."
Helix drove to the Dons' 8-yard line on its ensuing possession, but on third-and-four going in, Baker was whistled for an intentional-grounding penalty that set the ball back 22 yards to the 30-yard line. A delay of game set it back five more yards, and Helix eventually gave the ball up on downs.
Cathedral answered with a 5-play, 71-yard drive and scored on a 41-yard sweep by Poma for a 28-14 lead.
On its next series, Helix again drove deep into Cathedral country but again gave the ball away on downs at the 21-yard line.
Cathedral answered with a 7-play, 79-yard drive capped by a 5-yard touchdown run by Eastwood with 0:08 to play in the third quarter.
"Obviously," Owens said, "you look at their ability to run inside. You look at their ability to run outside. We couldn't stop them. We obviously missed Zeke."
Down now 35-14, Helix attempted a comeback and responded with a 9-play, 80-yard drive and scored when a scrambling Baker lobbed an easy 2-yard toss to Scott, who caught the ball and backed into the end zone to make it 35-20.
Then @HelixScotties get closer with this TD pass from @Cbakess9 to @Rvficki. @Donsfootball leads 35-20 9:19 left 4th qtr. @SDFNLMagazine pic.twitter.com/VggExHv0a3

— Eric Williams (@WBKsports) December 4, 2016
On the Dons' ensuing series, Perkins recovered a fumble at the 47-yard line and suddenly Helix had a chance.
The Highlanders promptly reeled off an 8-play, 53-yard scoring drive as Elelyon Noa took a short swing pass and turned upfield for a 5-yard score to make it 35-27 with 3:34 left.
And @Cbakess9 hits Elelyon Noa with a short TD pass. @HelixScotties not done yet. They trail @Donsfootball 35-27 3:34 left in the game. pic.twitter.com/TpiQLUgFB8

— Eric Williams (@WBKsports) December 4, 2016
Helix attempted an onside kick but was whistled for offside. MATTIAS LAYTON's re-kick was boomed into the end zone.
Helix needed a stop.
Helix didn't get it.
Haynes gained 17 yards on a third-and-8 play for a first down.
Moments later, Haynes gained 14 yards on a second-and-8 play for another first down with 1:08 to play and Helix out of timeouts.
From there, Haynes took a knee three times, and the Dons had earned their 11th section title.
"We had some opportunities offensively that we didn't take advantage of," Owens said. "At the end of the day, we gave up too much and didn't score enough points."
Always gracious and humble, a Gatorade-soaked Cathedral coach Sean Doyle praised Helix for its tenacity and intensity.
"Those guys, especially missing their best player, came out with a lot of heart and energy. They came to play and really put us to the test."
Owens came to Helix last spring after coaching stints in Colorado and Florida.
"We accomplished a lot with our new coach," Scott said. "A lot of people doubted us. Doubted us against Rancho Bernardo. I'm proud of how we adopted to a new coach and got to the final three years in a row."
Said Owens, "When I came into it, I knew Helix wasn't broken. Helix was a stacked deck, and I learned as much this year as I have in 20 years of coaching.
"Like I told the kids, I expect to be in this game every year.
"We got to where we wanted to be. We just didn't finish. We've got to finish."