Former Norseman Frank taken by Padres
Updated: December 9, 2016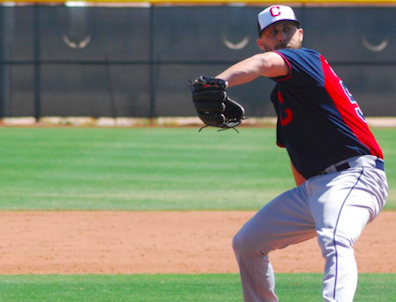 TREVOR FRANK, of the San Diego Padres
2016 EAST COUNTY PRO BASEBALL STANDOUTS
Can't wait to see what comes next.This is definitely a crazy day.But I'm exciting for what is to come #hometownteam @Padres

— Trevor Frank (@TrevorFrank56) December 8, 2016
EastCountySports.com staff report
SAN DIEGO – Former Valhalla High baseball standout TREVOR FRANK was acquired by the San Diego Padres on Thursday in the 2016 Rule 5 Draft.
Frank, an All-East County first team selection in 2008 as a junior, was the eight-round selection by the Cleveland Indians in 2013 after competing for UC Riverside.
Frank missed most of the 2015 season with an elbow strain, but had 17 saves last season at High A Lynchburg, making 44 appearances in relief last season, finishing with a 2.47 ERA.
He struck out 43 while walking just 10, and holding opponents to a .191 batting average.
He has never pitched above Class A.
Frank, arguably the most effective closer in Valhalla history, was sidelined early in his senior season after a strong start.
He was a starter in his first three years at Riverside, but earned the team's closer role in his senior season.
Frank, a member of the Norsemen's 2006 CIF championship team, comes to his hometown professional club, which he rooted for as a youngster growing up in El Cajon. After a fast start in his senior season at Valhalla, the right-hander missed most of his final season with an injury.