Arnold, Helix battle to Hilltop title
Updated: December 10, 2016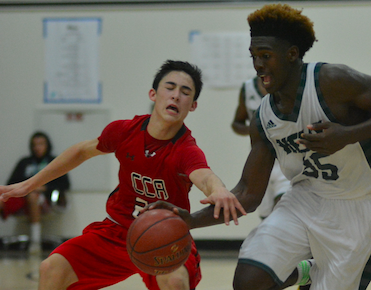 Helix's JAYLEN ARNOLD controls the ball against Canyon Crest in the Hilltop Invitational Tournament championship game Friday night in Chula Vista / EastCountySports.com photo
2016-17 EAST COUNTY PREP BOYS BASKETBALL
By Ramon Scott
EastCountySports.com
CHULA VISTA – JOHN SINGER has taken his Helix Highlanders down to the Hilltop Invitational Tournament for the better part of 30 years. And over those years, the coach has had many of his teams take home the championship trophy.
It had been awhile, however, that Helix has walked out of the Lancers' gym with the hardware. Sometimes due to the fact that Helix played without their full-compliment of players because of football commitments, and other times due to a strong field, which has often included the likes of Torrey Pines.
In the tournament championship against undefeated Canyon Crest on Friday night, senior JAYLEN ARNOLD battled his way to a game-high 28 points and the tourney MVP honors, as the Highlanders downed the Ravens, 59-55.
"We haven't won it in awhile," Arnold said. "But this is just a step along the road, we're trying to build it to that (CIF) championship level."
Helix's composed point guard AMARI GREEN also earned all-tournament honors, scoring nine points in the final.
It was a comeback win, of sorts, for the Scotties, who trailed 32-26 at halftime. However, Helix was the team which squandered a big lead in the first 16 minutes, after jumping out to a 14-4 edge early on.
Arnold had 11 points in the first half for Helix, while teammate JAYLEN HINSON had 10 at the intermission. However, the Highlanders had their struggles from the field statistically, although several close shots rimmed out.
The Ravens were able to capitalize on their own second-chance efforts underneath, as they were a better rebounding team than the Highlanders on both ends in the first half.
Canyon Crest's senior sharpshooter Ryan Michaels led the first-half surge to overtake the Scots, then came out firing in the second half, hitting a couple of threes, giving him four in the game, and upping the Ravens' lead to 45-35 with 1:52 left in the third period.
Michaels would finish with 24 points.
But Helix's patience was most obvious on the boards, where they now seemed to have the advantage, limiting Canyon Crest to way fewer second-chance opportunities.
"It was a point of emphasis at halftime," Helix assistant coach JOE HERNANDEZ said.
Senior footballer CARSON BAKER, who missed the early tourney meeting (a 60-53 Ravens win) – along with Arnold – as the Helix football squad made it all the way to the section championship game last Saturday, had a pair of free throws to close the lead to 47-46 in the fourth.
Then, moments later, Hinson had a steal, which Arnold would eventually convert into a pair of free throws, putting the Scotties ahead 48-47 with 5:30 to play.
Arnold heated up with another pair of buckets, but Canyon Crest tied the game with a three-pointer at 52-52. Then, Aaron Acosta, another dangerous scorer, gave the Ravens a two-point lead with a basket with  1:45 to go.
Hinson answered with a basket and foul conversion for a 55-54 lead with 1:06 remaining. Hinson finished with 13 points.
Green added a pair of free throws with 31.5 seconds left, then a pair of free throws by senior DYLAN LEE made it a four-point game with just seconds left.
"The coaches told us we needed to box out more and get the rebounds in the second half," Arnold said. "In the fourth, we had to get out and get a hand in front of their long shooters, and be ready for long rebounds, too."
Other Helix scoring: Baker 4, Marcus Holmes 3, Lee 2.
Your Hilltop Tournament Champs and Tournament MVP🏀🐶 @jaylen_quatro . The Highlands beat Canyon Crest 59-55 pic.twitter.com/l6MLAfWH9P

— Helix Sports Network (@Helix_SN) December 10, 2016