Eagles finally get to keep their trophy
Updated: December 10, 2016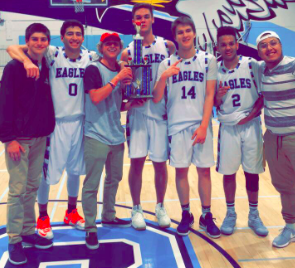 Granite Hills celebrates its victory in the Granite Hills Invitational Friday night.
2016-17 EAST COUNTY PREP BOYS BASKETBALL
By Bill Dickens
© EastCountySports.com
POWAY – The Granite Hills Eagles made history on Friday night (Dec. 9) when they stunned Poway 59-50 in the championship game of the Eagle Invitational.
Usually, the Eagles invite some of the county's elite teams to come and win their own tournament.
This time, it was the Eagles who got to keep their own hardware for once.
Granite Hills hasn't won its long-standing event too often, but they were impressive in turning the tables on the Titans after the Eagles looked a little rugged around the edges in a loss here to Poway last Friday night.
Both teams finished the game at 4-1. Poway is a Top 10 team in the section and Granite Hills has proved they are worthy of a Top 10 poll berth.
Six-foot-4 junior MOSES SMITH drilled in 19 points, grabbed 10 rebounds and blocked a shot.
Steady RYAN KELLY dropped in 14 points and made 10 rebounds, 6 assists, a steal and a block to lead the Eagles past the Titans, while DARIEN COSSIO poured in 11 points for the Eagles.
Granite Hills led Poway 26-15 in the first half.
"It was the first double-double of his career for Moses," noted Eagles coach RANDY ANDERSON. "Kelly did a good job of handling the ball in his favor, feeding off our guards."
Granite Hills:  Moses Smith 19 (10 reb, 1 blk), Ryan Kelly 14 (10 reb, 6 ast, 1 stl, 1 blk), Darien Cossio 11 (2 reb, 2 ast, 1 stl), Jorden Rogers 9 (1 reb, 2 ast, 2 stl), Cameron Spitzer (4 reb, 1 ast, 1 stl), Austin Ballo (1 reb).
UNIVERSITY CITY 68, GROSSMONT 60 (OT) – The Grossmont Foothillers let a potential victory slip through their hands in overtime as host University City squeezed out a 68-60 victory in Friday's (Dec. 9) Game On Challenge.
The Foothillers trailed 38-36 in the fourth quarter before DOMONIQUE GUEVARA eventually tied the game at 51-51 to send the game into overtime.
Guevara finished with 17 points, 11 rebounds and 4 steals.
HUNTER GAINES hammered in 16 points and grabbed 8 rebounds to go along with 2 assists and 2 steals.
"Once we got to overtime we ran out of gas," said Grossmont coach FRANK FOGGIANO.
In the game, Grossmont was singed at the free throw line by University City, which clicked on 20 of 22 charity shots. To boot, the Dons were 9 for 10 in overtime.
Grossmont will face San Marcos at Bishop's at 4 p.m. on Saturday (Dec. 10) in a non-league game.
Grossmont:  Domonique Guevara 17 (11 reb, 2 ast, 4 stl), Hunter Gaines 16 (8 reb, 2 ast, 2 stl), Hunter Mulder 7, Mykol Rodriguez 6 (4 reb, 1 ast, 3 stl), Morgan Stidum 6 (2 reb, 2 ast, 2 stl), Austin Odom 6 (1 stl), Jamie Odom 2 (4 reb, 3 ast, 3 stl).
EL CAJON VALLEY 59, LIBERTY CHARTER 42 – El Cajon Valley dribbled out of the gate to sprint to a 24-16 halftime lead over Liberty Charter in Friday's (Dec. 9) non-league victory.
The Braves padded their lead in the third quarter with 13 more points and never looked back.
JEREMIAH DAVIS turned in a double-double of 10 points and 11 rebounds and 2 blocks for the Braves.
ISAAC BLAKE punched in 3 points and added a pair of dunks.
DMIR WITHERSPOON registered a game-high 14 points and 13 rebounds, while GREG JONES chipped in with 13 points.
HASAN AL-HASAN contributed a dozen points.
"Liberty Charter hung with us for the first half," said Braves coach SCOTTY JAMES. "We never were able to pull away until the fourth quarter, then we cruised from there.
El Cajon Valley: Dmir Witherspoon 14 (13 reb, 1 stl), Greg Jones 13, Hasan Al-Hasan 12, Jeremiah Davis 10 (11 reb, 2 blk), Rami Abdullah 6, Isaac Blake 3 (4 reb, 2 blk), Deon Davis 3 (3 reb, 2 blk).
RAMONA 69, MOUNT MIGUEL 61 – Playing without double-digit ace DARIAN NORWOOD, who sat on the sidelines with an injury, Mount Miguel tried to scramble to the finish in Friday's (Dec. 9) Baron Matador Classic.
The Matadors, however, ran out of gas in the fourth quarter as the Bulldogs jumped to a 25-19 edge to pull out the victory.
Mount Miguel coach JAY ROWLETT reported that Norwood hurt his ankle in the fourth quarter of the Mira Mesa game and is expected to miss a week.
This game was tied with 5 minutes to go and Rowlett said, "We trapped them but a second too late as they hit a 3-pointer to take the lead and we couldn't catch them."
Even without Norwood, the Matadors placed three players in double figures including MARQUISE EDWARDS, who spun a double-double of 14 points and 11 rebounds, and JAMES ALLEN, who chipped in with 16 points, 6 rebounds and 6 steals and 4 assists.
DEVON BROWN hammered in 15 points and snagged 5 rebounds.
Mount Miguel:  James Allen 16 (6 reb, 4 ast, 6 stl), Marquise Edwards 14 (11 reb, 2 stl), Devon Brown 15 (5 reb), Ricky Harvey 7 (4 reb, 2 ast, 3 stl, Mikeece Dunbar 5 (1 ast), Justice Chima 4, Mugabe Miller (2 reb, 1 stl), Marquis Neal (1 stl).


ESCONDIDO 55, VALHALLA 53 –The Norsemen fell to the Escondido Cougars 55–53 in the final game of the Baron Matador Classic Friday (Dec. 9).
The Norsemen were paced by MALIQUE SHAW's 16 points and JONAH HOWARD's 14 points. RAMZI SULTAN also scored 14 points for Valhalla.