ROUNDUP: Pack are Cam, Cool, collected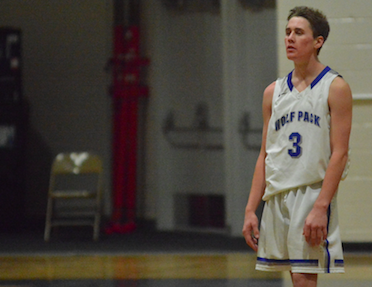 2016-17 EAST COUNTY PREP BOYS BASKETBALL
By Bill Dickens
© East County Sports.com
SANTEE (1-5-17) — The West Hills Wolf Pack unleashed a long range attack and ground up Rancho Buena Vista 88-44 on Wednesday (Jan. 4) in the second round of the Del Norte Tournament.
CAMERON BARRY landed 7 three-pointers in as many attempts and added 5 more points to finish with 31 to lead the Pack.
Not to be overlooked was the yeoman work of MARQUEL COOL, who landed 7 three-pointers and finished with 29 points.
Overall the Wolf Pack landed 17 of 26 three-point bulls-eyes (.654).
ADAM DILLION and BRANDON PETERSON dropped in a three apiece to complete the ongoing barrage.
"We kept them running up and down the court, kept the pressure on the whole game," said Pack assistant coach TIM BARRY. "A lot of kids got to shoot the ball and everybody on the roster scored."
West Hills will next travel to play Del Norte on Saturday (Jan. 7) at 6:30.
West Hills:  Cameron Barry 31, Marquel Cool 29, Adam Dillion 7, Nathan Ball 6, Chris Moyer 6, Matthew McDonald 4, Brandon Peterson 3, Tyler Brower 2.
PALO VERDE 57, SANTANA 53 – In Wolf Pack Shootout action Wednesday (Jan. 4th) in Santee the Santana Sultans, unfortunately, couldn't overcome deficits in the first and fourth quarters to drop a close 57-53 contest against Palo Verde.
The Sultans in the first quarter struggled and it showed as the Yellowjackets jumped out to a 15-7 lead. However, the second quarter some adjustments were made by Santana and they turned the tables to lead 21-18 at the break thanks to a 14-3 advantage in the second quarter.
Santana in the second half extended their lead as they outscored Palo Verde 15-10 to push their lead to 36-28. Not even the double-double of 10 points and 10 rebounds by TC SIMMONS or the 15 points scored by ANDREW HITCHCOCK could keep the momentum in the Sultans' favor in the fourth quarter. The Yellowjackets were able to find some extra gas in the final period and hold on with the 29-17 advantage to win the contest.
SANTANA:  Andrew Hitchcock 15 (2 reb, 1 stl), Nick Berhalter 11 (3 reb, 1 ast, 1 stl, 1 blk), TC Simmons 10 (10 reb, 3 ast, 2 stl, 1 blk), Brandon Simmons 7 (2 reb, 2 ast), Zach Leggitt 4 (1 reb), John Bobof 2 (3 reb, 4 ast, 3 stl), Ben Hart 2 (1 reb, 1 ast), Cole Kinkade 2 (1 reb, 1 ast).
– Adam Paul
STEELE CANYON 58, CHRISTIAN 51 – Christian jumped ahead in the first quarter and maintained the lead 27-21 until halftime of Wednesday's (Jan. 4) Wolf Pack Shootout.
But that changed in the third quarter as the Patriots battled for the lead. Steele Canyon held on, however, and emerged the victor in the fourth quarter.
"We came out flat and we did not play well in the first quarter," noted Cougars coach DEREK STEPHENS. "Christian played hard. We changed our defense in the second half and that helped.
"With 6½ minutes in the third quarter we held them to 2 points," he added.
Then Steele Canyon was whistled for two technical fouls, neither of which seemed warranted according to the coach.
"Christian made 6 points on those and we picked up 2 personal fouls," Stephens said.
The Patriots got a big boost from NASHOM CARTER, who pitched in 20 points and hauled down 8 rebounds, dished 3 assists and made 3 steals. He finished with 2 treys and 4 for 5 from the free throw line.
DANIEL WELCH added 10 points and 6 rebounds for Christian.
"We had a good start – leading 13-6 in the first quarter – but had a rough third quarter," said Patriots assistant coach TIM BROWN. "We battled back but couldn't close it out. It was tied with under 2 minutes left but we couldn't close it out."
Steele Canyon:  Nick Barns 16, Gage Sanders 14, Thomas Fishburne 12, Jalen Sayles 8, Landon Schirer 4, Tyler Smith 4.
Christian:  Nashom Carter 20 (8 reb, 3 ast, 3 stl), Daniel Welch 10 (6 reb), Domanic Safarta 9 (2 reb, 3 ast, 1 stl), Jackson Larsen 5 (5 reb, 1 stl), Javier Jimanez 5 (6 reb, 2 ast), Jack Mason 2 (3 reb), Patrick Roberts (2 reb, 1 blk, 1 stl). 

GRANITE HILLS 98, CALVARY CHRISTIAN 28 – CAMERON SPITZER buried 3 long-rangers to launch a rout for Granite Hills as the Eagles continued on to crush Calvary Christian 98-28 in Wednesday's (Jan. 4) Wolf Pack Shootout.
Eleven Eagles flapped their wings as Granite Hills clobbered the visitors.
RYAN KELLY spun in 20 points and Spitzer landed 16 (3 of them 3s), while JORDEN ROGERS drilled in 3 three-pointers as well.
MOSES SMITH pitched in 14 points and grabbed 10 rebounds for Granite Hills.
Granite Hills will host Hilltop Thursday (Jan. 5) at 7:30
Granite Hills:  Ryan Kelly 20 (8 reb, 2 ast), Cameron Spitzer 16 (2 reb, 6 ast, 2 stl), Jorden Rogers 15 (5 reb, 7 ast, 2 stl), Moses Smith 14 (10 reb, 2 ast, 1 stl), Austin Ballo 9 (4 reb, 6 ast, 4 stl, 1 blk), Atticus Jordan 6 (5 reb, 3 ast, 3 stl, 1 blk), Cody Cox 6 (2 reb, 1 ast, 1 blk), David Coffey 4 (4 reb, 1 ast), Xsavier Smith 2 (1 reb, 3 ast, 3 stl), Aspen Fosee 2 (1 ast, 3 stl).
GROSSMONT 45, CHULA VISTA 42 – The Foothillers pulled a narrow escape as they edged Chula Vista in Wednesday's (Jan. 4) non-league encounter.
HUNTER GAINES was the only Foothiller to score in double figures with 12 points and 6 rebounds.
DAMAGEAE GANT pitched in 9 points and DOMONIQUE GUEVARA tossed in 8 points and grabbed 8 rebounds to help carry Grossmont past Chula Vista.
Grossmont:  Hunter Gaines 12 (6 reb, 1 ast, 2 stl), Damageae Gant 9 (3 reb, 2 ast, 2 stl), Domonique Guevara 8 (8 reb, 1 ast, 4 stl), Austin Odom 5 (3 reb, 1 ast, 1 stl), Hunter Mulder 4 (2 reb), Morgan Stidum 3 (3 reb, 1 ast, 2 stl), Jamie Odom 2 (3 43b, 1 ast, 1 stl), Franklin Golojuch 2 (2 reb). 

OLYMPIAN 73, EL CAPITAN 44 – No further information provided on this Wolf Pack Shootout game, which the Vaqueros trailed, 19-11, after one and 35-18 at intermission.