HILLS PREVIEW: Norris, Helix thinking ring
Updated: January 12, 2017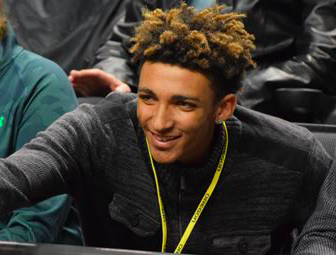 HELIX JUNIOR FORWARD MILES NORRIS
2016-17 EAST COUNTY PREP BOYS BASKETBALL
GROSSMONT HILLS LEAGUE PREVIEW
By Bill Dickens 
EastCountySports.com
EL CAJON – The Helix Highlanders certainly are the favorite to win the Grossmont Hills League circuit, especially after the addition of national top 25 All-American prospect MILES NORRIS, who transferred to the charter school this school year.
Norris had to sit out most of the preseason until the new year, but once he stepped on the court, there was no doubting his impact in the Helix lineup, as well as, the championship picture in Division 2.
Helix went 13-5 in the preseason and should receive just a mild challenge from the rest of the Grossmont circuit.
In addition to Norris, a 6-foot-9 junior who is getting a litany of looks from a number of major colleges, the Highlanders have another top county talent in 6-foot-4 forward JAYLEN ARNOLD.
And the Highlanders possess some real prep talent depth, as well.
Guards AMARI GREEN and DYLAN LEE give coach JOHN SINGER some of the steadiest hands he's had in a number of years, along with forward CARSON BAKER.
Come playoff time, expect the Highlanders to battle with the likes of Serra, Rancho Bernardo and La Jolla at the D-2 finish line.
The Valhalla Norsemen have had an outstanding preseason, running up a 16-2 mark, including a current 13-game winning streak.
The Norsemen were tournament terrors, racking up championships at the San Ysidro and Montgomery events.
And they did it with a rotating cast of starts, inlcuding RAMZI SULTAN, KAI KOMAKI, MALIQUE SHAW and EVAN O'NEILL.
Valhalla's big chance to threaten the Scotties' apparent potential lock on the title will come right away when it hosts Helix on Jan. 20.
The Grossmont Foothillers are heating up at just the right time and could almost be classified a sleeper after their slow start.
The Hillers played some tough games in the preseason, but have now won six of their last seven heading into Friday's opener at West Hills.
Foothiller footballers DOMONIQUE GUEVARA and HUNTER GAINES have been steady from the start, but coming on of late during the winning surge have been JAMIE ODOM, AUSTIN ODOM and DAMAGEAE GANT.
West Hills has an experienced trio in CAMERON BARRY, MARQUELL COOL and NATHAN BALL, but got off to a 4-8 start playing an extremely difficult preseason schedule.
Meanwhile, the Steele Canyon Cougars have an exciting brother duo in GAGE and KOBE SANDERS. Gage is averaging a team-high 15 points per game as SC was 11-7 in the preseason.
Junior THOMAS FISHBURNE is a versatile star, averaging 14 points, five rebounds and 4.7 assists per game. Seniors JAYLEN SALES and TYLER SMITH both are averaging nearly nine points per game and a combined 14 rebounds per contest.
Steele Canyon senior DE'ANGELO LEWIS stepped up with 19 points last Saturday night to lead the Cougars in the championship game of the Wolf Pack Shootout over Granite Hills.