Griffins' killer B's help take down SBVC
Updated: January 14, 2017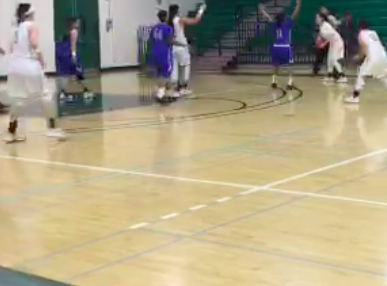 Grossmont on a possession Friday night against San Bernardino.
2016-17 GROSSMONT COLLEGE WOMEN'S BASKETBALL
By Bill Dickens
© East County Sports.com
EL CAJON (1-14-17) — The Grossmont College women snapped a 3-game losing streak on Friday (Jan. 13) as they toppled San Bernardino Valley College 58-43.
COURTNEY BRANCH tallied 12 points and KYRA BRUESEWITZ tossed in 11 for the Griffins. Branch also pounded the boards for 16 caroms.
Bruesewitz drilled in a trio of 3-pointers, while BRITTANY GAFARE and SATORI ROBERSON both snagged 8 rebounds.
Next up for the Griffins is a trip to the desert to take on the Imperial Valley College Arabs on Wednesday (Jan. 18) for a 5 p.m. game in the league opener.
San Bernardino at Grossmont
@ El Cajon, CA
1/13/2017 at 5:00 PM
| FINAL | 1 | 2 | 3 | 4 | T |
| --- | --- | --- | --- | --- | --- |
| San Bernardino (1-14) | 9 | 13 | 12 | 9 | 43 |
| Grossmont (3-13) | 17 | 11 | 16 | 14 | 58 |
San Bernardino

#
STARTERS
MIN
FGM-A
3PM-A
FTM-A
OREB
DREB
REB
AST
STL
BLK
TO
PF
PTS
05

Jaida Howard

40
9-36
0-2
3-4
8
8
16
1
4
3
10
1
21
10

Melissa Monroe

40
1-2
0-0
1-6
3
5
8
0
3
0
7
3
3
11

Aoloni Robinson

35
3-15
0-4
2-5
2
3
5
5
5
0
5
4
8
32

Mariah Abbott

40
4-8
3-6
0-0
1
6
7
0
1
0
3
2
11
44

Mary Husband

40
0-6
0-4
0-0
2
0
2
0
1
0
3
1
0
#
RESERVES
MIN
FGM-A
3PM-A
FTM-A
OREB
DREB
REB
AST
STL
BLK
TO
PF
PTS
33

Mozeya Jones

5
0-0
0-0
0-0
0
1
1
0
0
0
1
0
0
TM

Team

6
3
9
0
0
TOTALS
17-67
25.4%
3-16
18.8%
6-15
40.0%
22
26
48
6
14
3
29
11
43
Grossmont

#
STARTERS
MIN
FGM-A
3PM-A
FTM-A
OREB
DREB
REB
AST
STL
BLK
TO
PF
PTS
01

Kyra Bruesewitz

35
4-11
3-9
0-0
0
1
1
5
3
0
1
2
11
02

Courtney Branch

32
6-11
0-0
0-0
5
11
16
2
2
0
4
2
12
03

Justine Garde

30
2-5
1-3
0-0
0
1
1
1
1
0
3
0
5
34

Satori Roberson

30
2-9
0-0
0-0
5
3
8
1
0
5
5
4
4
44

Brittany Gafare

18
1-6
0-0
1-2
1
7
8
0
2
0
5
4
3
#
RESERVES
MIN
FGM-A
3PM-A
FTM-A
OREB
DREB
REB
AST
STL
BLK
TO
PF
PTS
10

Martina Toma

4
0-1
0-1
0-0
0
1
1
0
0
0
1
1
0
14

Breanna Linson

24
3-9
0-3
3-4
0
2
2
4
3
0
5
0
9
22

Khiya Mohamed

12
2-7
0-0
2-2
2
2
4
0
1
0
4
3
6
33

Lydia Halcott

15
4-6
0-0
0-0
2
5
7
0
1
1
0
0
8
TM

Team

1
2
3
1
0
TOTALS
24-65
36.9%
4-16
25.0%
6-8
75.0%
16
35
51
13
13
6
29
16
58
| SAN BERNARDINO | TEAM STATISTICS | GROSSMONT |
| --- | --- | --- |
| 25.4% ( 17-67) | Field Goal % | 36.9% ( 24-65) |
| 18.8% ( 3-16) | 3pt Field Goal % | 25.0% ( 4-16) |
| 40.0% ( 6-15) | Free Throw % | 75.0% ( 6-8) |
| 48 | Rebounds | 51 |
| 6 | Assists | 13 |
| 29 | Turnovers | 29 |
| 14 | Points off Turnovers | 30 |
| 14 | 2nd Chance Points | 15 |
| 8 | Points in the Paint | 20 |
| 4 | Fastbreak Points | 6 |
| 0 | Bench Points | 23 |
| 0 | Largest Lead | 21 |
| – | Time of Largest Lead | 4th-03:07 |