Hands named to McDonald's game
Updated: January 16, 2017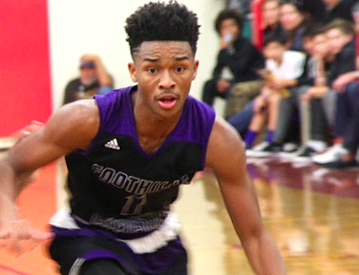 2016-17 EAST COUNTY PREP BOYS BASKETBALL
EastCountySports.com staff report
EL CAJON – JAYLEN HANDS has been named to the 40th annual McDonald's All-American Game to be held March 29 in Chicago.
The 6-foot-3 point guard from Foothills Christian is ranked the No. 26 overall player in the class of 2017 nationally by SCOUT. In his senior season so far for the Knights, he's averaging 31 points, 7 rebounds, 6 assists and 2.6 steals per game.
Hands is the No. 6 PG nationally by SCOUT and No. 1 PG in the West.
Hands has committed to UCLA, where former Foothills Christian star T.J. Leaf currently attends.
Leaf played in the McDonald's game last year.
Hands will be joined in Chicago by fellow UCLA commit KRIS WILKES, from Indianapolis.
Hands started his high school career at Mater Dei Catholic, then transferred to Foothills Christian two years later. After being denied eligibility by the CIF, he moved to Balboa Prep last season.
Hands moved back to Foothills Christian before this season and was cleared to play.
Being chosen a McDonald's All-American this season was a goal for Hands, he has stated, as well as, helping the Knights pursuit of a section Open Division championship and state title.