Blain, Griffins find rhythm against IVC
Updated: January 21, 2017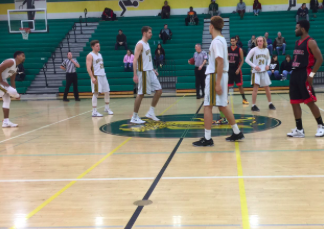 Grossmont sets to tip off against Imperial Valley on Friday night.
2016-17 GROSSMONT COLLEGE MEN'S BASKETBALL
By Bill Dickens
© EastCountySports.com
EL CAJON (1-21-17) — Grossmont College snapped a 5-game losing streak by racing past visiting Imperial Valley College 84-64 on Friday (Jan. 20) in a Pacific Coast Athletic Conference South action.
Given a chance for more production with increased minutes on Friday, RONALD BLAIN turned in a powerful double-double to lead the Griffins with 18 points and 16 rebounds. He also had three blocks.
BRYCE PARSONS led the supporting cast with 10 points as the Griffins improved to 9-10 overall and 1-2 in conference play.
Grossmont led 32-27 at halftime, as Blain had 12 in the first half. The Griffins shot 58 percent for the game.
LEANDRE POWELL had 13 points for Grossmont, while DANIEL MCCOWN added 11.
The Griffins will next travel to face crosstown rival Cuyamaca College on Wednesday (Jan. 25) for a 5 p.m. game.
Imperial Valley at Grossmont 
@ El Cajon, CA 
1/20/2017 at 6:00 PM
| FINAL | 1 | 2 | T |
| --- | --- | --- | --- |
| Imperial Valley (6-12, 2-1) | 27 | 37 | 64 |
| Grossmont (9-11, 1-2) | 32 | 52 | 84 |
Imperial Valley

#
STARTERS
MIN
FGM-A
3PM-A
FTM-A
OREB
DREB
REB
AST
STL
BLK
TO
PF
PTS
1

Marquis Golden

21
2-9
1-4
1-1
0
0
0
1
0
0
0
2
6
21

Rick Cesena

16
2-4
0-1
0-0
0
3
3
4
0
0
1
1
4
23

Brandon Martinez

23
3-9
1-6
0-2
1
3
4
1
0
4
0
0
7
32

Jourdain Richards

12
2-3
1-1
1-2
1
0
1
0
0
0
1
4
6
42

Luis Vizcaino

10
0-3
0-1
0-0
1
1
2
0
0
0
0
0
0
#
RESERVES
MIN
FGM-A
3PM-A
FTM-A
OREB
DREB
REB
AST
STL
BLK
TO
PF
PTS
0

Kahyree Fisher

7
0-0
0-0
0-0
0
0
0
1
0
0
0
1
0
2

Marquice Brown

3
2-3
1-1
0-0
0
0
0
0
0
0
0
1
5
3

Perry Cromwell

27
2-4
0-2
0-1
2
1
3
2
0
0
0
5
4
10

Emanuelle Bradbury

28
6-14
3-5
0-2
2
0
2
3
1
0
3
3
15
11

Marquis Ellison

23
4-9
2-5
2-5
1
2
3
1
0
0
1
1
12
33

Eugene Rice

30
2-6
0-1
1-2
2
5
7
1
0
0
0
3
5
TM

Team

2
1
3
0
0
TOTALS
25-64
39.1%
9-27
33.3%
5-15
33.3%
12
16
28
14
1
4
6
21
64
Grossmont

#
STARTERS
MIN
FGM-A
3PM-A
FTM-A
OREB
DREB
REB
AST
STL
BLK
TO
PF
PTS
10

D'Aubre Doucette

24
4-6
0-1
2-3
1
2
3
5
0
0
1
0
10
20

Daniel McCown

23
3-7
2-5
3-4
0
1
1
0
0
0
0
3
11
24

Bryce Parsons

29
4-7
0-0
2-2
1
7
8
2
0
0
1
0
10
35

Corwin Feerick

20
4-7
0-1
0-0
0
4
4
1
0
0
0
3
8
40

LeAndre Powell

26
5-6
0-0
3-5
1
2
3
1
2
1
3
4
13
#
RESERVES
MIN
FGM-A
3PM-A
FTM-A
OREB
DREB
REB
AST
STL
BLK
TO
PF
PTS
11

Kyle Ruiz

13
1-1
0-0
1-3
1
1
2
0
1
0
1
0
3
12

David Wheeler

8
3-6
0-1
0-0
0
1
1
0
0
1
0
5
6
22

Josh Moran

16
1-2
0-1
1-2
0
2
2
6
2
0
1
4
3
30

Oscar Limon

4
0-1
0-0
0-0
1
0
1
0
0
0
0
0
0
32

Ronald Blain

29
6-11
0-0
6-6
6
10
16
0
1
3
0
1
18
42

Taka Hall

8
1-1
0-0
0-0
1
1
2
0
0
1
2
2
2
TM

Team

0
1
1
0
0
TOTALS
32-55
58.2%
2-9
22.2%
18-25
72.0%
12
32
44
15
6
6
9
22
84
IMPERIAL VALLEY
TEAM STATISTICS
GROSSMONT
39.1% ( 25-64)
Field Goal %
58.2% ( 32-55)
33.3% ( 9-27)
3pt Field Goal %
22.2% ( 2-9)
33.3% ( 5-15)
Free Throw %
72.0% ( 18-25)
28
Rebounds
44
14
Assists
15
6
Turnovers
9
15
Points off Turnovers
10
12
2nd Chance Points
14
26
Points in the Paint
56
2
Fastbreak Points
2
41
Bench Points
32
0
Largest Lead
32
–
Time of Largest Lead
2nd-06:01
Ties: 2; Lead Changes: 0
OTHER INFORMATION
Technical fouls: 

Imperial Valley-None ; Grossmont-None .


Officials: 

Michael Rapp,Steve Ford,Matt Ruscan