ROUNDUP: Foothillers lose thriller; Helix tops Mt. Miguel
Updated: January 22, 2017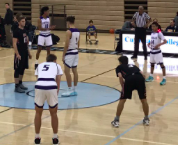 Foothills Christian and Santa Fe Christian tip off on Saturday night at Cuyamaca College.
2016-17 EAST COUNTY PREP BOYS BASKETBALL
By Bill Dickens
© East County Sports.com
EL CAJON (1-22-17) — The Grossmont Foothillers had a couple of players hit double-doubles in a game against Serra on Saturday (Jan. 21) but it wasn't enough to overcome the Conquistadors, who won the double overtime game 86-81.
In regulation Grossmont had a 2-point lead at 66 points with six seconds remaining when a Serra player made a lucky shot, throwing the ball back over his head to send the non-league game into the first overtime.
The Foothillers were down by 3 with four seconds to go in the first overtime and AUSTIN ODOM arched a 3 from the corner at the buzzer to tie it at 75-all.
"In the second OT we couldn't make a free throw and Serra made a bunch," said Foothillers coach FRANK FOGGIANO.
Austin Odom grabbed 11 rebounds to go with his 29 point lead, and HUNTER MULDER rolled a double-double of 21 points and 10 rebounds, while JAMIE ODOM pitched in 17 and grabbed 8 rebounds. FRANKLIN GOLOJUCH added 9 points and 4 rebounds.
The Foothillers were able to press the issue despite missing key starters HUNTER GAINES and DOMONIQUE GUEVARA, who were participating in the Alex Spanos All-Star Classic football game on Saturday night. The pair hooked up for a touchdown in the football game when Gaines threw to his reliable receiver for a long score for the South team.
Grossmont:  Austin Odom 29 (11 reb, 2 ast, 2 stl), Hunter Mulder 21 (10 reb, 2 ast, 1 stl), Jamie Odom 17 (8 reb, 2 ast, 3 stl), Franklin Golojuch 9 (4 reb, 1 stl).
HELIX 74, MOUNT MIGUEL 52 – The Helix Highlanders traveled to Spring Valley for a non-league game with Mount Miguel and brought home a victory Saturday (Jan. 21).
"We had the lead 21-12 in the first quarter, and carried on from there," said Helix coach JOHN SINGER. "We played hard as did Mount Miguel.
Helix was paced by MILES NORRIS with 17 points, while JAYLEN ARNOLD pitched in 13 as did AMARI GREEN.
JAYLEN HINSON added 11 points.
For Mount Miguel JAMES ALLEN led the Matadors with 19 points, 6 assists and 5 steals, while DARIAN NORWOOD rolled a double-double of 16 points and 11 rebounds.
MARQUISE EDWARDS chimed in with 7 rebounds for the Matadors.
"It was a 5-point game in the second quarter," said Matadors coach JAY ROWLETT. "They are the best shooting Helix team I've seen in a while. (MILES) NORRIS makes a difference. We've got to get back to the lab and get ready to go."
Helix:  Miles Norris 17, Jaylen Arnold 13, Amari Green 13, Jaylen Hinson 11, Dylan Lee 8, Carson Baker 6, Isaiah Wooden 4, Maurice Holmes 2.
Mount Miguel:  James Allen 19 (2 reb, 6 ast, 5 stl), Darian Norwood 16 (11 reb, 2 ast), Ricky Harvey 5 (1 reb, 2 ast, 2 stl), Mikeece Dunbar 5 (1 ast), Devon Brown 4 (4 reb), Marquis Neal 3 (3 reb), Marquise Edwards (7 reb), Raymond Lucas (4 reb, 1 stl), Mugabe Miller (1 ast), Justice Chima (1 ast).
FOOTHILLS CHRISTIAN 68, SANTA FE CHRISTIAN 61 – JAYLEN HANDS and JORDAN VAN OMMERING both had 20 points as the Knights held off SFC in a Coastal League matchup.
The Knights improved to 2-0 after leading just 60-59 in the final minute. FCHS led 52-42 after three.
It was much closer in the early going, however, as the Knights trailed 12-11 after one and led just 28-27 at halftime.
However, it was Hands who made the key bucket down the stretch after the Eagles had taken the 60-59 lead with 1:53 left.
.@JHANDS08 got ice in his veins!! Calmly knocks down an nasty turnaround pull-up that pushes @FCHSBBALL to a win! @Compton_Magic pic.twitter.com/kJOrVcoHXy

— BallerVisions (@BallerVisions) January 22, 2017
EL CAPITAN 43, CRAWFORD 34 – No further information provided.