Griffins in first place behind Mohamed's 32
Updated: January 26, 2017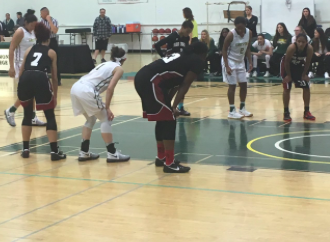 Grossmont lines up with San Diego City on Wednesday night at the Griffins' gym.
2016-17 GROSSMONT COLLEGE WOMEN'S BASKETBALL
By Bill Dickens
© East County Sports.com
EL CAJON (1-26-17) — In an early league showdown, Grossmont College knocked off San Diego City College Wednesday (Jan. 25) for the lead in the Pacific Coast Athletic Conference South.
KHIYA MOHAMED scored a game-high 32 points to pace the Griffins. She also grabbed 15 rebounds.
KRYA BRUESEWITZ pitched in 20 points for the Griffins, while BRITTANY GAFARE added 9.