Gafare sparks Griffins to victory, lead in PCAC South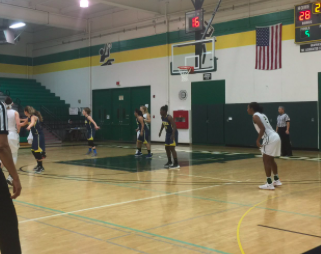 Grossmont and Mesa players at the Griffins' gym on Friday night.
2016-17 GROSSMONT COLLEGE WOMEN'S BASKETBALL
By Bill Dickens
© East County Sports.com
EL CAJON (1-28-17) — BRITTANY GAFARE spun in 19 points to spark the Griffins past San Diego Mesa College 68-53 on the Grossmont floor Friday (Jan. 27) in a PCAC South victory.
Three Griffins finished in double scoring digits, including SATORI ROBERSON with 13 points and 15 rebounds.
COURTNEY BRANCH chipped in with 12 points, while KYRA BRUESEWITZ pitched in 11 points, snared 6 rebounds and dished 4 assists.
The victory vaulted the Griffins into the PCAC South first place with a 3-0, 6-13 overall record.
Next up for the Griffins is a trip to Southwestern on Wednesday (Feb. 1) for a 5 p.m. game.
San Diego Mesa at Grossmont
@ Grossmont College
1/27/2017 at 5:00 PM
| FINAL | 1 | 2 | 3 | 4 | T |
| --- | --- | --- | --- | --- | --- |
| San Diego Mesa (6-12, 1-1) |  6 |  17 |  14 |  16 |  53 |
| Grossmont (6-13, 3-0) |  11 |  17 |  25 |  15 |  68 |
San Diego Mesa

#
STARTERS
MIN
FGM-A
3PM-A
FTM-A
OREB
DREB
REB
AST
STL
BLK
TO
PF
PTS
04

Malea Wells

40
4-10
0-1
0-0
2
6
8
1
1
0
5
2
8
05

Asal Pourhedari

40
6-18
3-9
6-7
2
5
7
3
4
0
2
4
21
11

Leah Veleker

35
4-8
0-0
2-4
3
3
6
0
1
0
8
5
10
22

Lourdes Lopez

39
0-5
0-2
0-0
1
6
7
0
1
0
0
2
0
24

China Garcia

28
3-10
0-1
6-7
0
0
0
0
1
0
1
5
12
#
RESERVES
MIN
FGM-A
3PM-A
FTM-A
OREB
DREB
REB
AST
STL
BLK
TO
PF
PTS
32

Cecila Orcino

18
1-3
0-1
0-0
0
0
0
0
0
0
2
3
2
TM

Team

1
2
3
0
0
TOTALS
18-54
33.3%
3-14
21.4%
14-18
77.8%
9
22
31
4
8
0
18
21
53
Grossmont

#
STARTERS
MIN
FGM-A
3PM-A
FTM-A
OREB
DREB
REB
AST
STL
BLK
TO
PF
PTS
01

Kyra Bruesewitz

37
4-7
3-6
0-0
2
4
6
4
1
0
2
2
11
02

Courtney Branch

29
4-8
0-0
4-4
2
2
4
2
2
0
1
3
12
03

Justine Garde

31
2-5
2-3
0-0
0
0
0
2
1
0
1
2
6
33

Lydia Halcott

25
0-3
0-0
0-0
0
1
1
0
0
0
1
1
0
34

Satori Roberson

25
6-12
0-0
1-4
8
7
15
0
2
0
5
4
13
#
RESERVES
MIN
FGM-A
3PM-A
FTM-A
OREB
DREB
REB
AST
STL
BLK
TO
PF
PTS
14

Breanna Linson

19
1-5
0-2
0-0
3
2
5
3
1
0
1
2
2
21

Ranae Hannibal

16
2-6
0-0
1-3
3
3
6
0
0
0
2
1
5
22

Khiya Mohamed

0
0-1
0-0
0-0
0
0
0
0
0
0
0
0
0
44

Brittany Gafare

18
9-17
0-0
1-8
1
7
8
2
0
0
1
3
19
TM

Team

1
4
5
1
0
TOTALS
28-64
43.8%
5-11
45.5%
7-19
36.8%
20
30
50
13
7
0
15
18
68
SAN DIEGO MESA
TEAM STATISTICS
GROSSMONT
33.3% ( 18-54)
Field Goal %
43.8% ( 28-64)
21.4% ( 3-14)
3pt Field Goal %
45.5% ( 5-11)
77.8% ( 14-18)
Free Throw %
36.8% ( 7-19)
31
Rebounds
50
4
Assists
13
18
Turnovers
15
19
Points off Turnovers
18
6
2nd Chance Points
21
22
Points in the Paint
26
8
Fastbreak Points
4
2
Bench Points
26
1
Largest Lead
16
1st-09:26
Time of Largest Lead
3rd-00:12
Ties: 1; Lead Changes: 2
OTHER INFORMATION
Technical fouls: 

San Diego Mesa-None ; Grossmont-1 ( Team) .


Officials: 

,,


Attendance: 

118


Time: 

5:00 PM