ROUNDUP: Patriots, Hillers, Scotties among winners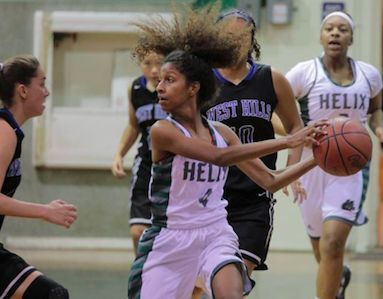 Helix's JANAE WHITE looks for a teammate Friday night against West Hills. / photo by Antonio McIntyre
2016-17 EAST COUNTY PREP GIRLS BASKETBALL
By Bill Dickens
© East County Sports.com
EL CAJON (1-28-17) — MARISSA GILES popped in 17 points to lead Christian as they avenged an earlier loss to Clairemont on Friday (Jan. 27) in Central League action, coming away with a 39-29 victory at Ryan Athletic Center.
"My girls were either sick or not playing," said Patriots coach TIFFANY GILES. "We lost to Clairemont in the first week of the season in a tournament in Escondido. It was nice to beat them."
Giles scored on a fast break to extend the Christian lead to 30-26 with 3:46 left in the game. Giles hit a jumper to score the first basket of the second quarter, which gave the Pats an 11-10 lead at the time.
Christian led 14-13 at the half and 25-19 at the end of the third period.
BROOKS OWENS led the supporting case with 12 points for the Patriots.
CIPRIANA HUDSON had a tremendous impact despite her modest score line. She had a block that led to a breakaway layup, plus a foul early in third. She also had a rebound follow basket to put the Patriots ahead 17-13 early in the third quarter.

Christian:  Marissa Giles 17 (3 reb, 2 stl), Brooke Owens 12 (2 reb, 3 stl), Jasmyn Crawford 5 (2 reb, 4 stl), Hayley Robinson 3 (8 reb, 2 stl), Cipriana Hudson 2 (5 reb).
MOUNT MIGUEL 85, STEELE CANYON 16 – SATERA BATES paced Mount Miguel with 34 points, 4 rebounds, and 5 steals in Friday's (Jan. 27) Grossmont Hills League encounter as they outmatched Steele Canyon.
CAMARA DOUGLAS rolled a double-double of 18 points and 12 rebounds for the Matadors.
"It was unfair for both teams," stated Steele Canyon coach PETER RUIZ. "Whoever set up the alignment of the teams . . . it benefitted nobody. It was unfair for us to play an Open Division team when we are a Division III team. We just tried to focus on our game. We were within 8 points of them for the first 3 or 4 minutes.
"It was two different teams on two different ends of the spectrum."
No one on the Cougars team scored in double digits.
Mount Miguel:  Satera Bates 34 (4 reb, 2 ast, 5 stl), Camara Douglas 18 (12 reb, 1 ast, 5 stl, 3 blk), Nyssa Maga 8 (1 ast, 3 stl), Laila Smith 7 (2 reb, 11 ast, 4 stl), Nya Maga 6 (1 ast, 1 stl), Michelle Corley 4 (2 reb, 4 stl), Deyonna McBride 1 (1 reb, 2 ast, 4 stl).
Steele Canyon:  Elizabeth Bott 4, Lala Wadley 4, Marianna Martinez 4, Mya Cross 3.
GROSSMONT 54, VALHALLA 38 – CANDACE HENDERSON paced the Foothillers with 17 points in a Grossmont Hills League game on Friday (Jan. 27) to defeat Valhalla.
TYANA WARSAW rolled a double-double with 16 points and 10 rebounds to go along with 2 blocks.
Grossmont:  Candace Henderson 17 (2 ast, 3 stl), Tyana Warsaw 16 (10 reb, 2 blk), Athena Sotelo 6 (5 ast, 4 stl), Sabrina Yohannes 6 (3 reb), Grace Cercado 5 (2 stl), Jasmine Lee 2 (5 reb), Taisha Silas 2.
MONTE VISTA 52, EL CAJON VALLEY 42 – LEANNA WATSON poured in 34 points to go with 6 rebounds, 3 assists and 7 steals on Friday (Jan. 27) for El Cajon Valley in a Grossmont Valley League game, but the Monarchs came away with the victory.
ELENA MEDRANO led Monte Vista with 16 points, while teammate TAYLOR YOUNG added 15.
SUMAYA HAMEED led the supporting cast fr the Braves with 8 points and 8 rebounds.
El Cajon Valley:  Leanna Watson 34 (6 reb, 3 ast, 7 stl), Sumaya Hameed 8 (8 reb), Lillian Akintende (6 reb, 3 ast, 3 stl), Rania Noori (4 reb, 2 ast, 3 stl), Vean Gorgees (5 reb, 3 stl), Erica Bazille (4 stl).
WEST HILLS 35, HELIX 32 – In a Grossmont Hills League game, West Hills bolted out to a 20-6 lead on the Highlanders, then led 26-17 in the third quarter.
The win kept West Hills undefeated at 3-0 in league play, one-half game behind Mount Miguel, as Helix missed its chance to re-assert itself in the race, falling to 2-2.
The Wolf Pack improved to 15-5 overall, while Helix fell to 11-9.
West Hills sits just outside the Open Division rankings at No. 9, one spot behind Mount Miguel.
SANTANA 43, GRANITE HILLS 36 (OT) – In a Grossmont Valley League game, the visiting Sultans (1-2, 12-8) picked up its first league win over the winless Eagles (0-3, 9-9).
The Sultans held a 17-12 lead after halftime, but the Eagles closed the lead with a 12-6 run in the fourth.
However, it was Santana which dominated the extra session, outscoring Granite, 12-5.
Granite Hills: C. Garcia 2, Ripberger 7, Agoth 7, Robles 13, Lacy 3.