Griffins feed off Moran's hot start against Coyotes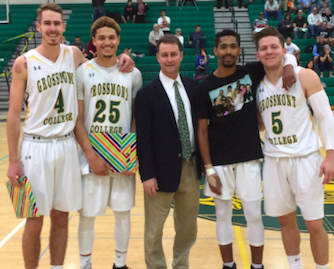 Grossmont College sophomores Corwin Feerick (4), LeAndre Powell (25), D'Aubre Doucette and Daniel McCowen (5) stand with head coach Doug Weber Wednesday.
2016-17 GROSSMONT COLLEGE MEN'S BASKETBALL
By Bill Dickens
© EastCountySports.com
EL CAJON (2-16-17) — Grossmont College men hosted District rival Cuyamaca College on Wednesday (Feb. 15) and defeated the Coyotes 84-65 in Pacific Coast Athletic Conference action.
The Griffs led 41-25 at halftime and maintained their advantage through the second half 43-40.
JOSH MORAN paced the Griffins with 25 points, 1 rebound, 4 assists and 3 steals, while BRYCE PARSONS pitched in 17 points, 6 rebounds and 2 assists.
Parsons had a breakaway dunk that brought the siazable crowd to its feet.
Other double-digit scorers were DANIEL McCOWN with 11 markers, 1 rebound, 2 assists and a steal, and LeANDRE POWELL who added 10 tallies, 2 rebounds, 2 assists and a block.
High scorer for Cuyamaca was Eric Pattan with 33 points and 7 rebounds.
Also scoring for Grossmont were RONALD BLAIN with 9 points, 9 rebounds, 2 assists, one steal and a block, CORWIN FEERICK (5 points, 4 rebounds, 2 assists and 2 steals), D'AUBRE DOUCETTE (5 points, 1 rebound, 5 assists and 3 steals) and DAVID WHEELER (2 points, 4 rebounds and an assist).
Grossmont had 24 assists on just 31 field goals. The Griffs led 41-25 at the half, behind 18 points for Moran.
The Griffins celebrated sophomore night and hosted a stadium-style fare, featuring free hamburgers and hot dogs to fans prior to the game.
Next up for the Griffins is a trip to South Bay where they will meet the Southwestern College Jaguars on Friday (Feb. 17) at 5 p.m.
Cuyamaca at Grossmont
@ El Cajon, Calif.
2/15/2017 at 6:00 PM
| FINAL | 1 | 2 | T |
| --- | --- | --- | --- |
| Cuyamaca (1-8, 7-19) |  25 |  40 |  65 |
| Grossmont (6-3, 14-12) |  41 |  43 |  84 |
Cuyamaca

#
STARTERS
MIN
FGM-A
3PM-A
FTM-A
OREB
DREB
REB
AST
STL
BLK
TO
PF
PTS
40

Greg Knight

24
1-3
1-1
0-0
2
3
5
0
1
0
5
1
3
42

Tarik Downs

30
4-12
0-3
1-4
1
7
8
1
2
0
2
1
9
44

Eric Patten

37
12-21
0-1
9-15
0
7
7
0
0
0
2
2
33
50

Calvin Harris

31
3-5
0-0
0-0
2
0
2
0
0
0
2
1
6
52

Robert Harris

29
0-4
0-0
2-4
0
4
4
2
1
1
3
2
2
#
RESERVES
MIN
FGM-A
3PM-A
FTM-A
OREB
DREB
REB
AST
STL
BLK
TO
PF
PTS
10

Chi Akamiro

27
3-5
0-2
2-2
1
1
2
2
2
0
4
4
8
24

Jeron Satterfield

24
1-5
1-4
1-2
0
3
3
0
2
0
1
0
4
TM

Team

1
1
2
0
0
TOTALS
24-55
43.6%
2-11
18.2%
15-27
55.6%
7
26
33
5
8
1
19
11
65
Grossmont

#
STARTERS
MIN
FGM-A
3PM-A
FTM-A
OREB
DREB
REB
AST
STL
BLK
TO
PF
PTS
0

D'Aubre Doucette

15
1-5
1-3
2-2
0
1
1
5
3
0
2
3
5
4

Corwin Feerick

23
2-3
0-0
1-1
1
3
4
2
2
0
2
5
5
5

Daniel McCown

24
4-8
3-7
0-0
0
1
1
2
1
0
1
1
11
11

Bryce Parsons

28
7-12
0-0
3-3
0
6
6
2
0
0
0
2
17
25

LeAndre Powell

24
3-5
1-1
3-4
0
2
2
2
0
1
5
2
10
#
RESERVES
MIN
FGM-A
3PM-A
FTM-A
OREB
DREB
REB
AST
STL
BLK
TO
PF
PTS
1

Kyle Ruiz

21
0-2
0-2
0-1
0
0
0
2
2
0
0
2
0
10

Josh Moran

22
9-12
5-8
2-2
0
1
1
4
3
0
1
0
25
15

Oscar Limon

4
0-0
0-0
0-0
0
1
1
1
0
0
1
2
0
20

Ronald Blain

20
4-9
0-1
1-2
3
6
9
2
1
1
2
5
9
23

David Wheeler

12
1-4
0-2
0-0
0
4
4
1
0
0
1
0
2
30

Taka Hall

9
0-1
0-0
0-0
0
2
2
1
0
0
1
0
0
TM

Team

0
2
2
0
0
TOTALS
31-61
50.8%
10-24
41.7%
12-15
80.0%
4
29
33
24
12
2
16
22
84
CUYAMACA
TEAM STATISTICS
GROSSMONT
43.6% ( 24-55)
Field Goal %
50.8% ( 31-61)
18.2% ( 2-11)
3pt Field Goal %
41.7% ( 10-24)
55.6% ( 15-27)
Free Throw %
80.0% ( 12-15)
33
Rebounds
33
5
Assists
24
19
Turnovers
16
12
Points off Turnovers
19
11
2nd Chance Points
5
26
Points in the Paint
40
4
Fastbreak Points
18
12
Bench Points
36
2
Largest Lead
30
1st-19:12
Time of Largest Lead
2nd-11:44
Ties: 1; Lead Changes: 3
OTHER INFORMATION
Technical fouls: 

Cuyamaca-None ; Grossmont-None .


Officials: 

Matt Rukasin,Jeff Aredando,John Grindl


Attendance: 

378